MARCO LEE

Received: from Osagie ([195.166.239.114])
Reply-To: <leemarco00@netscape.net>
From: "MARCO LEE" <marclee@zensearch.com>
Subject: READ AND REPLY
Date: Sun, 27 Feb 2000 02:16:18 +0300

I am Mr. Marco Lee, credit officer of standard Bank Hong Kong. I have an urgent and very confidential business proposition for you.

On June 6, 2001, a British Oil consultant/contractor with the Chinese Solid Minerals Corporation, Mr. David Lawrence made a numbered time (Fixed) Deposit for twelve calendar months, valued at (eight million, seven hundred thousand USD) in my branch. Upon maturity,I sent a routine notification to his forwarding address but got no reply. After a month, we sent a reminder and finally we discovered from his contract employers, the Hong Kong Solid Minerals Corporation that Mr. David Lawrence died from an automobile accident. On further investigation, I found out that he died without making a WILL, and all attempts to trace his next of kin was fruitless.

I therefore made further investigation and discovered that Mr. David Lawrence did not declare any kin or relations in all his official documents, including his Bank Deposit paperwork in my Bank. This sum is still sitting in my Bank and the interest is being rolled over with the principal sum at the end of each year. No one will ever come forward to claim it.

According to Laws of Hong Kong, at the expiration of 5 (five) years, the money will revert to the ownership of the Hong Kong Government if nobody applies to claim the fund.

Consequently, my proposal is that I will like you as a foreigner to stand in as the next of kin to Mr. David Lawrence so that the fruits of this old man's labor will not get into the hands of some corrupt government officials. This is simple, I will like you to provide immediately your full names and address so that the attorney will prepare the necessary documents and affidavits that will put you in place as the next of kin. We shall employ the services of an attorney for drafting and notarization of the WILL and to obtain the necessary documents and letter of probate/administration in your favor for the transfer. A bank account in any part of the world that you will provide will then facilitate the transfer of this money to you as the beneficiary/next of kin.

The money will be paid into your account for us to share, upon completion of transfer. There is no risk at all as all the paperwork for this transaction will be done by the attorney and with my position as the credit officer guarantees the successful execution of this transaction. If you are interested, please reply immediately to my email address.

Upon your response, I shall then provide you with more details and relevant documents that will help you understand the transaction. Please send me your confidential telephone and fax numbers for easy communication.

You should observe utmost confidentiality, and rest assured that this transaction would be most profitable for both of us. I shall require your assistance to invest my share in your country.

Awaiting your urgent reply.

Thanks and regards.

Marco Lee
P.S WRITE TO MY PERSONAL BOX leemarco00@netscape.net OR SEND FAX TO +852-301-47285

Another Dead Bank Customer letter. The e-mail actually comes from, surprise, Lagos - just plug the IP address into good old RIPE (www.ripe.net) . So, Standard Bank Hong Kong is doing business out of Nigeria these days, hmm, really?


---
JIM GATES

Dear Mr. Lee,
Sorry I don't know what this is about. I don't have any relatives in Hong Kong.

I am on patrol tonight and probably on leave tomorrow; I will look for your reply when I get off duty. But I think you might have made a mistake.

J. Gates, 3rd Civilian Company


---
MARCO LEE

Subject: Hello Jim Gates
Date: Thu, 29 Jul 2004 14:38:47 -0700 (PDT)

Hello Jim,

Thanks For Your Urgent Response, It is Necessary I Educate You a Bit on the Next of Kinship as Attainable in the Banking Policy and Globally at large.

You See, Next of Kinship is Not Limited to Relations of the Deceased, Nor is it Confided to the Circuit of Parental Relationship, Rather it is By Choice of the Benefactor as Regards to Whom He Wish to WILL it to (Beneficiary) Either Formally By Write Up, Or Informally By Secret Information Disclosure to Beneficiary be Him/Her Business Partner, Relation, Kinsmen, Or Friends or Well Wishers.

Therefore, By Virtue of the Above Stated, You can Claim to Be the Next of Kin of the Deceased,

Hence, on Your Acceptance to This, We Will Communicate to You the CONFIDENTIAL INFORMATION of the Deceased as Contained in Our Security Bank File Diskette, So That on Your Readiness to Forward Claim Application to the Bank, We Will Direct You and Reveal to You the Necessary Information Which You Will Enclose in Your Application to the Bank.

Therefore on Correspondence of Bank Confidential Information With What are Contained in Your Application to them, They Have No Alternative Other than to Release the Fund to You, Believing that You are the Next of Kin Originally, As he Has No One for such Claim.

Please, With the Above Explanations, I believe You Can Now Observe How Safe it is For You to Get involved in this Mutual Beneficial Transaction,

Therefore I Request You Declare Your Interest Immediately For the Fund Claim and Transfer Directives to You.

Awaiting Your Immediate Response.

Feel free to write to me for Further Clarification if Need Be. Thanks for your time.
Regards,

Marco Lee


---
JIM GATES

Hello Marco,

Thank you for explaining. I'm still a bit confused but I guess you would know since you're a banker.

The thing is, I know you don't have to be someone's relation to inherit something, but there has to be something in the dead person's will. Are you saying someone named David Lawrence in Hong Kong left me money?

That is pretty wild, well what do I have to do?

I'm off duty now, tomorrow working, but on base, reinforcing the Fence. I don't know if you've heard about what's going on in the western parts of our country. Well I guess you all have problems of your own in Hong Kong. But to be honest, some cash would come in handy with what we're facing here.

So, let me know the drill.

Walk Safe Roads,
J. Gates, 3rd Civilian Company


---
MARCO LEE

Subject: Hello Jim
Date: Sat, 31 Jul 2004 00:44:54 -0700 (PDT)
Return-Path: <leemarc00@yahoo.com>
Received: from [195.166.239.114]

Dear Jim

I have considered your response and i am convinced you have an understanding of the need for absolute secrecy of this pending project. We would proceed without any reservation to bring you into the complete picture of the pending project. Before doing this, I would again like to reiterate the importance of confidentiality, as we are career bankers who are still active staff of Standard bank plc. and would not like our names to be brought to odium, or our long tenure in office jeopardized. You should also, understand the fact that we are family men and would not also want to put the good name of our families to disrepute. Due to the strict monetary regulations and scrutiny on transferring large amounts of funds precipitated by the events of September 11, I must ask for your trust in realizing that this funds are legal and thus minimum risk.
The gains of the pending project can only be enjoyed by us all (including you) after the transfer and we have disbursed the funds with absolute peace of mind, knowing that the project and the transfer itself is known to us partners (plus you) only. You would agree with us, that successful transfer of the funds per se, without the guarantee of total enjoyment of the funds,with absolute peace of mind, is no success. In our country, we have a proverb, which says, Money, which he cannot enjoy, does not make him rich?. You can therefore understand why we are hammering on the importance of confidentiality, as a non-religious observance of this basic essential, is the only thing capable of importing risk into this project, which under our perfected modalities is 100% risk free, and we expect the same from you being the 100% confidentiality about the affairs of this project.Please do not let us down. If you follow our instructions religiously, promptly, and accordi ngly, as originators of this project. the project will be accomplished.
Once we are able to convince the bank that you are the beneficiary Next of Kin to the deceased. This will be our home work and you inturn have to display this boldness that you are the true beneficiary to the funds. This is our guarantee to you. You can count on it. We recognize the magnitude of trust involved in availing us your facilities for the project. We also recognize the corresponding duty, which this relationship imposes on us,as originators of the project to ensure that neither your name nor that of your family is brought to disrepute because of this project. We know what we are doing and we will not engage in this project, were we not confident about success in all ramifications. We would not let you down.
Now after you have been placed as the next of kin and the transfer initiated we would not have a hold as firm as we now do towards this fund and will thus be sort of at your mercy. I would want a confirmation from you that the money in your possesion will not bring about new claims such as increased percentage(40%) or new requests as the sharing pattern already stated is the best as i assure you we have insiders here whom we would also give their various shares.
Within the next few days we would be presenting a past attorney to the deceased who will bring out documents linking you as our late client's choice as Next of Kin in the past and would state that the deceased has declared informally that you would be his Next of Kin when he would make his Will. We would set the ball rolling by writing to the bank thru this attorney that you have been located and have been given his personal items which has been in his possesion that he also wanted you to have. As soon as this is done, it is a normal procedure that the bank would reach you for confirmation, and the verification process concluded. I would at this point require from you, your full names, personal address, work address, home phone number, office phone number and fax numbers.Also a scanned copy of your International Passport or Drivers Licence. This would enable us establish a relationship with the attorney initiating your claims.

As for your fencing project,I dont understand what you are building?But you will explain to me soon.Is it like fence of Isreal around their country?

Regards and GOD bless you.
Marco Lee


---
JIM GATES

Hi Marco,
I am just coming off duty. I didn't realize the haste. I hope we are still good. I will be on base all week and able to answer promptly.

My name means a lot to me too. If there's any 'disrepute', I wouldn't want to be involved.

If you still want to deal with me, here is the information:
James Gates (Capt.)
personal & work address:
3rd Civ. Co., 1st Batt., 5th Reg., 5th Division
HDF Sisseton (Barrack A)
Sisseton, West Dakota 57263

Calling the base would be unwise, I think you understand. I could try to get the license scanned but here's the ID# for now: HDF-3155-JMG-1990A.

>As for your fencing project,I dont understand what you are building?But you
>will explain to me soon.Is it like fence of Isreal around their country?

More like the Great Wall of China. The Israelis' fence runs along part of one side of their country, they're trying to keep out bombers and snipers, and it's short compared to ours. Our Fence runs through the middle of our country, eventually from Mexico to Canada, and we're trying to keep out something else. Have you not heard? It's been a disaster for our farming community.

The Fence is to keep out MegaRoos, to keep them on the west side of the Fence. That's why I'm interested in your project. Our government hasn't fully funded our local section of the Fence, which I'm responsible for. It was one of the president's campaign promises - No Roo Left Inside. But this war in Iraq is sucking up all the money. I don't know much about politics but I know I have to get Link 51 completed on time.

Anyway, if you want to go on, let me know and I'll give you the lowdown on the Fence and the Roos. Meanwhile you can forward my details to the attorney. I think you came along at the right time, and I apologize for delaying you.

Walk Safe Roads,
J. Gates


---
MARCO LEE

Subject: We are still On
Date: Thu, 12 Aug 2004 00:43:34 -0700 (PDT)

Dear Partner,
Thank you very much for sending us the required information necessary to document the application for the funds release. This marks the commencement of this project in earnest. We are also very glad to inform you that we have after all resolves unanimously decided to welcome you onboard to this project. You have not shown any sense of greed to us and you have so much composed yourself as a gentleman of honour to whom we can lay our trust on. We promise you also as gentlemen of honour that our words will remain our bonds. We will not let you down in as much as you remain very honest and abide by the processes which we have layed down for the smooth sailing of this transaction. We count on you as you count on us. It is only in total partnership and solidarity towards us and this transaction that we will stand and reap the benefits of this struggle.
We are pleased, to inform you that we will tommorrow, officially file in the application for the funds release here at the Standard Bank which will be forwarded to the paying firm. This will be done by the International Remittance Department after proper ratification has been done on the application and documentation which our lawyer will forward to the Bank. We will busy ourselves for the next few days preparing an adequate foundation upon which, this project will stand. This application and probate documents will be transmitted certainly from the office concerned here at the Standard Bank to the paying firm. We will use our influence to pursue this using our attorney accreditted to your case at the Standard Bank to engage in the ratification exercise as prompt as possible. We will put all records in order to fit you as the beneficiary Next of Kin and that you have been recorded from a time preceding the deposit of the funds. We will get an attorney who will sign the probate at the court tomorrow. We will then, back date the certificates based on the assessment records. This would better solidify your stand on this claim as no one will be the wiser as to whether your name was recorded or not during the time of deposit. We will also make an "under table" arrangement to have your name recorded in all computer archives of the Standard Bank as the legitimate Next of Kin and use our influence to have this registration back dated to a time preceding of our transaction with the deceased as regards the transfer of the said funds to the financial firm.

But we still need you to scan your Driver's Licence or your National I.D. so that the Judge that will sign will know that you have been located and he can put his signature to it.

We will keep you informed as to the day-to-day progress.

Once again, thank you very much for your partnership and total support thus far.
Best regards,

Marco Lee


---
JIM GATES

OK Marco,
Good enough.

The talk about "under the table" doesn't square with your talk about honour, but I can't be fussy because we need the money. The Fence is behind schedule. The Anglo guys don't like the low rates I can pay, plus they are scared of the Roos. The Mexican guys work hard as heck, but they're scared too and I don't blame them. A mature Roo is f***ing scary. One of them got an enlisted man last week. A mature one can hop an eight-foot fence, and take a cow. So the workers insist on a guard for each man, and that costs $$$. My C.O. doesn't want to hear about this, he just wants results.

I'll tell you how the Roo thing started next time, I need to get off the computer. We don't use a national ID, but I can scan my license. My buddy Conrad, he's a fellow officer, he has housing in town and has his own computer setup that I can use. He won't bug me for details - he's a "don't ask, don't tell" kind of guy. Conrad is pretty scary himself - you should see his collection of Roo heads.

One last thing - 40% of $8.7 million is $3.48 million, right? How long will it take to arrive? I might start a separate bank account over in Nippising - the local bank clerk is my cousin and you know how it is in a small town, or maybe you don't - I've seen pictures of Hong Kong and it looks like you all are living neck and neck.

I'll get that license to you.

Walk Safe Roads,
J. Gates


---
JIM GATES

OK Marco,
I tried my best, but I couldn't get any more handsome ha ha! I think I moved the license when I closed the scanner. I don't use it much anyway, my military ID is usually enough.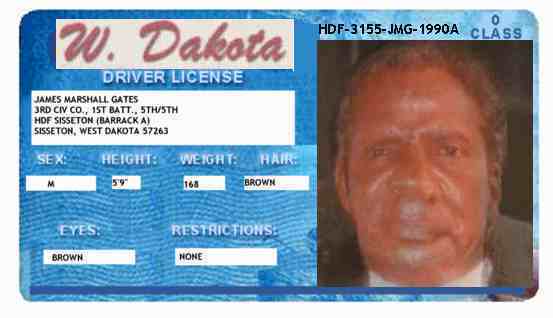 I'll have to explain the Roo problem next time, I am packing for a weekend with my kids. I can tell you that it has ruined things around here. They even had to move the Souperbowl to Houston. Their section of the Fence is complete (our president is a Texan after all), but the whole time I couldn't stop watching the RooAlert. It spoiled the event for me, and I love competitive cooking.

Got to go, I'll check mail Monday. Again, please confirm my cut is $3.48 million.

Walk Safe Roads
Jim

This "license" wouldn't fool anyone, would it? But "Marco" is back. Probably he's figured it out and he's just amusing himself. Isn't he?


---
MARCO LEE

Subject: How was your weekend?
Date: Mon, 16 Aug 2004 12:45:38 -0700 (PDT)
Return-Path: <leemarc00@yahoo.com>
Received: from [195.166.239.114]

Dear Partner,
How was your weekend with your Kids go?Hope alright?
Actually,It is my son that writes english for me.He is 21yrs old.Very understanding!!!I speak abit of english not too good.
Your percentage is correct.40%.You will also help us to invest our share for my sons future education in the USA.
You keep talking about Roos?But we dont seem to know the kind of animal that would make America spend so much on fencing project?Only Osama or Saddam make America spend money like that.Ha HA HA.
It is with great pleasure that we inform you that our letter of claim has officially been accepted by our International Remittance Department of the Standard Bank. Our lawyers have informed us that the Letter of Claim was filed in today after the Probate has been duly signed and is presently under scrutiny. For the fact that the claim is being investigated by committees composed of representatives from the paying firm,this means their hands were tied by the laws governing the Bill of Exchange. The Standard Bank is a signatory of Multilateral Investment Gaurantee Agency (MIGA), International Centre For Settlement Of International Monetary Disputes (ICSIMD) and United Nations Commision On International Fund Laws (UNCIFL) . We signed on with the ICSIMD in march 25, 1991 and entry went into the first of convention on June 19, 1994. We have established via this Letter of Claim, that the Standard Bank indeed owe you funds which initially belong to our deceased client in which you where duly registered as the Next of Kin to the deceased . Although, our lawyers had to doctor one or two documents to further certify and solidify your claim.
Within the next few days we will know for sure whether they will rule in your favour or not. Do not worry, we are not leaving this decision to chance, as we have used our very little contacts to speak with the members of the deciding commitee from the Standard Bank and have greased their palms to decide in your favour. Though, we did not give them too much money but, it is what we have available that we could give. Luckily for us, it was enough to gain their conscent in ruling in our favour. Another reason we felt it was necessary to grease their palm is that,so that they will not carry out a lengthy and thorough investigation about the claim which will ordinarilly be the due process.
By tommorow we will know the outcome of our claim. Once the claim has been approved they will instruct the paying bank to remove the lein on the funds. As you know this will be conditionally, the exact condition we do not know yet but, what we know is that it will be released to you and to you alone. They may also set other conditions as to where the funds will be wired and through which avenue the transfer will proceed. As you know the restrictions on funds transfer especially after the events of september 11th in America. We just have to keep an optimistic appraisal of the situation and pray for the best.
We expect your response as we await for more development.
Once again, thank you very much for your strong resolve towards our presently strong partnership.
Best regards and God bless,

Marco Lee.

"Marco" is using the same IP address. Maybe he's running the scam from an otherwise legitimate business? Or maybe he works for a scammer who owns a cybercafe?


---
JIM GATES

Dear Marco,
It was really nice. I see them every other weekend. It's hard to be apart, but there isn't enough housing on base.

Thanks to your son for the translation. If you have that much money, you can put him through any school. Out-of-state and foreign costs for U. of West Dakota run $15,000 per year, plus room and board. Or if your son becomes a legal resident, in-state tuition is $6000. Either way no problem for you. Not that I'm saying UWD is the best place, it depends on your interests. What would your son like to study? I'm a loyal son of UWD myself, I studied civil engineering. Anyway you're the banker, so I guess you don't need my advice on investments.

To get the business out of the way - I set up a separate account over in Nippising so we're good to go.

I think I need to clear something up. The Fence has nothing to do with Iraq. It's hard to believe foreign news stations don't cover the Sisseton Project. We have bigger things than "Osama" on our minds, believe me. I didn't want to bore you with the whole story, but OK.

About 10 years ago, Sisseton became a "sister" city to a town in Australia. "Sister cities" are a friendship gesture between towns. They exchange cultural stuff like music and visits and whatnot. No one paid attention really.

Then the mayor imported a few Roos, very cute, ha ha, but they got loose. They breed like crazy and eat everything in sight. America is the grain basket of the world, my friend, so this isn't just our problem. I'm proud to be the son of a West Dakota wheat farmer, but it's tough enough without another pest eating the crop. Then some idiots thought it would be cute to feed Roos that wander into town. Big mistake. They lost their fear of humans.

The state started paying hunters to fly over in helicopters and hunt them, but it's not so easy to spot a Roo in a field of high wheat. They spread west, over the years, to Utah. That's where they did the nuclear bomb testing in the 1950s. Nowadays it's all underground testing, but some say you can still be hurt by the radiation.

Well the radiation didn't make the Roos sick. It made them big. A normal Roo is no bigger than a man, you can fight one off with a stick. Now they're much bigger, and vicious. Just last month they attacked some Hells Angels outside Salt Lake City. (The Angels are antique auto enthusiasts, they travel route 80 looking to help motorists with flat tires or any kind of trouble.) That just about killed tourism. Even Greyhound won't run that route any more.

Anyway, the Fence should be complete by Jan. 2005, and we can start isolating the Roos and putting them down. That reminds me - my buddy Con, I told you about him, his job is to electrify the Fence. I'd like to include Con in this deal, he's a good man and the burden of secrecy is kind of weighing on me. But I won't tell him unless you say it's OK.

OK let me know when we can move ahead. To be honest, your talk of greasing palms and whatnot makes me uneasy, it sounds like we're doing something illegal. I'll be glad when it's over.

Walk Safe Roads,
Jim

I SERIOUSLY doubt Marco will respond to this. Got to go now... one of the Roo traps out back seems to have caught something.

I spoke too soon.


---
MARCO LEE

Subject: Do To Go..
Date: Wed, 18 Aug 2004 00:18:54 -0700 (PDT)
Received: from [195.166.239.114]

Dear Jim,
How are you?I tis good to hear that everything seems O.K. from your end.I have put things O.K.here too.So I have to know your schedule.I hope you can travel over to Hong Kong at short notice?This is because of the large amount of money involved.They may want you to come over to sign some paper work before the money can be wired into your account.You have nothing to fear.When the bank contacts you just let me know immediately so that we know the way to go.

Thanks for explaining the Roos problem to me.This is serious.It is the kind of thing you see in Sci-Fi films.When pets become pests.Not to worry you will finish the wall and hunt the Roos down.

The new account you opened is that where you want the funds to be wired into?If it is please send me the details immediately.That is Bank name,Account number,Sort code,Bank address.Because SBank needs to have details of this.

Jim,I would have liked for you to tell your friend Con about this project but why would you do that now?Why dont we surprise him when the funds have hit your account and you are enjoying to fruits of your labour.He will know when the money come out.We have a proverb:the monkey says it can only deny for the child yet unborn not the child on its back.We need confidentiality now more than ever.Now that the process has reached a point of no turning back.As a friend.a good one too,you must give him a large share after the transaction has been complete.

Please get back to me immediately if they are any changes to your banking details.
Thank you.

Regards.

Marco Lee.


---
JIM GATES

Dear Marco,
Hold your horses, I'm in the military, I can't just go flying off. It's not the money, I can travel for free as military personnel, but I would need a bit of notice. Well we'll see.

Account details:
First Federal of Nippising, 2554 Oakview, Nippising, WD 57266
Acct 140953 (James M. Gates)
I am not sure what a sort code is - would it be printed on my checks? (they gave me a starter set)
I put in $1000, their minimum for free checking.

OK I will leave Con out for now. It's a good thing I can hold my liquor, because we were popping back a few cold ones and I almost told him. I've been checking my e-mail from his house, and I can tell he's curious, but too polite to ask. When he retires he wants to start a bed and breakfast with his partner, and I started thinking of how the money could help him. I guess you know what I mean by partner, I won't say any more because I don't want to screw things up for him. I'm not that way myself but we get along real well.

I am on patrol tomorrow (sigh), but tell me about this 'sort' code, and I'll deal with it. Patrol is not my favorite job. Stalking a Roo in the high wheat is 90% boredom and 10% terror, and it's hot. Somehow a Roo is more creepy when it's around the corner, you know what I mean? Is that rustling in the wheat a Roo or is it your buddy? I'd rather face something head on. Oh well that's why they pay me the big bucks, ha! While I'm out there I'll think about how this money will change my life. No more patrol, no more construction deadlines, just fishing and spending time with my kids. Maybe you and I can meet up and you can show me around Hong Kong.

Walk Safe Roads
Jim

I don't think "Marco" believes a word of this. He must be having as much fun as we are. No?


Time passes (as it tends to do). Surely he's figured it out by now? JG asks for an update. What is a sort code anyway?
---
JIM GATES

I'm in from the field (body count = 4 Roos and thank God no casualties), but nothing from you about "Sort" codes, or what comes next.

If you're serious let's wrap this up. Does the communist government even allow what you're doing? I don't want any trouble with China.

I have to go back on patrol and I can't keep farting around. If nothing from you when I get back, I'll assume you are some kid who got hold of his daddy's e-mail account.

JG


---
MARCO LEE

Subject: what
Date: Mon, 30 Aug 2004 23:50:38 -0700 (PDT)

Dear Jim,
How are you?
Sorry that you havent heard from me.It is because there is a slight problem.The bank has refused to release the funds to you. The lawyer asked them"why?"
All the could say was that with your Driver's Licence you looked more like the Roo?
So I looked properly.YOU DO LOOK LIKE A ROO!
So no DOW for you mister ROO.

Be Good

Marco

Busted. Marco doesn't believe in giant mutant killer kangaroos. Maybe he finally looked up Roo? Can they have discovered dictionaries?


---
JIM GATES

They didn't like the photo? I took it from a scammer's phony ID, maybe that's why it looks so ROOful.
Well it's true I'm no Marco Lee when it comes to good looks. But then neither are you.
Thanks for the fun anyway!

You've been a good sport, so here's the story.
Actually I belong to a frat. We finished our big project (collecting toys for kids) so a professor in the CS department suggested we see how much scammer time we could waste through e-mail. Dude! we got COLLEGE CREDIT for this! I am so stoked! It was a one-credit course because it wasn't so difficult, but now they're thinking of making it a regular three-credit course, only in the SOC. department. All because of you, dude!

So, on balance, it's been a great summer.

Have fun trying to scam the life savings out of retirees.

JG

p.s. We do have a Roo, only one, just an ordinary one. We're thinking of calling him Marco. He likes grass but will eat anything. The best thing about him is, he gets a joke right away.


---
More to come?