Received: from 85.25.129.144 <-- Germany
Subject: HELLO CEO, THIS FUND IS READY FOR TRANSFER
Date: Fri, 12 Oct 2007
From: "MR. MIKE SMITH," <mikesmithl2@sify.com>
To:
Dear Chief Executive Officer,
Please don't see the under stated text for amount of US
$
16,800,000 as a waste of time and unsolicited message to you. It is not scam in any way, neither does it has any breach to law. It is absolutely legit and real to the core for you and I to amicably share.
I am MR. MIKE SMITH, Managing Director with a Railway Transport Corporation (RTC). The subject matter which I sincerely like to share with you is an amount of US
$
16,800,000 (Sixteen Million, Eight Hundred Thousand United States Dollars). The money actually came as a result of a deliberate Over Invoice from an awarded and executed contract of some new modern Luxury Train and its parts for the Corporation.
This US
$
16,800,000 is already been deposited in an Escrow Account with a Financial Security Organization in Europe with your name as the rightful owner of the money, with reference that you will request for the wire transfer of the money to your own account this month.
My sincere reasons and genuine intentions to deposit the above amount with your name in Europe before getting informed is to avoid been quarried by the ADHOC FINANCIAL INSPECTORATE COMMITTEE of the Senate for not have paid off the quoted amount to you based on the payment memo I sent for them to endorse which they did endorsed and instructed the Central Bank here to push the money off to wherever I might instruct them to do so for its beneficiary.
The other contractor who did the contract had actually been paid off as well and he had also sent an acknowledgment letter of appreciation to my office for onward to the Senate for approving and paying him in time through my office where the contract was awarded to him. The proof of risk free in this legit transaction is the endorsement of it by the same ADHOC FINANCIAL INSPECTORATE COMMITTEE and the entire Senate House. The Senate also gave me a clean bill of stewardship for Excellency and Accountability in handling Government funds, properties and other social interest of my capacity in the corporation.
Upon your urgent return mail, I will send you an issued receipt with Reference Secret Payment Code and Pin Numbers issued for the Deposited fund by the Security Organization for easy claim of the money by you as the sole beneficiary of it.
You and I will share the fund as follows: You as my foreign partner shall be entitled with 45%, 5% for settlement of any bills during the transaction while 50% shall be mine.
On your return mail please do include your reachable telephone number for an urgent communication.
Your interest is being awaited as I hope you will.
Best Regards,
MR. MIKE SMITH
MANAGING DIRECTOR
R.T.C
Date: Wed, 17 Oct 2007

Yo Dude

Ive just come back from filming and found this. What do you want me to do? It sounds a bit dodgy to me, are you sure its not against the law?

Rap me soon yeah

Stevieperv Rammer
Received: from 202.144.76.79 (HELO webmail5.sify.net)
Subject: HELLO STEVE, VERY URGENT PLEASE
Received: (sifymail from 77.220.4.167 by host mail.sify.com) <--
[Network Management Center, Wilson Airport Langata Road, Nairobi, Kenya]
Dear Steve,
Thanks for your quick response, which came as expected.
[Im a porn star... I always come as expected!! FNAR FNAR.. I know , I know.. eurgh but I couldnt resist!!]
I am pleased to notify you that the fund is legally deposited in Germany.
The fund releasing department of the firm will do a proper authentication of the funds with your full name and then determined the possible security option of releasing the funds to you by wire transfer or cash releasing right at your house.
However, there will be a swift contact to you by the Finance Security Firm detailing you on how to proceed of having the funds this very week from them.
On my own side of sharing security, please be highly informed that, I sincerely count on you believing that you will not betray or deny me out of my share when the funds is being released to you by the firm.
To, avoid delay, please help to complete this form for onward to the firm in Germany;
The form thus:
1) Your Full Name: ___________________
2) Your Address:___________________Nationality:____________
3) Your Telephone Number:________________________
4) Your Fax Number: __________________________
5) Your Mobile Number:_____________________________
6) Amount to Claim: US
$
45,250,000
7) Occupation:__________________________
You should feel very free as my chosen foreign partner to call me via my 24hours reachable telephone number; +234-802-259-2977.
Best regards,
MR. MIKE SMITH.
[He also has a habit of including every mail so far.....a newbie to email perhaps?? But I shant include those.............]
Date: Fri, 19 Oct 2007
Yo Dude
The amount has changed. Its gone from 16m to 45m.. whats happening?
Steveieperv Rammer
[Slight mistake there.. only by $29 million!]
Fri Oct 19
Subject: HELLO STEVE, THAT\'S THE TRUTH
Please be absolutely and sincerely informed that this US
$
45,250,000 is the total amount being secretly deposited in the German firm, so things are in the way it is being kept and nothing strange is happening, what matters most is to tell you the whole truth so that you will know the exact amount that will be hitting your account as you comply to instructions.
I await urgent reply with the information required to move forward.
Regards,
Mr. Mike Smith.
[Now while I dont suggest that my command of the English language is brilliant...that really makes no sense at all!! LOL]
Fri Oct 19

Dear Dude

Ok, fair enough. Before I send you my personal details yeah, I need some proof that you are who you say you are. You contacted me afterall and therefore already know who I am but I dont know who you are. As soon as I receive this, I will complete the form and return it to you.
Have you thought of making some adult films? We might discuss this further once I see your picture as Im sure I can get you a job. Having sex with lots of very fit chicks all day is a great way to live.... Oh yes.

Rap me soon yeah

SR
[and then I didnt hear from him for a bit.. so I nudged him with a little offer]
Date: Mon, 29 Oct 2007

I havnt heard from you dude.. do you still need my help?
I still have an opening if you want to join the film industry...got a film coming up in London in the next couple of weeks if you are interested??

Seeya

SR
Date: Wed, 31 Oct 2007

Hello Steve

I did responded to your questions earlier and had been wondering you have not gotten back to me all this while not until I got this your recent mail that indicates your coming to London.

However, the transaction is still holding on in your favor for claim, it can be picked up while in London if you want it to be released to you while in London for film.

For the film issue, could you please let me have samples of the previous ones you did so as to consider my joining up with you with own of the claim when concluded.

On your return mail, let me have the required information so as to expedite action on the transaction with the Finance firm.

Regards,

Mr. Mike Smith
Date: Wed, 31 Oct 2007
Yo dude.
I think you have missed my statement yeah. You already know who I am because you contacted me but I need some proof that you are who you say you are. I have not received anything and I did say in my last mail
"You contacted me afterall and therefore already know who I am but I dont know who you are. As soon as I receive this, I will complete the form and return it to you. "
So when you send me something to show you are who you say you are, or perhaps something unique like a picture of you holding up a sign saying Ima Gay will show me you are who you claim to be.
I cant send you the movies but I enclose a few stills from the covers of my 2 latest films, they are pretty hot and the London one will be pretty much the same I expect. Perhaps you know of some girls who might be interested in taking part in some of these films? Send me some pictures if you have some and lets get together and make a movie yeah.
Laters alligators
Stevieperv
[Included a couple of pics from google which I wouldnt dare show you here!! ]
Date: Fri, 02 Nov 2007
Hello Steve,
I have seen the two copies of the film work you did with pretty girls and will work on some clean and pretty girls from Africa here, but that has to do with luring them with some money will definitely bring them in. Secondly you will have to send a letter of an Invitation to procure visas for them.
Finally on my own, will take photograph by this weekend by holding a script on my hands for you to believe and have more trust on me.
Regards,
Mike
[so slavery and pimping is now clouding the lads vision]
Date: Fri, 2 Nov 2007
Top job fella. Well to give you some idea the average women will earn around
$
800 PER DAY (
$
16,000 per month) on these sorts of films so I expect thats some incentive. Us guys dont get as much, about
$
500 a day, but to spend your time with sexy naked women and get paid for it,
$
10,000 per month... thats not bad!!!!
Ok, you get me some pictures of some nice ladies, the more the merrier (they really need to be completely naked but in sexy lingerie will probably be ok so that the producers can decide whether they will be ok or not) and their names. YOU will get a finders fee of
$
2000 for each one chosen to star in the film so the more ladies pictures you can send the better for you really.
We will pick a couple and then sort out the letters of invitation that you need and we can all look forward to earning some great money and having a fine time!
Rap me soon bro yeah
Laters
Stevieperv
Date: Mon, 05 Nov 2007

Hello Steve,

In reference to your recent mail, I can really see you and I doing serious business in a rightful direction.

To get things working in the way it should be pleased to everyone involved without breaching the trust, could you please let me know the number of girls you needed also to men.

For this success I have started inviting some good-looking girls and men in a separate locations here and will probably assemble to my office by tomorrow evening for first discussion.

Their first facial pictures will be firstly send to you before we can proceed further so as to avoid hurting the girls hence it could be their first appearance in an adult film programs.

Regards,

Mr. Mike Smith.
Date: Mon, 5 Nov 2007
Dear Mike
Yeah, top job fella. I have spoken to the producer and he is looking for 8 girls and 3 men.... obviously thats you and me mate, plus 1 other.
Faces will be ok to start with. Then the producer can have a decide which ones he wants to see more of but they will be required to send a fully nude picture if he chooses them. You must realise that starring in an adult film, they will be required to have their clothes off and to be having sex with other women as well as men so they cant be shy..... Ill leave it in your capable hands yeah dude.
Think of the money you could get if you get all 9 signed up.... a nice cool
$
18000 PLUS what you will get paid for being on the film..
We can make some serious moolah here dude
Rap me soon with these pictures and Ill get the producer to get in touch with you and let you know who he wants and to tell you what else he will need. You might want to just stay over there and find lots of girls for the finders fee. All expenses are paid so they will get a free flight and acomodation while they are filming and then be sent home. There is always a turnover of chicks as some only want to make a quick buck and others really like it and stay on and make lots of movies but Im sure you can see that there is an opportunity to make easy money by finding 5 girls a month, you can earn
$
10000 for doing very little (and you can pop over from time to time and spend a few days having them "pleasure you" so its a win win sitch fella!
Rap me soon yeah
Stevieperv
[Have you noticed that all thoughts of the $42M have gone out the window and he hasnt mentioned it for some time?? ]
Date: Thu, 8 Nov 2007
Subject: Dude
To: Mike Smith <mikesmith12@sify.com>

Yo dude

Not heard from you for a few days. I am meeting the producer tomorrow and was hoping to have some pictures of foxy chicks to show him.
Hows it going or shall we forget it if you are having problems?

Laters alligators dude
Subject: HELLO STEVE
Date: Fri, 09 Nov 2007

Hello Steve,

Sorry for the little delay which was due to my faulty computer. Thank greatness the fult had been ratified.

I am still interested in the show and as well as having talks with the ladies, their pictures will be taking by tomorrow.

To have easy flow communication, let me have your 24hours reachable telephone number so that I can call you when necessary. My cell-phone number is +234 802 259 5977,

Mike Smith
Subject: STEVE, I\'M WAITING YOUR CALL
Date: Sat, 10 Nov 2007

Hello Steve,

I am still waiting for your return mail along with your reachable telephone number being requested to communicate with you. Glade to inform you that some of the ldaies pictures had taken yesterday and will be scanned and send to you via an attachment to you by Monday upon your return mail and telephone call to me.

Regards,

Mr. Mike
Subject: HOPE NO PROBLEM
Date: Mon, 12 Nov 2007
Dear Steve,
Very Surprising that I have not heard from you regarding my mails to you all this while. Could try and get back to me today as everything is very ready as per the pictures of the nice ladies.
Regards,
Mike.
[Nothing like chasing them up and then going silent yourself. Always good practice]
Date: Mon, 12 Nov 2007

Yo Dude

Sorry, the meeting with the producer turned into a bit of a session. He was keen to see some new talent though so the sooner you can send me the pictures through the better really

Laters

Stevieperv Rammer
Subject: PLEASE YOU FORGOT TO INCLUDE YOUR TEL. #
Date: Mon, 12 Nov 2007
Dear Steve,
All the pictures will get to you by tomorrow. Please try send your reachable telephone number to me so that some of the ladies can feel your voice and have more confidence in the show. You can call me on my cell #: +234-802-259-5977. Please I am waiting to receive your call toady.
Regards,
Mike Mike
[Double barreled name..most unusual]
Subject: THE PICTURES FROM MIKE
Date: Tue, 13 Nov 2007
Hello Steve,
See the attached Proxy and urgent get back to me with your reachable telephone numbers.
Regards,
Mike
[I have scaled the pictures down as they were bloody huge but I do think at this stage that they are real and taken as requested. I was proven correct later on as you will see]

Subject: PLEASE WHY THE DELAY
Date: Tue, 13 Nov 2007

Hello Steve,

The delay is not the best for now based on your urgent request for it. Please get back to me so we can move forward and the girls feeling like hearing your voice.

I await your urgent reply.

Mike.
Date: Tue, 13 Nov 2007

Yo Mike Dude

Got the pictures. Foxy chicks yeah and some real studs. I tried your rap rod but didnt get an answer. Heres mine +xxxxxxxxxxxxxxxxx
Rap me anytime yeah. Ill pass these pictures onto the director and he may well be in touch with you directly if thats ok.
L8rs dude

S
Date: Tue, 13 Nov 2007
Hello Steve,
You can see now that I am a person of action and I pray you don't disappoint at the end of this action and there is more ladies on board to be pictured by this Saturday. So I am waiting for next action from you and the Director so as avoid breaching the trust.
Regards,
Mike
[STILL NOT MENTIONED THE MONEY AGAIN SO FAR.....]
Date: Tue, 13 Nov 2007
Yo Dude
I got onto the director straight away and he likes the look of these ladies. I know it sound stupid but he does need to see the dudes naked too. The size of their ramrods are just as important but if they look good naked then he will be able to find parts for them yeah.
Just as a hint, just between you and me... black girls look best in WHITE underwear. While naked is an absolute must, it would help to include another picture of them in white underwear...stockings and suspenders is best if possible. It really shows the skin colout which western gents love.... but dont say I said so or the producer will go mad.. its a secret for me and you. He really liked the second one so if you can get a picture of her in white stockings and suspenders, she is 100% sure to get the part.
Hopefully you got my raprod number yeah and can call me.
Laters dude
StevieP
[Thought it only fair that if the ladies had to disrobe, he did too]
Date: Wed, 14 Nov 2007

Hello Steve,

Ok, after the information you passed regarding the new ways of dressing and other sort what will be the next line of action? because I would like to be seeing all things working as we started earlier so as to be very free with you all the time.

The ladies love and demand to see your own personal Naked Picture with a lady with having sex together.

For the hint, I will definitely keep it secret hence I know we have started something that move us forward in life.

Please I await for the Naked Picture of you as the ladies demand, so that it will enable them to pilot and ginger other ladies who wanted to join, but want to see good proof from you.

Regards,

Mike
Date: Wed, 14 Nov 2007
Subject: Re: LADIES DEMAND
Dude
That was just some inside info for you to know to help the girls to be selected. Nude pictures are always very important but black ladies always look good in white lingerie and I know that this director has a thing for lingerie so it can do nothing except help your girls to be selected.
As a movie actor I dont really have any pictures of me as such, but I am seeing the director on Monday for a casting so its very important that you get the next batch of pictures over to me by Friday at the latest and I can take them with me on Monday. Because we are having a casting I can get some pictures taken of me then to send to you nfor your ladies so what sort of pictures do your ladies want? Just me naked or do you want some in action?
Let me know with the next batch of pictures and Ill get them sorted for you and sent over
L8rs dude
ps. Dont forget I need the guys to be naked too... they dont have to be in lingerie though :-)
[ I thought that by making a specific request for a particular type of underwear we could confirm that these were indeed REAL people that he was convincing to disrobe..turns out they were]
Subject: URGENT REPLY
Date: Thu, 15 Nov 2007

Dear Steve,

The instructions of always being in Naked by the ladies had be obeying by my ladies as they are very co-operative notwithstanding that it is their very first thing in there life. The little problem they are having now is the White Stockings which is not easy getting here, but White pants can be used for the next pictures. Though I will try as much as possible to help them to be selected as one of the best ladies. Steve I would like to know when the Finder Fee will come up to me so that it can be used to assist the ladies for their needs to start preparing themselves for the trip to London immediately they are being requested to come over there.

The ladies wants your personal Picture and some in ACTION.

Regards,

Mike
Date: Thu, 15 Nov 2007

Yo Mike Dude

No problem chap, white underwear of any sort will do the job. Im onto it yeah so should be no problemo. Whatever you can get.
The finders fees come to you once the director decides to use the girls. Thats why the more you get sent over, the more chance you have of getting multiple girls into it and so making serious moolah. Sending a picture doesnt guarantee they will get a part and unless the guys are naked they wont even be considered.. just a reminder on that.

As soon as the director decides to use the girls, you will get a contract which you need to sign and they will get a contract that they need to sign and as soon as thats back with the director, you get your fee and arrangements will be made for the girl/s or boy/s with regards to travel, hotels , expenses etc (you get £100 per day living expenses for meals etc while on location so you dont even have to tap into your earnings..thats why porn stars are really well off with million pound houses etc). As its going to be your first foray into the biz, I am also going to try and arrange for you to come over as a crew member so you can watch what happens and see what its all about. Its all first class from here fella me lad. Then we can slap some tins in the local bars and clubs with the girls, followed by some fantastic sex, yeah baby!

The girls want action eh, these sound like some game chicks for sure. Ill get some pics done for you on Monday so Ill send them over on Tuesday.

Dont forget the rest of the girls. If we can get 10 in front of the director and he chooses 5.... Thats a nice little 10K to start. With that you can put some adverts about and attract even more women. If you can get 20 people per month, you only need 5 to be accepted to get 10K. If you really want to get dosh, star in a few films and get all that extra cash as well as the finders fee. You will be able to live like a king, big house, big cars, servants the lot... and the best part... for almost no work at all

Rap me on the rap rod if you have any questions dude

L8rs
Subject: URGENT REPLY
Date: Fri, 16 Nov 2007

Hello Steve,

How is the going topday ? Thank you greatly for the full details you provided for me which has given me great insight of to do and expect.

Just want to inform you that the pictures will taken aagain by Wednesday next week, though it would have been taken place this weekend but it is due to the fact the girls are taking the school exams this weekend. If yours is ready, it will be great if you send it immediately you are through.

I await to see the pic.

Regards,

Mike
Date: Fri, 16 Nov 2007

Hi Mike Dude

I am off to see the producer on Monday as you know so thats going to be a bit of a blow as I was really hoping to have some girls to show him. I will take the 2 you have sent me but as the guys are clothed, I cant use them. I am leaving shortly as we are having a crew meeting in London first (something we often do as the crew have already been employed so its fun to meet old friends and have a beer or 2) but I will try and get the director again for later in the week. Shooting is starting in the next couple of weeks so the sooner we can get pictures in front of him, the sooner we can get the girls over and employed in the film and the sooner we can get you some luvlee moolah yeah.

Ill send you some pictures over on Monday for your ladies.

Laters Dude

S
Date: Mon, 19 Nov 2007
Subject: Here you go
Yo dude
Found some great girls today. The producer is interested in both the girls you sent for an up and coming production which will start to shoot in a couple of months for an all black female production so the sooner you can get me the new pictures the better. He will be looking for 6 girls in total so if you can get me another 4 we could be quids in.
Here are some I took today... I have tried to make them small as I guess you are probably on a modem and therefore dont want large files.
I hope the ladies like them...
Rap me soon yeah
StevieP
[these were of course, just lifted from the wibbly wobbly web ]
Subject: IT IS SO GREAT
Date: Tue, 20 Nov 2007
Hello, Steve,
The photographs are great to watch and the girls likes it very well. The other requested pictures will be coming soon.
Regards,
Mike
[I guess that by making them small they didnt serve the purpose for which he was hoping LOL]
Date: Tue, 20 Nov 2007

Yo Smithmeister dude

I am going to see the producer again this Thursday morning. I need the pictures by Wednesday yeah or its going to be too late for this film. We can get girls on the books but theres no money in it until theres a film to be made so dont let me down. He is expecting top see them so its my rep on the line too dude, as I am suggesting we use your "casting agency". Ron is a nice guy but can get really annoyed when people let him down so make sure you dont let me down yeah.

Laters dude

SP
Date: Wed, 21 Nov 2007
Subject: URGENT!

Yo Dude!!

I am going to be leaving shortly, dont be letting me down and not sending me those pictures you promised me. I really cant afford to have my reputation given a bad point fella....I need those pictures ASAP

L8rs Dude

SP
Date: Wed, 21 Nov 2007
Subject: DISAPPOINTED!!

I am about to leave dude and theres nothing in my inbox. If this costs me my reputation I am not going to be happy. I hope the pictures arrive this evening and I can collect them tomorrow morning... you better not let me down dude!
Subject: NO DISAPPOINTMENT AT ALL
Date: Thu, 22 Nov 2007

Dear Steve,

Before the end of today, the pictures will gets to you. The delay is from the photographer who snap the pictures, he promised of bring it today to my office, Ok, So be little patience. I called you several times yesterday and leave a message on your telephone answering machine with believe that you will call me back and you didn't.

Now that the Director had finally selected the two girls, I think I should send you a name in which my Finders fee can be send to enable put up more action for other girls.

Regards,

Mike
Date: Thu, 22 Nov 2007

Hi Mike Dude

Unfortunately film sets are, as you may or may not know, silent. This means that you cannot have your mobile phone so I dont have it with me and would be unable to answer your calls. Im sure there will be messages for me when I return home.
Lets get all the pictures together and then we can sort it all at once. The director may not want to see anymore as he was quite annoyed that I hadnt produced more girls as I had promised. Get them to me as soon as you can and Ill see what I can do. If I can show him some more before the end of the day I might be able to sort it all out. The problem we have is that the film cant take place until its cast, and these girls were needed for the film, so no film, no money for you or wages for me. Thats why its really important that I dont let the director down and you dont let me down yeah. I will need them before the end of the day without fail and I might be able to make everyone some dosh yeah dude.

L8rs

S
Subject: Steve The pic.
Date: Thu, 22 Nov 2007
HI Steve,
This is the pics, wating for your reply.
Mike Smith.
[He included 5 jpg.. all 1k each and empty......]
Date: Thu, 22 Nov 2007

Yo dude

Theres nothing here dude fella!!

Sp
Date: Fri, 23 Nov 2007

I am very disappointed dude. You are late getting me the pictures and then what you send through are not pictures. Im not sure that there is a future in our relationship. You have made me look very bad and that makes me unhappy. I am leaving the film set today around 5pm UK Time. If you can get me something before then, maybe I can still resurect this but you are costing yourself money and me my reputation. If you cant do it, just say so and we will forget it but after today, I am not prepared to waste any more time on you because I need my reputation. Either get me the pictures or we will forget it and Ill find someone else. Im sure there are many other people who can use $10k

L8rs dude

Stevieperv
Subject: HERE IS IT AGAIN
Date: Fri, 23 Nov 2007
Dear Steve,
Here is it again, Please do confirm immediately your received it.
Mike.
[This time they were here although a new man had appeared. He is obviously very persuasive!]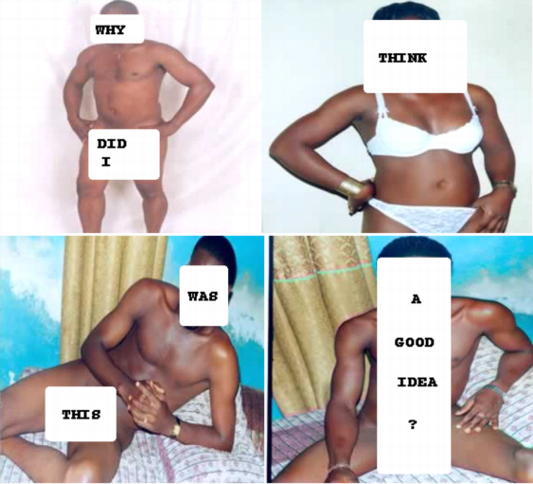 Subject: HAVE YOU RECEIVED THE PIC
Date: Fri, 23 Nov 2007
Hi Steve,
As a matter of fact, I really took as my brother with 100% believe that we will do business regarding this very film issues and other onnes. What I am actually going through here is to gather all the girls together as the studies are not permitting the the chances to assemble to my place while some of the want to see prove from me as a true finder to the adult film company.
How is the Letter Of Invitation going to look like, hope it will not be stated that the ladies and men is coming to London for an adult film act? confirm.
Regards,
Mike Smith.
[Seems that the ladies are beginning to think he just likes to take naked pictures]
Date: Fri, 23 Nov 2007
Yo Dude
You are a top fella. Just in time with these yeah.
If you are having trouble getting girls (who think you are some letch yeah) without proof, I enclose a document showing you as a proper recruiter, hope thats ok for you.
The girl in these pictures we have already seen and has already been accepted but as I have already said, we were really looking for more girls but Im sure we can find these guys some " action films" if you get my drift. With guys its really difficult as Im sure you can imagine yeah. 90% of the audience for these types of films are guys and so dont really want to be looking at other guys. The hardest part for a porn guy is getting an erection when there are many people about. To have this in picture form almost gurantees they will get the part because thats where 99% of the guys fail. Its all well and good being good looking and a long cock but but if you cant get it hard with people looking on, you are no good.
You could kill all birds with a single stone really, if you could get the lady you sent to have pictures taken , sucking on each of these guys erections then it really shouldnt be a problem.
I ll get the recruiter contracts sorted out. As an incentive, you might want to take some of your finders fee and offer it to the girls. EG, you get $2K for each one accepted into a film, think how many more you could get if you offered them $500 to come and have the pics taken....better still, they dont get it unless they are accepted so if they are, you win anyway but you may get more girls.
I am concerned however, that you mention the "studies" of the girls.... I hope that these are all over 18 otherwise there could be some serious issues as the law says they must be over 18.
Think thats all yeah, rap me soon and see what you can do about getting more girls for us or the girls to be giving oral sex to the guys you have already sent over. I will put all these in front of the director today though. You came through so good job yeah
Rap me soon
L8rs
Stevieperv
[so I include an invitation to send to him..its as bad as the ones they produce but thats part of the fun isnt it!]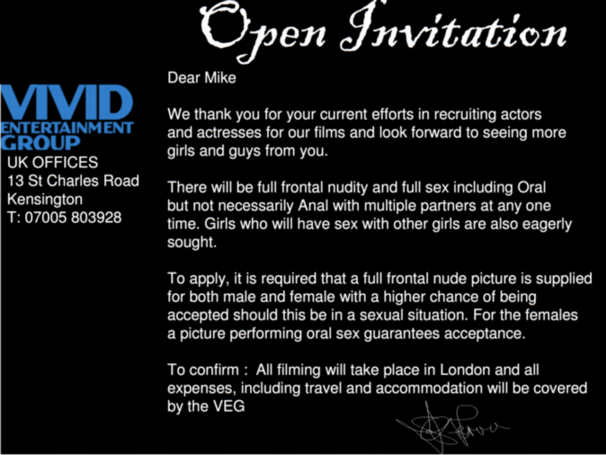 Date: Fri, 23 Nov 2007
Subject: CONTRACTS
Yo Mike Dude
Please find enclosed the contracts which you need to complete for each of the applicants. Note that the one for the males and females is slightly different. The girls get paid on a sliding scale, standard fee for sex, extra for oral sex, extra for anal sex etc etc. All applicants must sign and complete the release contract.
We still need 4 more girls though, dont forget. We cant start to shoot until we do. As a gesture of goodwill I would like them to come from you so that we really get off to a good start but we will have to find them elsewhere if not as we want to start shooting in a few weeks. Remember its GIRLS GIRLS GIRLS that we are looking for and if you pay attention to my comments regarding the pictures we should have no problem. Ultimately they are going to be having sex on camera so shouldnt be shy. If they dont want to have a picture taken of them sucking some dudes cock, then they are not going to be any good so get on down and get some filthy fillies yeah
L8rs dude
Stevieperv
[Contracts were found, modified and generally buggered about with]
Subject: VERY URGENT
Date: Mon, 26 Nov 2007
Dear Steve,
Firstly, please be informed that the contract documents you sent through attachment did not show, there is really nothing on it to read. Please resend it.
The part Finders fee will really, really help me a lot to pay some hotel bills where I needed to gather the remaining girls and more for the photographs and othere required protocols. Finally the Invitation Letter, though I believe you know how best the Invitation Letter will be prepeared, because a copy will be send to Bitish Embassy.
Again, the girls have passed the age of 18 years, in other words they are 100% fit for the show.
I await your urgent reply.
Mike.
[So he cant read a PDF. I thought that might cause him a problem but lets not make it easy eh..]
Date: Mon, 26 Nov 2007

Yo dude

These were in PDF format which is standard for contracts as they are not editable documents and cannot be changed. If you are unable to open them, that could be an issue. I will speak to the lawyers and see if there is another format which is acceptable.

I have already sent you the invitation letter? Are you saying you didnt receive it?

L8rs Dude
Subject: YES, NOT YET
Date: Mon, 26 Nov 2007

Dear Steve,

Did you send the Invitation Letter along with the attached Documents? If yes, it means it had to be resent hence I am still no viewing the sent attachment.

You did not comment on the issue of the Finder fee as I wouldn't want anything that will bring further delay in supplying the remaining girls to you.

Regards,

Mike.
Date: Mon, 26 Nov 2007
Yo Mike Dude
The invitation letter went first on a different email but that was a pdf too. Until the documents are back here and the model releases are completed theres not a lot we can do. As soon as they are accepted for a film and it starts to shoot, you get the dosh, simple as that but the paperwork needs to be back. I am waiting for the lawyers to see if any other form other than electronic PDF is acceptable (see enclosed). I do find it odd that you cant open a PDF, its the most common document on the planet as shown below by our lawyer!!
---
----- Original Message ----
From: Peter Stuartsonson
Sent: Monday, November 26, 2007
Subject: Re: Other than PDF.

Steve
Are you seriously expecting us to conduct business with someone who is unable to open a PDF, the most standard document format there is in THE WORLD!!!! At your insistance I will run it by the board but unless they have some fantastic girls for us, (not what you have already shown us, mediocre at best) Im not sure they will move but I will ask on your behalf. Ill be in touch tomorrow

P.
---
Anyway, I hope to rap with you soon yeah
l8rs
Steveieperv
[A nice little introduction so that when he comes into play later on, "mike" will recognise him]
Subject: NOW OPENED
Date: Tue, 27 Nov 2007

Dear Steve,

Glad to inform you that I have succeeded in opening the all the sent attached documents including the Open Invitation Letter. I got them opened through a friend's computer which has all the software.

Today, I will present it to all the girls and men, also to the new girls who are coming down to me toady for discussions regarding the adult film. These girls are so beautiful and they will all make a good attractive to you and other member crew there.

The only thing I faulted in the Open Invitation Letter is that it would have come with names of all the artists whom I am to send to you. So would you want me to give you their entire names so that it will be listed in the Invitation Letter? It is also necessary to send a copy of the Invitation Letter to British Embassy so as to make things very easy for them to obtain their.

I will delegate my Manager to accompany the artists when there are coming to you.

I await your urgent reply.

Mike.
Date: Tue, 27 Nov 2007

Yo dude

Brilliant that you have opened the stuff yeah. Lets get on and do some biz right. I think I misunderstood on the letter of invitation. I thought you just needed something to prove that you were acting for another company, not for the people you have already recruited. I can arrange that once I have the paperwork back with everyones names on them and we will arrange for each to have their own invitation which will provide the estimated time scales yeah. If you have anyone new who doubts your cridentials, you can show them that generic one, cool?

You dont need to worry about visa etc as our travel department will deal with all of that for you and are very used to dealing with this sort of thing. You dont need to do anything, let a lone send anything to the Embassy, but its up to you if you want to but we have a whole team of people who deal with that sort of stuff and will contact everyone directly with travel details, accomodation etc. Thats for us to arrange, not you yeah

Look forward to getting more girls from you as soon as possible and all the forms back from you as soon as possible

L8rs Dude
Date: Fri, 30 Nov 2007
Subject: URGENT UPDATE

Yo Mike Dude

I am off with Ron Jeremy , the director, this weekend to try and recruit another 4 black ladies as you have let me down on that. How soon can you get the paperwork for the current applicants back to me?

Rap me soon yeah

Stevieperv
Subject: MY REASONS
Date: Sat, 01 Dec 2007
Hello Steve,
I am deeply sorry for the delay, in fact the logistics here is soo tough in the sense that the whole issue is taking me a lot of money to put things together. The remaining four girls will be taking their pictures by tuesday as well as filling the sent documents along with the other two girls.
But I deemed it necessary right that you ought to advise the Director to release part of the Finder fee to me to upset some hotel bills here.
Regards,
Mike Smith
[AHA... so he hasnt forgotten his roots but is obviously the whole chain or the top man in a chain of lads as nobody else has been introduced and its been a while]
Date: Mon, 3 Dec 2007

Yo dude

I understand what you are saying yeah, but without the forms and such like back, no money can be released. The sooner you get this back to me, the sooner we can proceed isn't it.

If you are having hotel bills then you really havnt thought about it at all have you. What on earth do you need a hotel room for and why does it need to be upset??

You visit the girls at home - cost 0
You take digital pictures - cost 0
You email them - cost 0
You complete paperwork - cost 0
You email it - cost 0

You should have no bills at all so you really should be using your noddle yeah and not wasting all that money...!!!

Rap me soon

Stevieperv
Date: Mon, 3 Dec 2007

Yo mike dude

I have just had a call from the USA and so am off to New York in about 4 hours and leaving in about 1hour so will be out of touch for the next day. If you can get me the pictures FOR tomorrow then I can show them to the US director where there is an even bigger opportunity as the market is much larger. I am landing at JFK about 9 this eve, their time, so with a bit of jet lag wont be around until later tomorrow probably and am meeting the director at 4 their time so if you can get the images over to me for about 5 uk time we should be ok.
This could be those girls coming with me if you got me the pictures and paperwork back.... better not tell them!!

L8rs dude

Stevieperv
Date: Wed, 5 Dec 2007
Subject: You have let me down again

Dude!!

Its early Wednesday morning here and my inbox is empty. You still havnt sent me the forms back to register the girls and guys. How do you expect us to pay you if you cant do the simplist things??? You are rapping about needing cash yeah... well send the bloody forms back and it will all be sorted. The only hold up in all this is you dude. Are you really able to handle this??? You also have not sent the pictures you promised me. Dude if you cant do it, say so and we can forget it and move on and Ill find someone else in your neck of the woods who can sort me out yeah....

I am right royally pissed off fella. You are really making me look bad!!!

SP
Subject: NO, PLEASE SEE IT THIS WAY
Date: Thu, 06 Dec 2007
Dear Steve,
Please don't see my delay as a let down or not been able to handle the assignment. In fact I want you to know that we are dealing human beings who are not in the adult film field before and they needed to be convinced beyond all reasonable doubt, especially the girls, so that no one will be feeling being used for nothing hence they have exposed their privacy out as they frequently complained that they wouldn't want to be messed up at the end of everything.
My happiness now is that the number you requested had all completed with their pictures also taken and would want you to look at one of the filled form and assist in making some correction so that others will fill theirs correctly. Reasons is that there is some blank space that requires your company to complete, is it not?
In all, please you should know that getting things started at first instance is always very difficult, but when the bridge is being crossed other things get very easy and in time at when needed.
Please go through the filled form attached and confirm back to me, so that the remaining ones can be and returned back to you with all their pictures already taken as earlier directed.
Regard,
Mike Smith.
[He included a PDF but as it was nearly 2MB I didnt include it]
Date: Fri, 7 Dec 2007

Yo Mike Dude

Yes, that was fine. Ive only just got in from a long shoot. Hard work yeah, but what a lot of fun! That was fine , we will complete the rest and then send it back once its complete and signed so you have a copy too. We need that for each person and the model release form. Thats one of the most important.
Are we ever going to get any more girls pictures? Its Friday and you did promise some for Tuesday... If thats all you can get then thats fine, just say so so that I dont set expectations and look stupid

L8rs dude

S
Fri Dec 7

Hi Steve,

I am still waiting to have the confirmation of the attached filled form I sent to you yesterday so that the artists can understand how to fill theirs.

Regards,
Subject: SEE THE PICTURES
Date: Sat, 08 Dec 2007
Hello Steve,
I hope we are making a great progress now in to my assignment. Please there is a substitution for a male I made to replace the first three groups I earlier sent to you and would want you to please accept the new one herein due to his obedience to my instructions.
About two girls will also be sending to you by Monday or Tuesday next week with all the forms.
However, I do hope that there would be no betrayals of any sort in this understanding participation of adult film program with your company as it wasn't really easy for me for now arranging all this young girls.
See the attached pictures and confirm back to me.
Regards,
Mike.
[And once again sends 1k images]
Date: Mon, 10 Dec 2007

Yo Mike Dude

I might have only just got in and have a fuddled brain but there are no pictures on here.. just lots of 1k placeholders. Can you try again

Cheers dude
Date: Mon, 10 Dec 2007
DEAR STEVE,
THIS IS THE RESENT PICTURE. PLEASE CONFIRM AND GET BACK TO ME.
MIKE
[AND AGAIN]
Date: Tue, 11 Dec 2007
Dude
These are your pictures.... nothing there.....
[So I send them back to show him]
[AND THEN THEY ARRIVE]
Received: from [196.29.219.137]
Date: Thu, 13 Dec 2007
From: "mr. mike smith" <mr.mike_smith_12@yahoo.com>
Subject: PICTURES & FORMS "1"
Hello Steve,
Sorry for all this unrelated disappointment which I see as uncalled for but it was due to poor server here. However, here are the filled documents and the pretty young girls' pictures and more will be coming your way again as soon as issues are implemented.
Please what needed to be done from your side in terms of registering the artists should get across to me this week so that I can get the ladies and men informed on the next level.
Once again, I am sorry for the uncalled delay
Regards,
Mike Smith
[And so , girls in white underwear as requested..this guy must be mr persuasion. I didnt include all of the contracts as they were all images and each page was about 1.5mb but you get the drift]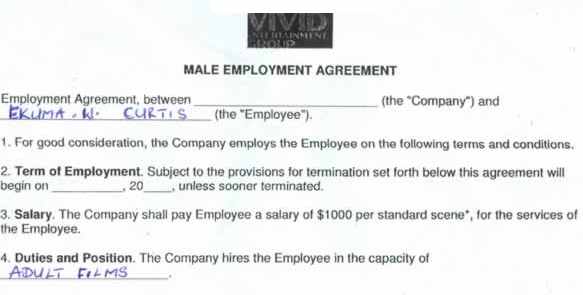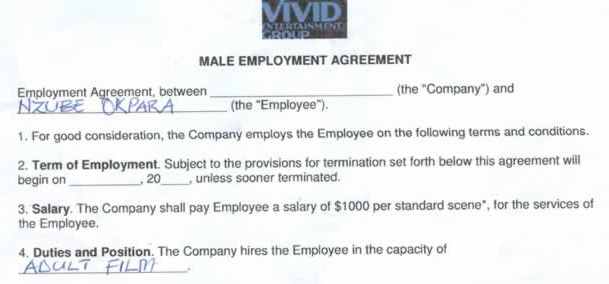 Date: Thu, 13 Dec 2007
Subject: Re: PICTURES & FORM "2"

Yo Dude

Great pics mate,all really foxy babes!! I would be happy to work with any of them. I have sent these off to the director now so hope to hear back very soon. Unfortunately you didnt include the forms in this mail. You really are having problems yeah. Rap me soon with the forms

Top work fella

Stevieperv
Subject: THINGS ARE NOW OK
Date: Thu, 13 Dec 2007

Hello Steve,
DUE TO THE PROBLEM I HAVE BEEN HAVING SEND THE PICTURES TO YOU PROMPTED ME TO CREAT A YAHOO ID SO AS TO COMMUNICATE PROPERLY WITH YOU AND HOPE YOU UNDERSTAND AND REASON WITH ME.

Sorry for all this unrelated disappointment which I see as uncalled for but it was due to poor server here. However, here are the filled documents and the pretty young girls' pictures and more will be coming your way again as soon as issues are implemented.

Please what needed to be done from your side in terms of registering the artists should get across to me this week so that I can get the ladies and men informed on the next level.

Once again, I am sorry for the uncalled delay

Regards,

Mike Smith
Date: Thu, 13 Dec 2007

Crikey dude, you are on fire!!!

I have just sent these off too. I need the model release forms most importantly. Without these they cant be "employed" dude, so thats most important. Once I have these back I can complete our side of the contracts of emplyment yeah and get them over for you to sign. Get them back and we can get moving. I have had a reply from the director on one of the girls already from the first mail I sent. The last one in the first mail you sent me wearing the white and sucking her finger (he loved her) and wants to know if she has any "hardcore" shots. He would like to see her either giving oral sex or using a vibrator on herself as he has an immediate opportunity for her if you can get these pics. He was most excited about her and I think he can get her lots of work if she gives him these pictures yeah. This could be a big break for her and you fella..... look forward to seeing them dude,

Rap me soon

Laters

Stevieperv
Received: from [196.29.219.137]
Date: Fri, 14 Dec 2007
Subject: PLEASE CONFIRM

Hi Steve,

I will try and find out from the very girl you mentioned of, but other girls had the director ever admire them as well? because they are all pretty young things.

Please confirm if it was all the forms that you didn't see. I also hope that all the able young men were welcomed by the director?

I await your reply.

Regards
Mike.
Date: Fri, 14 Dec 2007

Yo Mike Dude

Thanks for the forms, thats great. These are all the employment ones. I also need the model release forms yeah as without these they wont be in anything chap. The employment contract just confirms everything is legal etc but the model release form is the agreement between the model saying that she agrees which is required by law yeah.

All the chicks were fit dude, it was just the look of that particular one. Rocco is the star and has very particular tastes and she fitted them. Filming starts in 3 weeks, just after xmas (not sure that you celebrate that or not wherever you are or if its down to some tribal leader or not) so the director is looking to tie this all up before then so the middle of next week is the cut off. Rocco films always sell really well so the pay is slightly higher on his films because the return is there. Once a chick works with Rocco they are for sure in the big league and can earn serious dosh. You also get a higher cut if she is selected which is 10% of her first salary which on a Rocco film can be up to 25K (thats GB so $50K). Happy days indeed.

Its really in her interests so you do need to make sure she understands...you dont need to tell her you get extra unless you might want to split it with her but one quick pic or her giving a blow job or playing with herself and she can be in the BIG TIME. I am off for a few days now having a bit of a holiday and will be back in the UK on Tuesday so try and sort it out by then and come wednesday, you can have some wedge sitting in your hand down the local boozer having women flock all over you... NICE!

Rap me soon with the model release forms yeah

L8rs

Stevieperv
Date: Mon, 17 Dec 2007
Subject: SECURITY & MUTUAL INFORMATION

Dear Steve,

HAPPY AND MERRY CHRISTMAS IN ADVANCE

Please be informed that the very girl you described have no vibrator non did she had a "Hardcore Short, but she promised to do that if she is been given some funds to get it done here send to you or she could probably do that when she is finally in UK. The girl further says, you should send her the vibrator along with her friends.

We have some misunderstanding the on the area of Model Release Contract Form, which paragraph quotes thus: For Value received and so forth. And nothing has so far been received as like finders fee or a sort of mobilization fee to keep recruiting the artists.

Please I am been warned by a hired lawyer here not to place the taken pictures of the young ladies and men to an Internet or magazines and any other related media outlets that engages in any form of advert without the full consent of the concerned men and ladies fully involved.

Now that nothing had been so far paid out or received as the very paragraph specified, I think we should be full transparent to ourselves so that one won't be sued just for nothing.

For the full progress of recruiting more of the artists, I have found additional more 6 good and beautiful girls who are ready to play any role required of them by your firm or Agent, but would like to have a commitment fee before taking part as that will only assure them that they won't be used and dump.

Regards,

Mike
Date: Wed, 19 Dec 2007

Yo Mike Dude

Happy xmas to you to fella me lad.
I think you have misunderstood dude. Your Lawyer that you hired is correct. Thats preciselly why we need the model release forms. Its the agreement between the model and the photographer/cameraman on the use of the photos. Without those nothing can be done. I have said to you at least 3 times yeah, thats the most important form dude. The value received is not money yeah. I guess its the language barrier again but thats not what it means at all and Im suprised that your lawyer fellow didnt explain that.
If you remember from our original conversations, you get the money when they are selected to star or take part in a film. Until you get the contracts and model releases back, they cant be employed. If they cant be employed then you cannot get your money. You cant expect my company to part with funds to someone they dont know without having some legal recourse surely???

As for the hardcore shots, something similar to the above really. We are not involved in trafficing of people and need to be sure that once the girls and guys arrive here, they are going to willingly take part in all the activities that are required of them. We cannot take the chance that after paying for flights and hotels etc that they are not going to perform once they arrive here in the UK or wherever the filming will take place. If they are not prepared to send us the pictures then its almost certain that they wont be employed as ultimately this is what will be expected of them on a film set, in front of many people and cameras etc etc and if they are not prepared to do it for a photographer on their own then there is no way thats going to change dude. If they cant do it then we dont want them yeah. You have to get ruthless!!

L8rs Dude

S
Received: from [41.219.208.55]
Date: Thu, 27 Dec 2007

Subject: STILL WAITING ON THIS REPLY

Hi Steve,

Having concluded meeting with our lawyer over other bordering issues in the Model Release Forms over the weekend, the lawyer advised that you should specified the meaning of "Value Received" and as well as to send a Promissory Note to the attention of each of the artist involved stating that their nude pictures won't be exposed in any form until they are there in the United Kingdom or wherever country your Entertainment Groups wishes to take them to for film casting, hence that will guaranteed them of whom they are to work with.

The girls who have already indicated good interest want your Entertainment Groups to also assure them that they won't be for any kind of animal sex as it is highly forbidding here in Africa. But would love to engage in any form of human sex making that be considered ok by your firm and the lawyer really chorus with their statement.

The girls further comments that other form of picture or video taking on them while making love to one another including the men have to take place there right in your presence and the director without shy of any kind hence they did not shy when I instructed them to be fully naked and they did it with full smiles on their faces. The further pledge to be highly abiding to any instructions giving to them by any of the directors including you.

Upon your acceptance to their plea and pledge to you and your firm, that they will fill the Model Release Forms and return it back to you as earlier instructed.

Please I await your urgent reply.

Regards,

Mike.
Received: from [66.96.211.133] Date: Mon, 31 Dec 2007
Subject: ARE YOU THERE STEVE?
Steve,
I am worried as I haven't heard from all this while as I have sent you all the documents as well as required you to clear some air to me and the entire artists as the lawyer demand to settle the girls minds.
I await your urgent reply.
Happy New Year.
Mike Smith.
[It was xmas... even Scamorama has xmas off lol]
[I now spot that he has actually changed his email address... I knew he said he was going to but this one really did go to the spam folder..
Jan 2 2008

Hey Mike Dude

Hope you had a ragering xmas. Ive been in California with some porn buddies and ladies. We had a totally orgasmic and spunkaliscious time.
I would be able to reply to you sooner if you didnt keep changing you email address so that my spam filters keep collecting your emails dude. Are you on the run or something yeah!!

These are standard model release contracts and are not that simple to alter but Ill explain these things again to you as your lawyer is obviously unable to understand what you are telling him because I have already explained it to you and I know that you would have told him what I told you. Perhaps you should get a new lawyer? Anyway, here you go

Value Received - This is the theoretical value of the pictures. The pictures themselves have no direct money value on them but the value is when they are sold for publication either on the internet or magazine. Until the pictures are sold, used etc, they have no actual value.

I feel that some sort of note is not required as I have expressed many times that until we get the model release forms back, we cannot do anything with any images or video which have been supplied to us. I work for a multi million pound organisation. We are not some fly by night transient company and have rules and regulations which we must abide by. However, in the way of cordiality for the new year, yeah

"This is to confirm that any images which have been sent are not to be and will not be used in anyway for publication in any medium"

As for the girls not wanting to show anymore, I have spoken to Ron (Ron Jeremy, the director for this sequence of films) and he is a bit unsure but will make a final decision once these forms are back so top job fella, get them back asap dude.

Hope thats funkaliscious for you yeah.

Rap me soon

S
Jan 3 2008
Received: from [41.219.245.12]
Subject: GREAT TO HAVE YOUR REPLY/URGENT REPLY

Hello Steve,

My warnst Happy New Year to you and every members of your organisation crew.

I think its great having your much expected response as I have been really disturbed of your non response, though I am now happily relieved.

Please do confirm, after receiving the Model Release Contract Forms has now duly completed by all the concerned artists, then what will be the next line of action, to I think it will be a Letter of an Invitation to each of an everyone of the paticepating artists/models.

PLEASE NOTE THAT I WILL BE HENCEFORTH BE MAINTAINING THIS YAHOO ID ADDRESS HENCE MY FORMAL ID IS NO LONGER DELIVERY MY MAILS TO YOU.

Least I forgot, how long will it take your organisation to get all things sorted out immediately you forward the Model Release Contract Forms to them. Though the form will be scanned and send to you by Monday.

Please I await your urgent as I look forward meeting very earlest.

Regards,

Mike.
Jan 3 2008

Yo Mike Dude

Cool. Ill stop checking but it was pure chance that I went into the spam folder so you were lucky yeah.

Once we have the job contracts and model release contracts back for everyone we can complete them with our information, get them signed at our end and then we will return them to you so that everyone has a signed copy by both parties and there can be no ambiguity dude.

The original film has now gone and been fulfilled dude, I did say it needed to be sorted out before xmas so you and the ladies and gents have missed out on that. Apparently its going to be a riot. Jenna Jameson has said she will make a guest appearance because Ron is directing and theres always a big party when the 2 of them get together so thats a shame. I think you would have enjoyed that one!!

There is a new film coming up at the end of this month called Black Mamba which is starring Mike Hunt (Pic enclosed for your ladies) as he is well hung so I am going to show him the pics of your ladies and see if one takes his fancy. This will be cast in the next week to 10 days so its really important that we get these documents back as soon as poss dude.. dont want to miss out again. This one is being directed by Hugh Gerekshun who is a lover of black ladies but unlike Ron likes red. I hope the pics in white will be ok for him so Ill let you know if theres a problem.

GET THE FORMS BACK ASAP YEAH

Rap me soon

Stevieperv
Jan 5 2008
Received: from [196.201.151.3]
Subject: THE RELEASE MODELS DOCUMENTS
Dear Steve,
Please see the attached document and treat and returned as promised.
Regards,
Mike.
[More contracts with different names... didnt see the point in resending them all]
[And its still ongoing!!!!!!!!!!!!!!!!!!]