Dear Lady Agatha Bristol,

I want to thank you for your response

I know you might be wondering where I got your email contact but to be honest with you, I got your contact email discretely during my search for a reliable partner who would be of assistance to me in order to have the funds transferred out, if you read my previous emails properly I have explained the why I need your assistance, I did consider what you might think about my kind of person but the risk was worth taken and the fact remains that I cannot transfer the funds in my own name, this is the main reason your assistance as a foreigner is required.

Considering the money involved, it is necessary for me to be sure of the person to whom I will be entrusting this transaction, my trust is not given out lightly, I need to be convinced that you are a matured person with some integrity and I will also prove my integrity to you.

With regards to the legality of this transaction, I want to inform you that the attorney I am using will prepare the affidavits which shall legally put you in place as beneficiary; he will obtain the necessary clearances which will cover all the aspects involved in this transaction from the Hong Kong authorities including the Justice department. Every document will be done to meet all international standards.

I must also inform you that you will not have to travel to anywhere for any reason, because the attorney shall be handling all matters of probate on your behalf, you will be duly represented here by the attorney, he is an accredited lawyer with vast experience in issues of inheritance here in Hong Kong. He will have all the documents perfected, and with these documents he shall come forward to apply for the immediate release and transfer of the funds to you. i do not need you to send any money to me for any reason as I will take care of all expenses that will come my way.

What I expect from you is trust and commitment, I want this large sum of money transferred with your assistance, and as a banker for many years I know that if we follow up this transaction diligently it would be completed within 12 working days without any question.

I want to know if you are willing to follow up this business seriously before I can give you more details about this transaction, as a result of which I shall be waiting for your response and assurance, you need to be someone whom I can rely upon, at least for absolute commitment.

Sincerely,

Yonghong Wan
Lady Agatha Bristol
Dear Mrs Wank,

Lady Agatha will suffice, old thing.

Thank you for your e-mail. We are certainly interested in these modalities, provided, of course, they are 100% risk-free and legal.

Discrection is our absolute priority - can you guarantee this?

Yours sincerely,

Lady Agatha Bristol, CBE
Head of Special Operations, Foreign Office, London
Yonghong Wan
Dear Lady Agatha Bristol,
Thank you once again for your genuine interest in this transaction, I am very glad to note that you are a noble, matured, and trustworthy person whom I can rely on for your capabilities to handle this transaction, and for a person of your status and experience I am very confident doing this business with you.
Like I said before, due to this issue on my hands now it became necessary for me to seek your assistance, I appreciate the fact that you are ready to assist me in executing this project, and also you will help me in investing my money in your country or somewhere else, I am quite certain about that. You should not have anything to worry about, I will do everything legally required to ensure that the project goes smoothly, it shall pass through all Laws of International Banking and beneficiary claim, and you have my word.
Having resolved to entrust this transaction into your hands, I want to remind you that it needs your commitment and diligent follow up. If you work seriously, the entire transaction should be over in a couple of days.
READ THE FOLLOWING AND GET BACK TO ME:
Firstly, I will want to know precisely the type of occupation that you do, you should note that this project is highly capital intensive, this is why I have to be very careful, I need your total devotion and trust to see this through, I know we have not met before but I am very confident that we will be able to establish the necessary trust that we need to execute this project.
I am now in search a foreign online bank, I now intend that you open an account in your name in this foreign bank. The money would be transferred to your account which you will open in the bank for both of us, this is one of the ways I have found, and it will protect us from my bank, I want us to enjoy this money in peace when we conclude, so you should listen to my instructions and follow them religiously. Also you have to know that I cannot transfer this money in my name as my bank will be aware that it is from me, this is where I need you.
As result of this you may have to open an account in the corresponding bank, I will obtain a certificate of deposit from this my bank, it will be issued in your name, and this will make you the bonafide beneficiary of the funds. After this the money is release it will be transfer to your account for both of us and we can then instruct the bank to transfer our various shares into our respective home bank accounts bit by bit, I will also perfect the documentations with the assistance of my attorney to give the transaction the legal right.
Before I commence, I will need you to send me a copy of any form your identification (International passport), your current residential address and your phone number, I want to be sure that I am transacting with the correct person and as soon as I get these from you I will commence the paper work that will place you as the beneficiary. I hope you will understand why I need all these, the money in question is big and I want to ensure that I know you well before I proceed to give you all the details to commence the project, I will also send you my international passport upon receipt of your identification.
Ensure that you keep this project confidential; do not discuss it with anybody, because of the confidential nature of this transaction and my work.
Note; That this transaction is risk free being that am an insider in the bank every thing will go smothly
Please reply soonest.
Regards,
Yonghong Wan
Lady Agatha Bristol
Dear Mrs Wank,

Thank you so much for your e-mail.

What we require, however, is documentary evidence of these claims.

As ever,

Lady Agatha Bristol, CBE
Head of Special Operations, Foreign Office, London
Yonghong Wan
Lady Agatha Bristol, i want to thank you for your response, I sincerely appreciate your interest to assist me in this transaction, however I would like to be sure of your willingness, trustworthiness and commitment to execute this transaction with me, I cannot afford to compromise these virtues because this transaction is highly sensitive, I have my principles which will profit the both of us but for now i will like to here more and get your copy of international passport to be sure on your willingness in this transaction i want to be sour that you are ready to carry out this transaction with me as soon as i get your international passport
i will also send you my international passport hope you you can understand why am saying this.

Please note that my name is yonghong wan

Sincerely,

Yonghong Wan
Lady Agatha Bristol
My dear Mrs Wank,

Thank you for your note.

We are more than happy to assist you; we feel that you deserve everything you get.

However, due to security reasons I cannot give you my passport image. I would also suggest that as you have approached us in an unsolicited fashion, you have it all to prove to us.

We look forward to seeing the details of these modalities.

With kind regards.

A
Yonghong Wan
Lady Agatha Bristol, I want to thank you for your response, I sincerely appreciate your interest to assist me in this transaction,first when you say us what do you mine by that are you telling me that you and some one else have been reading my mail, please explain. However I would like to be sure of your willingness, trustworthiness and commitment to execute this transaction with me, I cannot afford to compromise these virtues because this transaction is highly sensitive, I have my principles which will profit the both of us but for now i will like to here more and get your copy of international passport to be sure on your willingness in this transaction i need your full commiment in this transaction before we can go into details more as soon as i receive your international passport i will send mine to you so you can knowwho you are working with, hope you you can understand why am saying this i will not like to lose my job or end up in jail.

Sincerely,

Yonghong Wan
Lady Agatha Bristol
Dear Mrs Wang,

Thank you for your email.

I can assure you that you are perfectly safe with us.

We are a covert agency, and discretion is our watchword.

Do not worry about a thing. Now please send me the evidence required.
Yonghong Wan
Lady Agatha Bristol, when you say evidence what are you saying? you are asking me to trust you when i have not even seen you ID i have been asking you to send me you international passport so we can start working on the docunment (changing it ot you name) you have not yet answer me and you still talk about trust. Lady Agatha all i need from you is proof of trust not by saying because i need to be carful of who am talking with so proff to me that you are who you say you are make me see your ID.

Regards,

Yonghong
Lady Agatha Bristol
Dear Mrs Wank,
Thank you for your e-mail.
It is you who have emailed us, totally unsolicited, with this proposal.
If I e-mailed you, promising millions of dollars for half an hour's work, would you not wish to see proof?
I think, as a fellow legal professional, you would.
All we are asking for is proof of your claims which, if you'll forgive me, seem rather outlandish and rather reminiscent of our dealings with Jame Peter Ja and Koffi Williams. Do you know them?
However, in the interests of goodwill, I am pleased to attach a copy of my passport.

Yonghong Wan
Dear Lady Agatha Bristol, I understand you better now and i know how you fill but you should also know what am passing true my job is at risk if i delling with the wrong person this is why i need to be carful about who you are. I fill confortable doing this transaction with you and i also need to tell you that please don,t let me down i now have full trust in you after i receive your mail with you international passport attach i most say you are the kind of person who am realy looking forworad to meet as soon as this transaction is over. Lady Agatha the passport you sent to me was sent wrongly it is your data page where your pictur is located that we need from you so we can know you in full and also present it for change of document that will place you as the next of kin please try send your full data page to me.

Over the proof which you talk about i will like you to wait a little as soon as all the document has been change to your name i will send you a copy of the paper work so you can see for your self.
See attachment for my international passport so you can know how i look.

Hope to get the full data page of your international passport in your nest mail.

Regerds,

Yonghong
Lady Agatha Bristol
My dear Mrs Wank,
Many thanks for your note. It is a pleasure to hear from you.
As discussed, please see the attachment.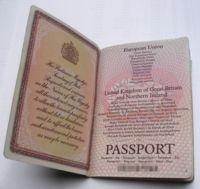 Yonghong Wan
Lady Agatha Bristol, you are still geting it wrong we need the page where your picture is located just like what i sent to you the page where your name and other information is please try send it as soon as porsible my lawyer need it.

Yonghong
Lady Agatha Bristol
My dear Mrs. Wank,

Thank you for your e-mail.

I do not send my passport picture out under any circumstances. Indeed, you have failed to send me any of the documentary evidence that I asked for weeks ago.

I have sent you two images of my passport; you have sent nothing. You sent your proposal to us totally unsolicited, and it is now looking rather suspicious, if I may say.

I suggest you re-think these modalities, or, as our American cousins say, the deal is off.

A
Yonghong Wan
I see i also think about it that why will any person send the blank side of his/her passport as document to any body i now know was on your mind but there is somthing i will like you to know, any document i send to you can be use agest me in fact you asking me to send you document make me think suspicious you can change the document to your name then come to my bank to apply for the fund so you should understand i need to be carful with anything i do and am not asking you for any money so why you filling suspicious all i need from you is just a proof of your self that my lawyer will present why changing the paper work to your name.

I got information from the layer today about the paper work, he said he can use your driverÁs license you should send it to me but he will need any resent utility bill not more than three month old and any other picture identity card. Please send me this information so I can complete the paper work that will put you as the next of kin i promis i will send you some paper work once the document has been change to your name.

Thanks,

Yonghong
Lady Agatha Bristol
Dear Mrs Wank,

Thank you for your e-mail.

This mutual distrust has to end, or we will not be able to give you what you deserve. And having re-read your proposal, we really wish to do this.

I believe that I have expressed my true feelings towards you by sending you two passport images, but have received nothing in return.

I shall put your accusations of potential fraud (amusing!) down to native petulance, and look forward to these modalities being continued with full confidence on either side.

Pro Vom Poppadom, as they say.

As ever

A
Upon inquiry as to whether Scamorama should post this material now or wait for the inevitable conclusion (the Lad's time wasted, relations with any oga-like figure soured, perhaps even an Oath of Loyalty to the Crown! see the
FOREIGN OFFICE OATH GALLERY
), Lady Agatha kindly responded:
It's up to you, old fruit.

We would only want material posted that will assist in maintaining Scamorama's position at the very highest echelon of anti-419 websites, but we appreciate, respect and understand your editorial judgement.

Meanwhile, Mrs Wank has replied with a more concilliatory tone, as you will see.
Yonghong Wan
Lady Agatha Bristol, Thank you for your reply but the truth is that you have not send me anything what you called a passport is not an ID there is no way you can proof that the passport you sent is yours i could not find your name on it so please dont say you sent a passport to me because what i sent to you is defriend from what you called a passport. well the best i can say is that am not beging you to assist me in this trasaction am only asking you to join me in an opportunity that come once in a person life time.

If you still love to work with me send me your driver,s lacese and the utility bills which my lowyer requested for so we can change the document to your name.

Thanks,

Yonghong
Lady Agatha Bristol
My dear Mrs Wank,

Many thanks for your e-mail.

It is a great pity that you still do not understand how international finance and modalities work.

We had set aside £50,000 as an initial payment for these modalities, yet you have not understood that it was YOU who e-mailed us, and YOU who have it all to prove.

I am terribly sorry, old thing, but if you do find our request for proof offensive, then I suggest that you indeed find someone else to assist you, as this transaction, like your grammar and spelling, has become rather tiresome to say the least.