Date: Thu, 7 Feb 2008
From: williammuyeke2008@centrum.cz
Subject: URGNET PLEA FOR ASSISTANCE {this is not spam}
To:

FROM: MR.WILLIAM MUYEKE
DESK OF CHAIRMAN
Sub-Committee on Finance
South African World Cup bid 2010
24 Steven Bikko Blvrd Pretoria,
Republic Of South Africa.
Tel : +27-72-587-0437
Email: w_muyeke30@hotmail.co.uk

Attn: Sir,

Greetings you must be aware now that my country The Republic of South Africa won the bid to host the world cup by 2010,prior to this bid my committee was mandated to lobby the members of board of Federation International Football Association (FIFA) on selection of the country to host the world, the bidding was intensive but at the end we got the hosting right. Mycommittee was given the sum of $29 million dollars to lobby the members of the FIFA ruling body to make sure that we win the hosting right considering the gain that comes with the hosting right like South Africa?s economy will receive a massive direct boost from hosting the 2010 World Cup,
financial impact report for South Africa's World Cup bid committee shows that the 2010 World Cup will pump R21.3-billion into South Africa's economy, and creating an estimated 159 000 new jobs.With the help the living legend of our time 85-year-old Nobel Peace Prize winner Dr.Nelson Mandela who made an emotive case for The Republic of South Africa, we got the bid without spending all the money, I and my committee members saw this as a God sent opportunity to secure our future and that of our family therefore was mandated by other committee members to look for a
way to move the remaining money to a safe place with the help of a foreigner who we can trust and is ready to assist us to move the funds considering the fact that we are still members of the bid committee and in the eyes of the public. we have in our possession the sum $21millon since we spent just $8million for lobbying.We are ready to give you 20% for all your assistance then me and my colleagues will keep 80% lf you are willing kindly reply to my letter for further directive. we will want to invest our share into Real-estate and air taxi business in your country with your assistance,bearing in mind that confidentiality is of great essences so is time in this project I will await your response.

Best Regards,

Mr.William Muyeke.

All responses should be sent to:
w_muyeke38@hotmail.co.uk
SIR

THANK YOU FOR YOUR EMAIL_HOW MAY I HELP??_ROMAN ABRAMOVICH IS A PERSONAL FRIEND OF MINE AND I MAY BE ABLE TO BRING HIS ASSISTANCE TO BEAR HERE_

- MIKHAIL ILICHY ROMAN STROGANOV

Stroganov Publishing (Pvt) Ltd
4402 Bowdinskaya Street
Moscow 0169
Russia
Dear Mikhail Ilichy Roman Stroganov, Thanks for your mail. I actually want you to stand and receive this Fund as the benneficiary of this Fund.The arrangements is that the Fund will be moved from the Bank here to any of the payment offices in Europe or Malaysia it could even be better if you can come down here to execute it face to face with us . You do not need to worry, all you have to do is to come here or go there and present yourself with your International passport copy as the benneficiary together with the certificate of deposit and the secret code that I will send to you after making the reservation, and they will release the Fund to you. I will send a delegate who will assist you in clearing the Fund and also assist you to open an account there,as he has good bank contact in these areas and he is an expert in such transactions, were the Fund will first be deposited before onward transfer to your nominated account in your country or we decide when I meet you.I will meet you as soon as the Fund is safe in your account in any of these places for shearing and re-imbursement of Funds,before proceeding for investments. I will also need to settle my collegues that are involve, but this will be after shearing with you.We actually want to invest in Real Estate and Air taxi.I will start arranging the documentations to your name once I receive your passport informations with your phisical address.Please give me the exact date that you can travel to any of these places that you choose ,so that we make arrangements against this time to avoid any waste of time by both parties.Thanks for your anticipatd coperation looking forward to seeing you soon.Alternatively we can move the funds through the Reserve bank to your nominated account/s abroad, though it will still need some documentations to back this up, but do not worry about all those for I will personally take care of them. This transaction has been arranged and you need to keep to the confidentiality to avoid any raise of eye brow .I will send you the clearance Certificate after changing them to your name at the local high court here,I will be attarching to you my international passport that you will keep to identify me now and i need your diecrt telephone number.Remain blessed. Mr.William Muyeke.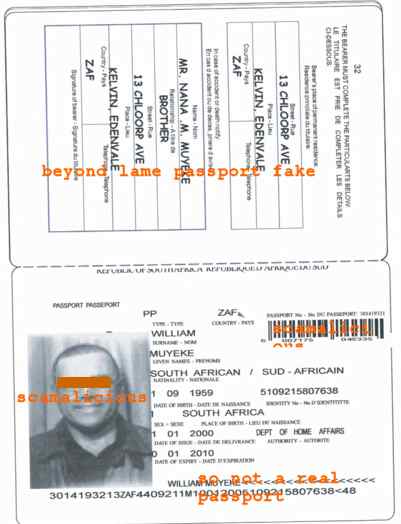 Mikhail Stroganov
Feb. 15

SIR

THANK YOU FOR THIS_WHAT HAS YOUR PASSPORT GOT TO DO WITH THIS??_I WANT TO DISCUSS THE FOOTBALL FIRST BEFORE WE GET DOWN TO THE MODALITIES OF THIS TRANSACTION_WHAT TEAM DO YOU SUPPORT?

- S
Williams Muyeke
Please be seriouse as time is not on my side,we can discuse the football ,but the most important thing now is establishing trust between us,to be able o furge on.So in view of this I demand that you call me on +27 72 587 0437 and let us have a brief discussion.
Thanks and I wait urgently for your call.

Muyeke.
Mikhail Stroganov
Feb. 18

MUKEYE_HOW DARE YOU MAKE DEMANDS LIKE THIS_WHO THE HELL DO YOU THINK YOU ARE???_DO YOU LIKE FOOTBALL OR NOT???_THIS IS KEY TO THESE MODALITIES AND A BAROMETER OF HOW SERIOUS YOU ARE_IN ANY CASE MY ASSISTANTS HAVE CALLED YOU THREE TIMES TODAY BUT YOUR JERRY-RIGGED PHONE NETWORK IS NOT WORKING AT LEAST NOT JUDGING BY THE JABBERING NATIVE ON THE END OF THE LINE_PUT YOUR HAND IN YOUR POCKET AND BUY A DECENT PHONE BEFORE MAKING THESE DEMANDS FOR GODS SAKE_IS THAT CLEAR???

- S
Williams Muyeke
My no 0027 72 587 0437 .
Waiting
Mikhail Stroganov
Date: February 20, 2008

MUKEYE

YOUR PHONE SIMPLY DOES NOT WORK AND ONE-WORD EMAILS ARE NOT GOING TO GET THESE MODALITIES MOVING_HOW ABOUT SOME DOCUMENTARY EVIDENCE TO SUPPORT YOUR CLAIM??_YOU HAVE NOT TOLD ME WHICH FOOTBALL TEAM YOU SUPPORT EITHER

- S