I had sent Okoro a note saying I had received his offer. I hadn.t. So, he tries to call my bluff.
---
OKORO EMEKA -- ulaoma@yahoo.com

Tue, 15 Apr 2003 10:47:27 -0700 (PDT)

Re: Unclaimed monies

Dear Bill

If you Know About the Mony then what is the amount?

Regards

Dr Ulaoma Okoro

Unfortunately I didn.t save my response, but I bluffed him by saying it was for riches beyond my wildest dreams. Seems like that was good enough.


---
OKORO EMEKA -- ulaoma@yahoo.com

Wed, 16 Apr 2003 03:35:54

Dear Bill

Okay, you can send your account details and first three page of you International Passport and your complete address to me so that I can go to the Ministries and start the processing for the funds release approval.s

immediately. The Ministries of which we can get the approvals are - The Presidency Federal House of Senate (P.F.H.S) and Federal Ministry Of Finance (F.M.F) respectively.

The amount we can spend to get these approvals is $8,400.00 for the approval inducement from (P.F.H.S) and $6,700.00 for approval from (F.M.F). Total = $15,100.00 as soon as this funds is approved the Central Bank Of Nigeria (C.B.N) will transfer the funds without any delay.

You can scan and attach your International Passport and mail it to me. As I will be expecting them including the above requirements.

Anticipecting to your prompt response.

Regards

Dr.Ulaoma Okoro

Again I hadn.t saved the e-mail, but I accused him of being short with me, and asked if he would like to see a family photo. As he was a Dr. I asked him if he could help me out with an affliction on my manhood.


---
OKORO EMEKA -- ulaoma@yahoo.com

Thu, 17 Apr 2003 02:53:07 -0700 (PDT)

Dear Friend

How is your health and family today? You have not offended me, in any way so why should I be angry with you, I am not angry with you okay.

I am not a health Dr. I got my doctorate degree in Banking and Finance, and I am one of the Key Tested Telegraphic Transfer Director in Central Bank Of Nigeria (C.B.N) so my friend little have I know about health.

As you can see that this transaction is capital intensive, that is why we needed a capable hand that can finance it so that we can speed it up which is the reason you have to come in. I am a civil servant I depend on my monthly salary, and I know that this transaction (DEAL) will bust my financial status for sure. So my friend What I can afford to pay is the half as I have told you.

We can only meet with each other after the exit of the funds to your account which means that as soon as the funds hit your account I will fly down and meet you in London with the payment slip on my hand so that boot of us will head to your bank to clear the funds after which we can share it as we have agreed.

Please you can send the money so that I can be able to do the underground word witting this three days holiday.

I will like to see you family photograph.

Best regards

Dr. Ulaoma Okoro



Okay, time to start winding him up, see how much notice he takes to the

e-mails I send him. Family photos attached.


---
BILL SMITH

Thu, 17 Apr 2003 11:44:33 +0100 (BST)

Okoro, Do you also have the upcoming holiday to celebrate the death of our Lord Jesus Christ. I thought it was mainly jewish in West Africa? Are you christian? Will you be able to send me a photo of your family. I am very interested to see how much a distinguished man I am dealing with.

Maybe if you have your children hold up a sign sending me, 'Mr. Bill Smith greetings' I would be greatly pleased, and know you are now my brother in this transaction (DEAL).

Will I need to come to West Africa in order to conclude this deal (TRANSACTION)? I know that travelling there can be dangerous, can you guarantee my safety whilst I am there enjoying the delights of local culture. I am especially interested in knowing about the local wildlife. Especially the big cats, lions, tigers and big pussys in general, will I be able to see this.

As a token of our friendship, I would like to send you a small gift, I know this is tradition in many african countries when starting out on a new journey of commerce. Do you have any suggestions for anything I could supply from the UK which may be difficult to locate in Africa. Maybe, some Ambre Solaire or Piz Buin. These are very rare in Africa I believe.

If so, let me know. I would of course look for a souvenir of Africa. Maybe a Bearded Clam, or possibly a Chocolate Starfish. I know both are easily obtainable in most African countries but entering these in UK is not so easy.

I will speak with you soon, please let me know the DHL details where I can send your gift, and let me know if I should look into transporting myself to Africa.

warmest and kindest regards,

your brotha,

BILL SMITH.



I have attached a recent photo of me, and one of my wife in our national costume of Scotland. I look forward to the photos of your family. (I SENT HIM PHOTOS OF SADDAM HUSSEIN, AND BRITISH TRANSVESTITE LILY SAVAGE) So, I have to send him Ambre Solaire and Piz Buin. Wouldn.t have thought he.d need sun tan lotion.


---
OKORO EMEKA -- ulaoma@yahoo.com

Thu, 17 Apr 2003 13:58:10 -0700 (PDT)

Dear friend
Since you have decided to come down to my country Nigeria West Africa i

will say that it's good that way. Well gift is good and accepteble and i fill if you send me some thing i have not seen in africa is good too. My receving address is as follow-- 1 Joseph Street Opebi Ikeja Lagos Nigeria.

I could not send you my family photograph due to my some litle problem with my scana, I will send it to you tomorrow.

regards

Dr. Ulaoma Okoro



Should be able to do better than Bill Smith really so.
---
BILL SMITH

Fri, 18 Apr 2003 10:41:59 +0100 (BST)

No problem with the photos, as long as I have a photo of you before I travel holding a sign with my name this should be okay. In fact it may be better if you make a sign with the name of one of my junior companies. Bill Smith is a very common name and I would not like to miss you and you pick the wrong person. When I travel I will make the reservation under my company name 'IAMAD ILDO Ltd.' The sign should have my company name so we know we have the right meeting. Please ensure you send me this prior to our travel. Can you confirm where I should fly to. I have looked into this and I can fly Air France to PH (where I would stay in the Hotel Presidential I believe), or various airlines to Lagos (and to the Sheraton). Let me know which is most convenient for you as each is the same for me.

I'm sure there are some legalities to go through to recover these funds. Do you have any details on these so I can get my lawyer to go over them (in strictest confidence obviously).

Please let me know the next step we should take urgently in order we conclude our transaction (DEAL) as soon as possible. I look forward to our continued partnership.

Also, you did not answer my question about guaranteeing my safety in Nigeria. Can you guarantee this thing?

How is the weather this time of year in Nigeria? Should I bring lots of warm clothing, or should I stick to thongs, strap ons etc.?

I hear Nigeria is a Mickey Mouse country, do you have a Disneyland?

Let me know and enjoy your Easter break.

regards,

Bill.



Our Mugu must be busy over Easter as he buys some time..
---
OKORO EMEKA -- ulaoma@yahoo.com

Fri, 18 Apr 2003 03:29:34 -0700 (PDT)

Dear Friend

I received your mail and the content well understood.

I will get back to you and explain everything in no distant time, okay.

Dr. Ulaoma Okoro



My first son. - Jimmy Krankie. How he doesn.t spot a 50 something woman in kids clothing is beyond me
---
BILL SMITH

Fri, 18 Apr 2003 11:45:34 +0100 (BST)

Thank you Doctor. I look forward to your response to we can carry on our transaction (DEAL). Please forward me the legal documents we need to facilitate the money transfer. I hope you are not stalling on me as now that I know about the availability of the funds, I can assure you I am a big man in business here and I will be able to find others will to help me move the money. It is in both our interests to ensure we speed things through before some unscrupulous characters try to steal our money from under our noses.

I look forward to hearing from you as soon as is convenient.

I have attached a photo of my oldest son he is with his favourite teacher.

He is a good looking boy eh? Please remember to send me photos, ideally with the card you should make showing my company name. I can send you an example of our letterhead which you could blow up into a big card if this is easier???

Bill



What happened to a couple of .small. gifts. Laptops?, swiss watches.
---
OKORO EMEKA -- ulaoma@yahoo.com

Sat, 19 Apr 2003 10:59:17 -0700 (PDT)

Dear friend
You can fly to Lagoswhich is better than PH, because MurlitalahMohammedAirportis the best International receiving Airport in Nigeria.

Immediately you buy your flight ticket, mail and tell me your boarding Date and Arrival. And as soon as you have ArrivedLagosAirport, take a car heir and move straight to Lagos Sheraton Hotel chick-in and mail me from your Hotel Room to confirm your Room Number to me after which I will meet with you for the conclusions of the subject matter. Now about the identification, I will like it to be .Mr. Bill Smith. you can use it to chick-in.

You can also bring along with some gift for the top officials who will approve the payment. And the gift should be two original Sony Laptop and four quality Swiss wriest watches made of different company.

Finally I guaranty you safety as you come Nigeriaand that of our transaction (DEAL). And also assure you that we have no monkeys working around the street, but in zoo. I will send a certificate of guarantee .AUTHORITY TO REMIT. funds release order from the Central Bank of Nigeria (C.B.N) to you on Tuesday, for your verification. And (C.B.N) will not waste any time to transfer the funds to your account as we may nominate upon the completion of the requirements. So my friend Bill the funds can only be expressly approved if we speed up with the necessary requirements.

Best regards

Dr. Ulaoma Okoro



Thanks for the compliment Okoro. Saddam, Lily Savage and Jimmy Krankie, and we.re all looking fine, fine.
---
OKORO EMEKA -- ulaoma@yahoo.com

Date: Sat, 19 Apr 2003 11:06:50 -0700 (PDT)

Your family photogrph are all looking good.

Ulaoma



Need to get him wanting to pick me up at the airport.
---
BILL SMITH

Sun, 20 Apr 2003 20:51:21 +0100 (BST)

I would prefer to be picked at the airport. I do not want to risk taxi, I have heard these can be dangerous. Can you send one of your junior partners to pick me? I probably intend travelling in around 10 days time IF you can furnish me with documents for my lawyer to approve, and supply me with photo of man picking me from aiurport holding a sign with my company name (IAMAD ILDO Ltd). As discussed I can supply a letterhead if need be to help you make the sign.

This is far too much monies to be amatuer with. We need professionalism so I need to get full details before I travel. With the laptops and watches (which seems expensive gifts, will they not be satisfied with some souvenirs of Scotland - do you have corruption there or what?) and my business class flights (I told you I am a big man)I will have spent around £5000 as it is. I cannot do this without some CAST IRON guarantees about the money and my safety while in Lagos.

thanks, Bill



That wasn.t hard.
---
OKORO EMEKA -- ulaoma@yahoo.com

Tue, 22 Apr 2003 08:50:38 -0700 (PDT)

Dear friend

Following your mail of yesterday, of which I read today. I will say yes, Is Important You bring along with three letterheads of your company, that is okay.

I will mail you the document and my photo which you needed for sure in no distant time. And upon your arrival I will be in the Airport to pick you by my self.

About the gift, see my friend we are transacting a (DEAL) which is genuine, the only thing that can stop us getting the funds exit from (C.B.N) is this officers, and the only thing we can do for them to approved the payment express, without keeping us on process is gift and the gift I told you is accepted officially here. Once we get these things done they will approve the funds and transfer it to your account without any questioning which is what we need.

Expect the documents

Regards

Dr. Ulaoma Okoro



And then the documents arrive. Made out to my company.
---
OKORO EMEKA -- ulaoma@yahoo.com

Wed, 23 Apr 2003 02:40:40 -0700 (PDT)

Attach is my International Passport and the document .AUTHORITY TO REMIT. which I applied on your behalf as the beneficiary of the funds, waiting for claim.

The Central Bank of Nigeria (C.B.N) did lift this Bond to guarantee you as the beneficiary of the USD$45million in (C.B.N)

In this reason you are to printout the Bond and sign below, after which you will scan it with your Banking account detail which you will type in your letterhead pepper and mail to me for normalizes.

Waiting for your immediate action in the subject matter.

Regards

Dr. Ulaoma Okoro



...I.ve omitted them, just bog standard stuff from them anyway. From my own time in Nigeria, they don.t like being called a small boy, or a junior boy. Their arrogance always means they like to think they are big. So, we.ll piss him off by asking if he is big enough for this deal.
---
BILL SMITH

Wed, 23 Apr 2003 13:05:06 +0100 (BST)

Thank you for the attached document. I will be sure to have this examined and signed as soon as possible.

I also admire your picture in your passport. I see you are only a junior boy of 32 years old. Are you old enough to handle such a big transaction?????

I have attached a copy of my letterhead/company logo. Please note that due to the size of our deal I MUST see a picture of you or your junior partner who will pick me at the airport holding a placard with this name.

I will NOT travel until I have this most important thing. I am NOT WILLING to arrive in Lagos without prrof from your end that you can handle this deal. A photograph will go some way to prove that you can handle things at your end.

As soon as I recieve this I intend booking my flights proper. Please keep me informed.

Bill.



SENT HIM A LOGO FOR MY COMPANY : IAMA DILDO

Now he introduces his lawyer (who is obviously still the same guy using a different e-mail address). That.s going to give me a chance to really fuck with his head.
---
OKORO EMEKA -- ulaoma@yahoo.com

Thu, 24 Apr 2003 06:34:28 -0700 (PDT)

Dear friend

I am very grateful to inform you that I have received your mail with the attached letterhead which you did not type you account number as I told you. Please all this is very important because the lawyer that is helping us needs your banking information to file-in an application to the ministries of Finance for approvals.

Therefore you don.t need to be worried because I have involved a very powerful lawyer who will assist us in arranging all the transferring document on your behalf as I and him is to pick you up in the Airport.

Please you can send him your banking information directly so that he will start processing the paper works before you arrival. The lawyer name is John Phil Johnson, and his email is jphil-johnson@lawyer.com or you may call him his cell phone 234 8034093074. Any question you required to know you may as him. And do not let the lawyer know that this transaction is a deal; make him to understand that you are a contractor that want to receive his contract payment.

Note every arrangement to conclude this transaction has been put in place with the assistant of the lawyer who will go around with you for the settlement and transferring of the funds from the Bank. And once again you most be aware that the agreement is only between me and you do not let anybody even the lawyer to know about this agreement as you may understand that this is a deal, it is secret and confidential until the funds gets to your account in London, although you most be here to confirm from the Bank if the funds have been in your account after signing the release order.

Contact him as soon as you receive this message. And beer in mind that the lawyer will clarify my photo and his own to you as soon as you communicate him.

Best regards

Dr. Ulaoma Okoro



Now to piss Okoro off, I have asked the .lawyer. if he can help me get the lions share of the cash, and hide it from Okoro. This should get Okoro.s back up. Check out the no.s used in the address, sort code and account no. by this point I.m sure he.s not going to pick up subtleties like these.
---
BILL SMITH

Thu, 24 Apr 2003 15:03:16 +0100 (BST)
From: BILL SMITH
Subject: Re: Bank details
To: jphil-johnson@lawyer.com

Hello sir, I have been given your name by my good friend okoro emeka who is assisting me with some business we have between Scotland and Nigeria.

He has asked me to furnish you with bank details, these are as follows :-

Lloyds Bank
914 Diyahink Amfeel Road
Glasgow
Sort code : 87-94-19
Account No. : 69-ACE-419-BITROPY

The above account is a new special holding account which needs to be activated via a password online through the website. As you are the man to pick me at the airport, I am very concerned about securities. As soon as I receive a photo of you holding my a card with my company name (letterhead attached), I will forward you my phone no. with the password to contact me. Until I receive this photograph I CANNOT PROCEED WITH TRANSACTION.

I am quite sure this TRANSACTION (DEAL) is safe with okoro, but ony once I get the above can I be absolutely sure we are all working with each other. For the price of a photograph (and my business class flights, laptops and watches for the bankers) we can ensure our countries enjoy good business between each other.

I will be purchasing 5 new Breitling watches worth approx £1250 each to facilitate our deals, 3 for the bank officials, one for customs and one for okoro (please do not let him know, this is my surprise for him for introducing me to nigerian business), would you like one for yourself. I can buy a Rolex for you if you do me one small favour. I would like to increase my portion of the deal, can you hide something in the documents to ensure my shares is the king in the transaction??? This must be kept from Okoro. There is enough money still to be left for him to enjoy a good life in Lagos???

thanks, Bill

Start winding him up, tell him I.m going to rip off the lawyer with a fake Rolex.
---
BILL SMITH

Thu, 24 Apr 2003 15:08:41 +0100 (BST)

Okoro, I have sent the lawyer the required information. However, I have left the activate password secret for now until he proves his capability by sending me the photo with the card he will make for meeting me at the airport. This alone will prove the integrity of the deal.

I have offered to buy him a Rolex for helping me with the deal. Is this okay. If not, let me know and I will get a fake one from the market here!!

He will never know the difference.

Bill



Standard response from the lawyer
---
BARRISTER PHIL JOHNSON

jphil johnson [jphil-johnson@lawyer.com] wrote:
From: "jphil johnson"
To: Bill Smith
Date: Thu, 24 Apr 2003 09:51:37 -0500
Subject: Re: Bank details

Dear Sir,

I received your mail which was well noted.

Regards to the transaction between you and my client Okoro who has just registered with my chamber,. I hereby assured you great services since I will stand for you as my personal client for the conclusion of this transaction.

Furthermore sir I expected you to furnish me with your personal contact just as it.s stated below:

(1) Your full name and address.
(2) Your private telephone and Fax numbers.
(3) Your first and second page of your International Passport.

This will enable me to program my schedule and open a file on your name as my client and to prepare letter of claim on your behalf with the Ministry of Finance where I will submit your banking details for approvals on exchange control.

I wait to heir from you or you can call me on my mobile phone number; 234-803-4093074.

Thanks.

Barr. Phil Johnson.



Should wind our Mugu up now he knows I want to rip him off.
---
BILL SMITH

Thu, 24 Apr 2003 16:21:39 +0100 (BST)

To: jphil johnson

So you agree that as I am your client we can ensure my split is over that agreed with Okuro? He will not notice until it is too late, by which time I will be back in Scotland spending his money!! Ha ha. He has made me spend much cash without him sending any of the photos I have asked with the placard. This is a breach of protocol as far as I am concerned.

However, I will of course have the surprise watch for him, which I hope he will like. Do you want me to buy you a gift from Scotland.

My full name and private address (this is confidential) is

WIlliam Smith
23 Tinthe Park
Glasgow G2 3DG

I do not have a fax machine, and my telephone no. does not accept international calls. (My previous wife left me after she found me in bed with her mother, for revenge she racked up horrendous bills on my phone). I have asked this to be rectified soon in order we conclude our business. I will let you know once this is done and send you the relevant number. AFTER I RECEIVE THE PICTURE WITH MY COMPANY NAME.

My international passport is with the Nigerian Embassy in London for a tourist visa (apparently otherwise I would need a letter of invitation).

Please I must have the picture to show your integrity with my placard. All this business has so far been done without any show from the Nigerian end that you mean business. This will go a long way to satisfy me that you are working for my good.

thanks, Bill.



Okay, Okoro, can.t go and buy a fake can I.
---
OKORO EMEKA -- ulaoma@yahoo.com

Thu, 24 Apr 2003 12:47:39 -0700 (PDT)

Dear Friend

Is good, as you have sent him your banking information, as he needed to process the payment approvals.

Well as you have promise to give him Rolex watch, and every person knows that neither Rolex has class, let it not be the high one nor list but you should buy him a good one.

Remember that the lawyer is only working for us, so you have no reason to tell him to send you photos for you to know my transaction with you is real, before you can fly down; Please and please don.t make that mistake again, okay. You should make him understand that you needed his help to release your contracted funds from (C.B.N). And you need to see our photo holding letterhead that I have received from you so as to confirm who we are in the Airport upon your arrival, that is all.

Please be utmost secrecy, and do adhered to the Lawyer instructions so that he can loyally work for us.

Best regards

Dr, Ulaoma Okoro



Now I want to kill the lawyer.
---
BILL SMITH

Fri, 25 Apr 2003 08:35:08 +0100 (BST)

Okay my good Dr. I will have utmost secrecy when dealing with this lawyer. Maybe he is not so good and trustworthy. Possibly if he tries to betray our trust we should leave him in a shallow grave in Lagos? We must do everything we can to ensure our tracks are covered in this deal.

I joke of course, I want no-one hurt in our deal. Everyone should be exceedingly happy at the end of the day.

Why do you say not to buy a Rolex. No problem, what I can do is buy him a different type, possibly the recent make 'PROBA BLAYCAN a TELLITHYME' (the name is a Mandarin proverb meaning 'he who wears watch not need clock'), this is made by the TAG HEUR corporation and apparently are a very good timepiece.

Please the photo with my letterhead. This is my only way of ensuring you are onside with me. As soon as I have this I will be booking my flights to Lagos (I will travel with KLM so I can have a day in Amsterdam before I come down - get up to a bit of nonsense over there).

thanks, Bill.



Okoro slips up as he lets on he knows I was going to buy him a watch. Don.t know why he.s upset about me asking the lawyer for a photo though?
---
OKORO EMEKA -- ulaoma@yahoo.com

Fri, 25 Apr 2003 06:53:17 -0700 (PDT)

dear friend

i received your mail this morning with mix feelings I cannot understand why you are telling the lawyer to send you his photo do you know what you are doing, could you believe that the lawyer called me this morning and started asking me the type of business we are doing that will warrant you to ask of his photograph.

please I bag you in the name of God stop telling him to give you his picture photograph to avoid him stop working for us as I believe that he is a good lawyer and powerful and he is a lawyer that has a connection with Banks and ministries.

Can you please do what ever he ask you to do so that he will secure all the fund transfer document correctly to avoid any mistake. if you are not happy about the gift I ask you to bring the motivate the bankers, please forget about it and let face our business as I know that as soon as this fund is transferred successfully I will buy any kind of watch for my self.

Please I will advice you to prepare quickly so that we do not have problems for transferring this fund out from bank because this government change every day as you know the director of international remittance who has been waiting to assist us can be change from the sit any moment the new government comes in the power.

note that the lawyer informed me this morning that it is impossible for him to send is picture to you since he is not involved in our business he is only working for us to be paid as soon as we confirm our funds into your account .so please don't ask him about that again, i assure you 100% risk free on this transaction.

I will make sure you have your good hospitality as soon as you are here.

I wait to see you my friend.

Dr, Ulaoma Okoro



Call him a small man again to try and prise this photo from him.
---
BILL SMITH

Fri, 25 Apr 2003 17:23:30 +0100 (BST)

No problem Okoro, but I was under the impression the lawyer would pick me from the airport. Regardless I need the picture complete with my letterhead from whoever will pick me from the airport. This is a MUST before we can conclude the deal. I am NOT prepared to travel all the way to Africa without concrete proof that we have integrity from both sides. I have supplied my name, address, bank account details and a copy of my letterhead, and it appears I cannot get a simple photo. Is there small men involved in this deal who cannot handle the size of the monies involved?????

Did the lawyer tell you about the surprise gift I had for you (the watch)? I am disappointed with this. fuck him, he's getting nothing from me now then. This was to be my surprise to you to cement our relationship! and he has now spoiled this thing by telling you.

Bill



That.s the lawyer sacked then..
---
OKORO EMEKA -- ulaoma@yahoo.com

Sat, 26 Apr 2003 01:21:06 -0700 (PDT)

Dear friend

I will send you the photo with your letterhead on my hands, once you receive it please buy your ticket and fly down, I will be the one to come and pick you in the Airport okay.

The lawyer called me yesterday after I have sent you the last mail and he is asking for 10% of the funds before he can work for us. But, do you know my answer to him, you have decided not to use him as our lawyer again. and I also told him that you have decide to workout everything your self and that this transaction is not a deal, that you are a contractor who has been contracted by the Federal government and you have done the contract and the Federal government has inspected your contracting area which is well done. So I have pushed him out for his acts.

We will use another good lawyer who will do the job perfectly to replace him okay.

Best regards.

Dr. Ulaoma Okoro



HE SENDS ME A PICTURE STRAIGHT OUT OF A MAGAZINE
---
OKORO EMEKA -- ulaoma@yahoo.com

Mon, 28 Apr 2003 03:03:48 -0700 (PDT)

Dear friend

Note the attachment is my photo. As soon as you receive it, after reading from this mail please go ahead and buy your KLM flight ticket and fly down to Lagos Nigeria so that we can conclude our transaction without any waste of time.

Meanwhile you have to send me your flight schedule to enable me be at the Airport 1hour before you arrive. Once again I will assure you that every machinery has been put in place for our transaction to be successful.

I am waiting to see you my friend.

Best regards, Dr. Ulaoma Okoro



Might as well find out what this is going to cost me.
---
BILL SMITH

Mon, 28 Apr 2003 11:41:11 +0100 (BST)

Okoro, You are not holding my letterhead. I am provisionally booked on the following flights (KLM is full, so I need to fly Virgin), but I WILL NOT CONFIRM until I have a propa photo of you holding my letterhead. This alone will show you are a genuine man with my best interests at heart. This is all I ask of you, can you do this one thing for me?

Will we be able to enjoy some of the local women when we are in Lagos, I have never shared my bed with a black woman before and look forward to giving one a right good seeing too.

Can't wait now, but please the proper photo so I can phone Virgin and confirm.

Depart London 01 May 2003, Arrive Lagos 02 May 2003 0500. I will be upper class.

Will you be able to assist me with customs clearance, I am going to havethe laptops and the watches and do not want for me to have to give them all away to some corrupt Nigerian. Also, I guess I will need spending money, and money to grease the wheels in Nigeria? How much will I need - again I will go the bank as soon as I have your photo with letterhead.

thanks, Bill.



No, no Okoro, you.re not wriggling out that easy, I want my picture.
---
OKORO EMEKA -- ulaoma@yahoo.com

Mon, 28 Apr 2003 07:41:21 -0700 (PDT)

dear friend

i have giving you my photograhp which i took at my 14 chieftancies titule and beleive it's the only thing i can do for our trust to be firm. if you still needs me to take a photo with your letterhead which is delaying the processing of this transaction, i will not do that it will delay us getting the aprovals as schedule instard you can stop coming so that after the transaction i will come there my self when the funds is transfered into your account with the payment slip to comfirm and drow the $ out from your account for disboursments.

if that is okay to you then you can DHL the gift and send the me $9,000.00 to go about everything so that the fund will be in your account in 124hours after i get approvals.

looking forwards to hear from you.

Dr. Ulaoma Okoro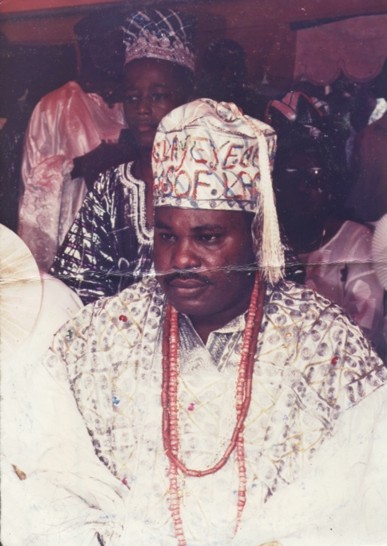 Better give my mugu a hard time..
---
BILL SMITH

Mon, 28 Apr 2003 15:57:31 +0100 (BST)

No picture with letterhead - no deal. For all I know the picture of you in the chiefs outfit could be a photo of someone else you know, or simply scanned from a magazine. As I said - I have proven my integrity by sending you the account details, I have bought the gifts at great cost to myself. For the amounts of money you can make from this deal surely you can visit a local photo shop and take your photo with my letterhead. I can only accept this as it is the only sure fire way I know who I am dealing with, and will know that you have complete integrity in getting this deal concluded.

I am only sorry you have wasted my time in these matters of importance. Three times you have promised me the photo with my letterhead but failed to deliver. How can I have surefire confidence in our deal if you continue to fail me in such a small task????? If it is the money to get the picture then think about it, by this time of next week we will have millions of dollars to share - surely the photograph is a small price to pay.

I am willing to carry $9000 to meet you man to man in Lagos (what is this money for anyway - small beer to ensure such large riches so I am willing to carry it), but as you will appreciate this is a lot of money and the above method is the only way I can think to be 100% that I am dealing with an honest man.

Let me know if I should tell Virgin to cancel my flights.

I can only hope that at some time in the future I meet a responsible man who comes across a deal such as yours.

In sadness,

Bill



Back on track.
---
OKORO EMEKA -- ulaoma@yahoo.com

Mon, 28 Apr 2003 10:12:49 -0700 (PDT)

My dear friend do not be In sadness okay, the deal will move on as I will take the picture immediately am out off my office okay and I will send it to you latest by tomorrow.

So get preparing to get on bored.

Expect the pic.

Yours Truly



Hassle him to get moving
---
BILL SMITH

Tue, 29 Apr 2003 15:09:15 +0100 (BST)

My friend, please. Where is the photo of you with the letterhead. I need to confirm my flights as soon as possible and go to the bank to withdraw the required cash.

Have you booked me into a hotel. A suite in the Sheraton would be fine as long as the Sheraton do not have a problem with me enjoying female company in my room.

thanks in anticipation,

Bill.



Okoro is obviously really going to send me a real photo of him. See how he gets his excuses in early as to why the previous photos will bear no resemblance to him.
---
OKORO EMEKA -- ulaoma@yahoo.com

Tue, 29 Apr 2003 12:50:27 -0700 (PDT)

Dear Friend

Your mail to confirm your hotel reservation and the photo with your letterhead is well received.

I have taken the photo with your letterhead in the morning while I am heading to my office and have collected it on my way back home, I will be sending you the photo in no distant time. But what I want you to understand is that the photo in my International Passport I took at my 24years when am not married, after I arrived from United State where I school. And the photo I sent to you after my International Passport was the one I take on my 14 chieftaincies title. I will send another photo, which I have, my wife kneeling down in front of the King who crown me and my wife in that day which making it the 14 Coronation, including the one you requested.

There is no problem in your hotel reservation and the pretty Nigerian girl, which you will enjoy in your hotel room, okay.

So after you receive the photos please send me exactly your flight schedule.

Looking forwards to see you.

Yours Truly.

Dr. Ulaoma Okoro


Wonder if he.s seen Monty Python and the Holy Grail?..
---
BILL SMITH

Wed, 30 Apr 2003 09:05:00 +0100 (BST)

I understand well that your photos may have been taken some time ago, and the photo you send me with my letterhead might bear no resemblance whatsoever to the photos of young men you sent me earlier.

Anyway can you please answer me 2 questions.

1. How much money do I need to bring. $9000 for the release and how much spending money will I need?

2.a How much will the pretty nigerian girll cost me? Will she be adventurous in the sack with me?

2.b What... is the air-speed velocity of an unladen swallow?

Please respond with picture asap, it is now Wednesday and I need to leave tomorrow afternoon for London to catch the Lagos flight. Thankfully I got Upper Class so I don't have to sit amongst all the indigens.

Bill


Good guy . he.s sorting me out with hookers!! Wahey.
---
OKORO EMEKA -- ulaoma@yahoo.com

Wed, 30 Apr 2003 03:34:09 -0700 (PDT)

Dear friend Bill

You can now see my photos as we agreed. And what is your age?

Apart from the $9,000.00 which is meant to complete to sick for the approvals, there will also be a need for you to put extra money $5,000.00 or more to make sure we settle the new Lawyer I have implored for his services who is the Central Bank Accredited Attorney At Banking Law and for any matter that may arise before we conclude. But be assured that the $45,000.000.00 is ready for us to claim and the Lawyer have gone round and verified that it will only take us but 72hours to be in position of this funds.

Do not worry about the pretty Nigerian girls I will take care of that at all cost to see that you have the best in bed in your hotel room, okay.

All arrangement to pick you at the Airport has been concluded please give me you flight schedule as soon as you read from this mail.


I can.t wait to see you. (I bet you can.t so you can put a bullet in my head and steal all my cash)

Sincerely Dr. Ulaoma Okoro

He sends me a picture of himself, a full length one in a nice red suit.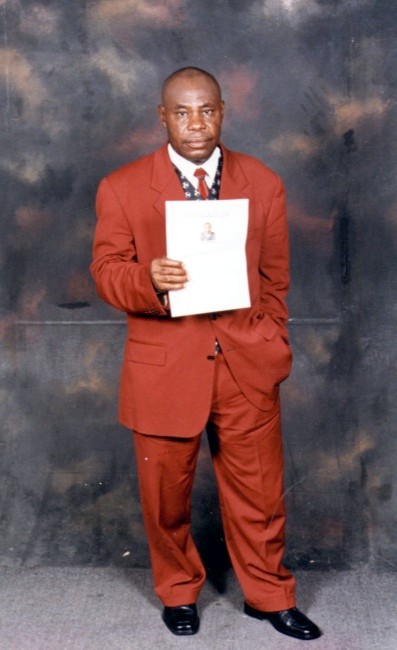 I can.t read the letter so I need something better.
---
BILL SMITH

Wed, 30 Apr 2003 12:04:47 +0100 (BST)

Okoro, What do you take me for? A complete fool? I received your photo which DOES NOT have you holding my letterhead (copy attached again), which you should make into a card visible enough for me to see at the airport. I do not know what this thing you are holding is but it is certainly not my LETTERHEAD. I must be able to clearly see the letterhead in the picture. Maybe get a close up picture with you holding the letterhead under your chin so I can see it clearly.

$14000 will not be travelling with me on Thursday night unless I get this TODAY and WE CLOSE OUR BUSINESS NOW. I am beginning to THINK YOU ARE NOT CAPABLE OF CLOSING THIS DEAL IF YOU CANNOT DO A SIMPLE THING TO SHOW YOUR INTEGRITY.

I have better things to spend my hard earned money on, even if it is a small amount like $15000 (plus flights, laptops, watches and whores)

I am disappointed in you.

Bill



And it worked
---
OKORO EMEKA -- ulaoma@yahoo.com

Wed, 30 Apr 2003 06:35:38 -0700 (PDT)

Dear friend Bill

I reveived your mail with mix filling for how you have addressed me this morning after all my effort to take the picture which i did as you reqeusted, but you are asking me to take other one with you letterhead bold.

well, I will take another one today just to please you and that will be after my officail duty in the next 2hours from now and sent it to you, I hope that will be okay for you.

Regards

Dr.Ulaoma Okoro



BINGO
---
OKORO EMEKA -- ulaoma@yahoo.com

Wed, 30 Apr 2003 09:28:12 -0700 (PDT)

DEAR FRIEND ,

I AM WRIHTING TO INFORM YOU THAT I HAVE GONE TO TAKE ANOTHER PICTURE IN OTHER TO MAKE YOU BELEIVE THAT ALL THAT WE ARE DOING IS TO TRUST EACH OTHER IN THIS TRANSACTION .

BUT I WANT YOU TO KNOW ONE THING ABOUT BEING HONEST TO OURSELVES SO THAT WE WILL ACHEIVE SUCCESS TOWARDS THE CONCLUSSION OF THIS BUSINESS.,BECAUSE I FOUND OUT AT THE EARLIER STAGE THAT YOU DID NOT TRUST ME BY YOU SENDING TO ME PICTURES OF SADDAM HUSSEN WHOM YOU KNOW THAT EVERY ONE IN THE WORLD KNOWS,I DONT KNOW WHY YOU DID THAT,YOU COULD HAVE TOLD ME YOUR MIND B4 NOW,SO THAT I WILL KNOW ANOTHER ALTERNATIVE WAY TO SEEK FOR ASISTANCE FROM SOMEBODY ELSE.

I STILL BELEIVE IN YOU THAT YOU WILL HELP ME TO GET THIS FUNDS OUT OF THIS COUNTRY .YOU CAN NOW HAVE MY PICTURE WITH YOUR LETTER HEADED PAPER.

ATTACHED HERE WITH THE PHOTO INCLUDING MY PASSPORT .

DR,ULAOMA OKORO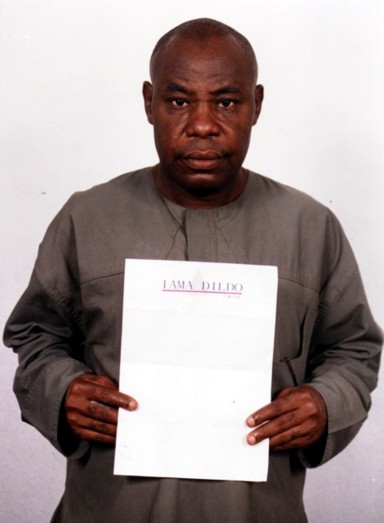 Now to put a spin on things I introduce my bodyguards who must travel with me, I.ll be interested to see his response when he finds out I.m not travelling alone. Ronnie and Reggie Kray! Note someone has obviously pointed out that it.s unlikely Saddam Hussein is coming.
---
BILL SMITH

Thu, 1 May 2003 08:36:13 +0100 (BST)

Thank you very much for your picture, I will confirm my Virgin flight tonight to go to Lagos. I arrive Lagos at 0500 tomorrow morning.

I have attached my real picture now that we are so close to concluding the deal. I have also attached a photo of my two bodyguards who are travelling with me. Can you let me know if it is permissible for them to carry firearms whilst we are in Nigeria? We have clearance for them to carry them on the plane (in the hold obviously), but need to know if they can carry the guns on the street in case someone trys to beat me up and steal my money (as if eh?, but they travel everywhere with me).

The one on the left is Ronnie and the one on the right is Reg (or is it the other way about?, I always forget). My photo is also attached (the real me this time) wearing my favourite hat. The other photos are really my wife and my first son.

See you tomorrow god willing.

Bill



I SENT HIM MY REAL PHOTO (OF DAVE ANGEL FROM THE FAST SHOW) AND A PHOTO OF MY BODYGUARDS . REG AND RON KRAY.
TO MY SURPRISE OKORO IS NOT BOTHERED ABOUT THE GUARDS. MY GUESS IS HE IS TIED IN WITH THE POLICE IN LAGOS.
---
OKORO EMEKA -- ulaoma@yahoo.com

Thu, 1 May 2003 04:12:47 -0700 (PDT)

Dear friend

Your mail is well received, your picture and the one of your body guards is welcomed.

I have also noted your flight schedule and will be expecting to see you face to face. Now about you bodyguards coming with firearms are okay if you have the clearance with you as well to pass it through the Airports, for any inspection.

Finally I will be waiting to see you for us to conclude.

Thanks for your co operations.

Dr Ulaoma Okoro



TIME FOR A SPANNER IN THE WORKS I THINK.
---
BILL SMITH

Thu, 1 May 2003 13:11:40 +0100 (BST)

Okoro, Can you explain something to me. When I went to the Nigerian Embassy today and asked about my business I explained I was meeting someone to set up a deal to export Dortti Blake Minj from Nigeria to Scotland. However they did not believe me as they know the Dortti Minj is freely available here in Glasgow. They then explained something called the 419 fraud to me. This sounded very similar to our deal. They asked if I had any information on you, and when I showed them your photo so they knew you were an honest businessman, they said you were a fine boy, and had a record of 419ing people before. Tell me this is not true Okoro. Please. I still have complete confidence in you. In fact I think you are a big confidence man? Am I right?

They were going to keep my passport but I managed it to release. However these Nigerians were not honest men like you Okoro so I had to give them all the laptops and watches. Luckily I did not have the cash with me so it is safe.

Let me know how I should proceed.

Bill.



From another e-mail address I decided to try and find out what was in store for me..
---
MICHAEL MAWS

EMEKA?, MICHAEL MAWS OF NIGERIAN EMBASSY HERE. WE WILL NOT LET BILL SMITH OF IAMAD ILDO TRAVEL TONIGHT UNLESS ME AND MY COLLEAGUE KIRIAN ARE CUT INTO THE CASH FROM HIM. PLEASE I CAN ARRANGE POLICE HELP IN LAGOS TONIGHT. WHAT IS YOUR PLANS FOR THIS OEBO MUGU?

WE HAVE RELEASED HIM WITH PASSPORT, NICE LAPTOPS. BUT WILL ARREST HIM AT LONDON AIRPORT AGAIN IF WE NO HEAR FROM YOU.

PLEASE REPLY TO THIS E-MAIL. PRIVATE AND NOT FOR EMBASSY EYES.

IF YOU DO NOT LET ME KNOW PLANS FOR SMITH I WILL HAVE YOU ARRESTED AT MURTALA MOHAMMED AIRPORT THIS MORNING.



Changed his mind about the guns. Must have thought, Hang on!
---
OKORO EMEKA -- ulaoma@yahoo.com

Dear Smith,

Thanks for your last mail.

Your two body guard can only be allowed in our country without guns. It is against our laws here.

Please i want you to send your detailed flight schedule to me so that i can make hotal reservations for you.

I think and am happy that our embassy has answered the 419 scam to you by telling you that i am a person you should have confidence on and can do business with me. In this regard what we are doing is nothing but good deal,and bear in mind that my government are not happy the way a lot of money are being moved out of this country by ministry workers,this is why the always scare any foreigner who wants to come to Nigeria for any business. So please you should not take that as anything,because most of the top militry officers/presidents use the same way to syphon government purse/money.

Dont bother mush about the gifts ,the embassy has taken from you just proceed to nigeria and lets conclude this deal.

I will be in the airport in the morning waiting for your arrival by 0500am local time.

Yours,

Okoro.



Hope he hasn.t seen Pulp Fiction either.
---
BILL SMITH

Thu, 1 May 2003 14:35:07 +0100 (BST)

Thank you. I knew by your picture you could not be one of these 419 scamsters. I know they are the scum of the earth and when God finally takes his vengeance these people will be the first to die a death of a hundred strap ons. All about 4 inches thick and 18 inches long. Man, that 419ers will have tears from their eyes believe me.

There's a passage I got memorized.

Ezekiel 25:17. "The path of the righteous man is beset on all sides by the inequities of the selfish and the tyranny of evil men. Blessed is he who, in the name of charity and good will, shepherds the weak through the valley of the darkness. For he is truly his brother's keeper and the finder of lost children. And I will strike down upon thee with great vengeance and furious anger those who attempt to poison and destroy my brothers. And you will know I am the Lord when I lay my vengeance upon you."

I been sayin' that shit for years.

Anyway see you tomorrow nice and early I guess. Is my nice Nigerian women all ready and waiting for action. Hope they swallow.



Looks like Okoro wasted a bunch of time running round Lagos airport trying to find out if I was on that flight. He.s even told that a Bill Smith WAS on the flight (which I seriously doubt)
---
OKORO EMEKA -- ulaoma@yahoo.com

Fri, 2 May 2003 06:46:01 -0700 (PDT)

Dear friend

What is going on? Have you arrived LagosNigeria?

I waited for you in the Airport endlessly without seeing you. After which I ask the Airport controller to alert all his boys including the emigration officer to help and search for you, before I find my way out leaving them and hoping they will see you and take you to hotel to rest before I can meet with you.

If you can read from this mail you will understand that I have missed you and if some one has pick you from the Airport may be my Lawyer or any person please do inform me as I have not see my Lawyer or some of the junior staff of cbn which I sent to also help to see if you have missing your way. And I have ask the virgin airliner operation officer for the manifest which they deniers me which I suspected something is wrong some were, but the Airport controller director has giving me his word that somebody called Bill Smith has find his way in side the country.

Then please tell me how you getting or are you not the person?

Communicate me as soon as possible and remember if you do not, you will have your self to blame at last because I am saying this so that I will hear from you to be sure because I don.t know the hands you have falling, but I pray you don.t fall into a bad hands that will rack you off. Dr Ulaoma Okoro


Make him think I really turned up.used a bit of local knowledge for authenticity!
---
BILL SMITH

Fri, 2 May 2003 19:24:57 +0100 (BST)

okoro, I was met from the flight by colleagues of the guys who stole my equipment at the Embassy. They had official paperwork so I had to go with them. They are not doing much at the moment and I am living in a place called Victoria Island? Do you know it? Earlier, they took me for what they called chow at a place called 'Tribes', it seemed okay but I do not know what is happening. They have taken almost all my money and have only left me with small Niara so I can afford to pay for food and a couple of your lovely Dorrtti Blake Minjes.

Okoro, can you use your influence as a big man in Nigeriai PLEASE?

I have to go now as a man called Ben Ojei will be back soon as he has promised to 'tayr me anoo aynoos'? Do you know what this means?



He.s on the warpath . this was sent to the e-mail address I used to pose as the customs officer.
---
OKORO EMEKA -- ulaoma@yahoo.com

Subject: Re: Mr. Bill Smith travelling to Lagos
To: MIKKEL MAWS michaelmaws@xxxxxxxxx

You are just very stiped why not you ask the person you thing is a mugu to tell you his missions after you collected his laptop and still think you are smart enough to sting me together with him as you did, after all who gave you my email address you all are very stupid and if you thing that all what you people are there in the embbasy is to block the success of Nigeria, aha you have hit your hands on a stone face and if you think you have connection to stop people who is coming into this faithful country by obtaining there treasury or there money you will have your self to bleak started from now, you are done with and will leave without any notice just keep crying from now bums. If I see you my self you will know that you are just a cockroach on my table.



And they respond. I.m now trying to find out what Okoro had in store for me when I got off the flight.
---
MICHAEL MAWS

From: Michael Maws (ostensible embassy staffer)
Subject: Re: Mr. Bill Smith travelling to Lagos
To: okoro emeka ulaoma@yahoo.com

Emeka, I am writing from a room in the Sheraton Lagos in Smith's room. We have the $15,000 and some very nice watches. We do not want to compromise you in the deal. We are telling Smith we are doing this for his security, but I think he is worthwhile for some more dollars. What was your plan for Smith once he arrived???

Tell us what you had planned for this white mugu, then we can talk. He willl not give us too much info. We need to know what you had planned for him, murder, beating, kidnap???. We will tell him your plans, and take more money from him under the pretence we will be arresting you, but we need info on what you were to do with him once you picked him at the airport.

Then we will reveal our identitiy and we can meet to split the monies!

Mikkel
Good idea regarding the bodyguards and the firearms - both of the white men are now sleeping for eterbity across in Victoria Island.



I get the impression Okoro is all worried now that this thing has spiraled a wee bit out of control.
---
OKORO EMEKA -- ulaoma@yahoo.com

Sat, 3 May 2003 13:40:39 -0700 (PDT)

My dear friend bill

They have reach me, just hold your bright and keep communicating with me in every step they are taking you and keep smiling face to them until I will tell you what to do, in no distant time okay.

Yours faithfully
Dr. Ulaoma Okoro



Now he tries to negotiate with the guys holding me hostage.
---
OKORO EMEKA -- ulaoma@yahoo.com

To: MIKKEL MAWS

Where are you now? can you meet with me and let us discourse face to face tell me since you have him and his $ and also the present he brought by your side and you want to meet with me for negotiations. well good how do we meet then?



Then warns me to get out as soon as possible. Almost feel sorry for him, I think he.s shitting himself! Not sure what fiatfully means.
---
OKORO EMEKA -- ulaoma@yahoo.com

my dear friend

any where you are now make sure you find your way out look for a taxe and ask the driver of the taxe to take you to the murlitah mohammed international Airport Immediately and after as soon as you get home to your country please mail me okay.

Your FIATFULLY

Dr.Ulaoma Okoro



I put his mind at rest and tell him I.m being released..
---
BILL SMITH

Mon, 5 May 2003 11:07:00 +0100 (BST)

I am being released today and travel back tonight. I do not think I will visit Nigeria again.!



I.ll give him one thing, he certainly doesn.t give up. No sooner was I back and..
---
OKORO EMEKA -- ulaoma@yahoo.com

Mon, 5 May 2003 06:00:22 -0700 (PDT)

Attn: Bill

My dear friend,

Sequel to the secretive arrangement in regards of the shipment of contract sum USD$45,000.000.00, I wish to inform you that all necessary modalities have been automatically concluded and has left Nigeria to London via your Country by Express Cargo Flight. Note carefully the content of the crate is "MONEY" but I did not disclose it to the Courier Services as Money, rather I informed them that the crate contain Vital "DIPLOMATIC DOCUMENTS" belonging to my client (that's you).

Furthermore, the weight of the consignment is 220kg but I manage to pay 120kg, which cost US$75,600.00. On no account should you disclose the content of the crate with the Diplomatic Courier Services for fear of betrayal. So do not allow them to know that the content is money. In the meantime, contact the Diplomatic! Courier Services on Tel: 0044 77 1718890 in London tomorrow to know the actual situation with the consignment and also give them your address where the consignment will be delivered and then get back to me as soon as possible so that I can give you the shipment document.

Meanwhile, I will be coming over to your country immediately the consignment arrives in your Country for my share. Contact them and get back to me.Congrats and remain blessed.

Best Regards,
Dr. Ulaoma Okoro

Note that if you are still in my country please tell me where you are so that i can send the security services to pick you-up and move you to the Airport to catch you flight to your country, After which you will contact the courier company to claim the boxes that is containing our funds. And baer in mind that it was because you where not found in the Airport upon your arrival and i get to know that it was the corrupt junior officer of the C.B.N who knew that i was expecting a business partner here that pick you from the Airport. And some of them has been apprehended by the state security services.

Now the money that i have use to process for the release of this funds and the part payment of shipment was loaned to me by a finance company that same Friday, total loaned to me is $100,000.00 i did this to make sure that the Federal Ministry Of Finance (F.M.F) and the presidency approve this payment by Monday which they did today. and it was to avid this unscrutuput element gain upper hands over me. And i move the funds in 2truck boxes by diplomatic means to London now and will be expecting the boxes to by in London in the next 6hours today. please communicate me so that i can know where you are now before you reach the courier services.



Time to start shutting this down now. The sport is waning as Okoro is just too daft for words.
---
BILL SMITH

Tue, 6 May 2003 09:32:24 +0100 (BST)

Okoro, My London colleagues will take over this once in a lifetime opportunity. I'm sure they will be able to assist your 'diplomatic courier service' here in the uk. Get them to ask for the West African division of my company.

Wellington House, 67-73 Buckingham Gate, London, SW1E 6BE +44 (0) 20 7230 1220



This is the address and phone no. of the serious crime squad at Scotland Yard. They do have a West African Division which deals with 419 scammers and their victims.

However, as a last attempt I still want to know what Okoro had planned for me. So.
---
MICHAEL MAWS

We have got some good secrets from that fool Smith. We have your address and your photo. We do not want to cause you harm Emeka. What is your propa name? Do you have any other good mugus lined up? The method through the London Embassy is a good one. My colleagues have access to this e-mail and we can ensure the men are set up fine for travelling to Lagos.

WHAT WAS YOUR PLAN FOR SMITH ONCE HE HIT LAGOS? YOU OBVIOUSLY DON'T HAVE THE $$$$ SO YOU WOULD STEAL THE MONEY FROM HIM IN A CAR FROM THE AIRPORT. WHAT NEXT?????

Come on just phone me.


---
OKORO EMEKA -- ulaoma@yahoo.com

My Dear Friend Bill,

Kindly note that I am very grateful for all your concern on this issue. Due to the position of things, I would want you to contact my Lawyer who has the link of the Courier Company because he said that it will be preferable for you to handle this issue personally and that it is your credentials that he used for the beneficiary identification. So call him on this number +234 .1- 7752046 and his name is Barrister Tony Kadiri. Do give him a call as soon as you receive this mail.

Best regards

Dr. Ulaoma Okoro



I.m stressed out..
---
BILL SMITH

Wed, 7 May 2003 08:26:39 +0100 (BST)

Okoro, I can no longer get internation access from my phone. Please ask him to call my colleague on the no. I gave yesterday. I am resting after my unfortunate experience in sunny Nigeria. He should ask for the West African division, this will make the receptionist know to put the call through to my most trusted colleague.


Well, he must have tried to phone the London no.
---
OKORO EMEKA -- ulaoma@yahoo.com

My Dear Friend Bill,
I am very sorry for the unfortunate incident that happened to you here in Nigeria.
Do discern that you are the only one I ever trust and due to the fact that I invited you to Nigeria, which you traveled all the way from Europeto Africaguarantees over a hundred percent of trust I have for you. Now be aware that the Consignment was transferred from Nigeriato Londonwith your credentials, in other words your name is in clear Notification by the executives of the Security Courier Company.
More also, those trusted friends of yours in your Company you directed my Lawyer to call, I do not trust. I would prefer to deal with you personally just like from the beginning of this transaction. Like you know this transaction is gigantic and I will not want any further mistakes like what happened in Nigeria.
Like you said you are resting after the awful ordeal in Nigeria, kindly include your personal telephone number in your next reply so as for my Lawyer to place a direct call to you and not to your colleagues in your Company. This direction is imposed for security measures as to safe guard the funds. Do bear with me.
Once more I apologize for the awful unfortunate incidents you experienced here in Nigeria. And what ever it must have cost you financially physically and mentally, shall you be compensated. I await the continuation of this transaction when your health is perfectly okay.

God be with you.

Best regards
Dr. Ulaoma Okoro



Surely he can.t reply to this one..
---
BILL SMITH

To : okoro emeka.

Thank you for your kind words Okoro. I knew you were a good man and not one of those evil 419ers who would have met me at the airport, beat me like a idiot goat and hold me in the hotel to try and squeeze me for more money. I am finding it difficult to recover. Because of the sexual abuses the embassy men gave me I have not been able to sit down since I got back. I know now that what they say about black men is true!
As the Reverend Mista Tea at my local church says 'Murdoch, I ain't going on no plane crazy fool'. Although it has to be said, to counter this his assistant the Minister Chasan Dave sometime claims 'Snooker loopy, nuts are we, we're all snooker.....loopy!. Which I think sums it up nicely. Don't you?

Anyway, please call me as soon as possible. I am obviously not taking too many calls so please call me and use the following as a password. 'I WANT TO GIVE YOU A PEARL NECKLACE'. My receptionist knows this code to transfer you. To me direct. If she does not understand, simply repeat. When she transfers to me, when I say hello you should repeat. My no. is 0141 580 8500.



An apology on behalf of the Embassy staff for Okoro.
---
OKORO EMEKA -- ulaoma@yahoo.com

Thu, 8 May 2003 14:34:03 -0700 (PDT)

Dear Bill,

I do not know where to start from, because I became short of words after I have digested the mail you sent to me. I do not know how to apologize of this inhuman ungodly, demonic attitude perpetrated by those evil so-called embassy men and there counterpart on you. May they rot in hell.

Nevertheless, keep on holding the faith you have for me just like if havefor you, so that there could never be any devilish intruder that could cause an asunder between the both of us.

Meanwhile, I instructed my Lawyer to give you a call today which he did, but your secretary responded your absence. My Lawyer will place a call to you during working hours tomorrow.

I wish you soonest recovery by God's grace.

Yours Truly

Dr. U. Okoro



Ask him if he.s gay like the Embassy staff
---
BILL SMITH

Fri, 9 May 2003 12:42:06 +0100 (BST)

Don't worry about it Okoro. It was not your fault. Actually it was quite nice after a while, just felt like the first one after a really really hot dish from the local Shahbaz Tandoori. It was when they made me do what they called a spit roast that I was sickened - what perverted minds do you have in Nigeria. They kept calling me a gimp? What does this mean to you Okoro. Are all Nigerian men liking the attentions of other men? If so, how do you have so many babies?
Do you have anyone else travelling to meet you shortly? I could contact them and arrange for them to travel with some money to facilitate our deal. Let me know and I will tell them you are a big confidence man. I have to go now, as I need to get another enema, it is thought one of the embassy men left his watch up there so we need to get it back just in case it's a Tag Heur or a Omega (like Bond wears, although not in the same place as me eh? ha ha).

I forgot to check, I asked you a couple of questions before, did you ever find out the velocity of an unladen swallow - in case you were unsure it's the European one. I have two more queries for you good self

1. Have you enjoyed a spit roast with any of your friends?
2. Did you really have nice Nigerian women waiting to show me a big time.
3. (bonus round) Who killed JFK?

thanks, Bill. Really have to go now as the nice nurses who look after me are coming round with my medication.



My mugu must have phoned.
---
OKORO EMEKA -- ulaoma@yahoo.com

Fri, 9 May 2003 04:52:10 -0700 (PDT)

Bill

My Lawyer called you now, but it was a stadium number you gave to me which sound so embarrassing the Lady secretary he met on line told him really it is a stadium . please stop joking like you did last time in the photo thing, you know it's my Lawyer that place the call to you and i wouldn't want him to see things the way he is thinking now.

The consignment is presently in London now and my Lawyer would want to speak with you, since you cannot reach you on the number you gave to me due to the above reasons, so call him on this direct telephone number +234 .1- 7752046 immediately you read from this mail.

Time is not our friend.

Remain bless.

U. Okoro



I.ll give him an alternative with the phone no for Strathclyde Police HQ.
---
BILL SMITH

Fri, 9 May 2003 13:06:46 +0100 (BST)

Okoro, There must be a problem in the lines somewhere. My number is similar to that of Ibrox Stadium, home of Rangers FC - you might have heard of them, they are a catholic church team made up of priests and cardinals. They're pretty shit though.

An alternative no. to try is 0141 532 3000, code word for this reception area is 'OINK OINK I SMELL BACON'



After a gap of a few days.
---
OKORO EMEKA -- ulaoma@yahoo.com

Bill,

What is the Situation report my friend, can.t trust any person here again even my Lawyer.

U Okoro


---
BILL SMITH

Mon, 19 May 2003 14:10:09 +0100 (BST)

That's a golden rule - never trust your lawyer. However, I am sad to admit to you that I am now in partnership with your lawyer. I guess you should have spoken to him, as the money was moved within the last week from London to an offshore account I set up. We have split the cash and I don't think the lawyer will be setting foot back in Lagos ever again. However, I do know that I am not happy with only $10M, and the lawyer has a further $15M. I could arrange for him to make one trip back to Lagos, you meet him from the flight, and bada bing, you get his brains all over your Ivy League suit. Then, we split the $15M two ways equally down the middle = $12M for me and $3M for you? How about it?

Don't worry if you don't think you are big enough to handle such a deal as I guess I can live on the $10M for a while.

Bill



I.ll say this for Okoro . he doesn.t give up
---
OKORO EMEKA -- ulaoma@yahoo.com

Mon, 19 May 2003 15:33:35 -0700 (PDT)

Dear Bill,

I really appreciat your effort to keep me with the latest update of the transaction about my Lawyer and the consignment disborsment.

I want to asure you that my Lawyer cannot run away with my funds, though I do not trust him neither do i trust you 100%, but you lifted up my trust for you when you came to Nigeria and you were rough handled by those scornbergs. Kindly describe the looks of my Lawyer, his eyes, his height, complexion and his size. If probably you will be able to snap a picture with him, scan and send to me.

Kindly update me with the amount you have spent so far on the services rendered to you by the security company likewise as the amount spent in setting up the account of which the fund were deposited. Intotality, send me the whole details of the amount you have spent so far.

As regards the $10m in your account, note that the funds will be splited into two. $5m for you and $5m for me. when my Lawyer surfaces in Nigeria, and tender all document of transfer of funds for investment, I will order him to transfer $7m to any account you may nominate which stands as the 30% I promised as your share earlier.

Bear in mind that my $5m with you will be channelled into proper investment strategy, an investment you know will yeild more profit. Note that the reason for updating me with the details of the amount you have spent so far is to enhance deduction of same amount spent from my $5m with you.

please be truthful with this amount and do not escalate.

Thanks for your cooperation.

Best regards.

Dr. U. Okoro



I.ve sent him this to see if he still responds.
---
BILL SMITH

Sent May 21st.

You're lawyer is approx 6" 3", built like a brick shithouse. His eyes are dark, very dark, as if they've seen things that no man should ever have to see, like your mum and dad shagging or something. His complexion looks like the moon on a winters night and is similar to Kenickie's in the famous film 'Grease', and he's as black as the ace of spades. Is this the right man I have gifted your millions to while you stay in Lagos trying to panhandle Naira for a bottle of Star or Gulder? He wants me to tell you a secret he has had from you for many years; he loves you, but when you did not let him enter your chocolate starfish he vowed for revenge. That is why he has stolen your millions.

Just to really rub your nose in it he has asked me to attached this photo he took by my computer after we liberated the funds. I hope you like the look of the monies?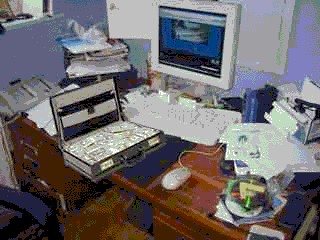 For a fee I can have him, you know, sleeping with the fishes? Let me know and I can contact my friend Luca Brasi to carry out the deeds.

regards, Bill

H

ow about that eh? My description was spot on apparently.
---
OKORO EMEKA -- ulaoma@yahoo.com

Dear Bill,

Yes he is the one.

Please send me the $100,000.00, which I told you were loaned to by a Finance Company, so that I can pay up the dept.

I will send you the Banking account of the financier to wirer the $ upon your response.

Remain bless.

Dr. Ulaoma Okoro


---
BILL SMITH

Wed, 21 May 2003 16:30:13 +0100 (BST)

You kidding me - ask the lawyer for the money. You're not getting $100,000 (ONE HUNDRED THOUSAND) out of me. Your in Lagos and I'm in Nigeria, so I guess your well and truly up shit creek without a paddle. Let me know if you want me to set up the Lawyer for a big fall and I will ensure he travels to Lagos, you can meet him off the plane and get medieval on his ass with a blowtorch and a pair of pliers. Then as I say we have an equal split of the $15M - 10 to me and 5 to you. This is more than fair, do you agree Okoro?

This whole affair has reminded me of the words of the great Spanish philophoser Juan King :- 'Get yer tits oot for the lads, ge-e-e-t yer tits oot for the lads'



He.s not going to give up.
---
OKORO EMEKA -- ulaoma@yahoo.com

Dear Bill,

How is everything on your side? You have been a wonderfully person I know you are a good man to admitted that which you did. Please see to my request and let all be urgent okay.

Dr. Ulaoma Okoro



Will he give up now?
---
BILL SMITH

Tue, 27 May 2003 13:26:27 +0100 (BST)

Okoro, How are you today? I have discussed with your lawyer the possibility of giving you some money. He didn't seem too keen, as he wants to keep all his money to buy Mr Sani Abacha's old chateaux in France. However, he did say that once he buys this he would invite Okoro across to live. He says to tell you there is terms and conditions for this

1. Okoro must not answer to any form of address other than 'Gimp'
2. Okoro must wear leather from head to toe at all times.
3. Okoro must live in a box.
4. No-one kills anyone in Zed's place of residence except me and Zed.

Can you confirm acceptance of these terms and conditions, and I will discuss with the lawyer about sending you money to travel to France.



Nope..
---
OKORO EMEKA -- ulaoma@yahoo.com

Tue, 27 May 2003 12:14:56 -0700 (PDT)

BILL

I HAVE ASK YOU TO GIVE ME THE HOME AND OVERSEAS TELEPHONE NUMBER OF MY LAWYER PER SAY SO AS TO CONFIRM ACTUALLY THAT HE IS MY LAWYER WHO HAS DONE THIS TREACHRY ACT ON ME, WHICH YOU COULD NOT DO SO.

SO NOW I WOULD WANT YOU TO PLEASE STOP TELLING ME ANYTHING ABOUT MY LAWYER, ALL I NEEDED FROM YOU IS THE $100.000.00 SO THAT I CAN PAY UP THE MONEY I LOANED TO FASILITATE THIS TRANSACTION WHICH HAS BECAME A SLAP ON MY FACE.

JUST DO THAT FOR ME AS I ASK FROM YOU AND NOTTING MORE BECAUSE I KNOW THAT THERE IS STILL MORE DEAL LIKE THESE WHICH WILL CLICK ANY MOMENT FROM NOW AND IT IS A BIGER ONE. REMEMBER I AM ONE OF THE DIRECTOR IN KEY TESTED TELEGRAPHIC UNITE, I HAVE LEAN MY LEASON WITH THIS LITTLE ONE.

WAITING FOR YOU

OKORO



All went quiet for a while
---
OKORO EMEKA -- ulaoma@yahoo.com

Bill

You have not reply my mail, are you sending me the money? reply ASPA

Ulaoma



I decided to shut it down once and for all.
---
BILL SMITH

Of course I'm not sending you the money. We both know there is no money. There is no lawyer. There were no embassy men. There was no Bill Smith who flew to Lagos.

What there was, was a lowlife 419 scammer trying to get me to Lagos to beat and rob me. Wasn't there Okoro?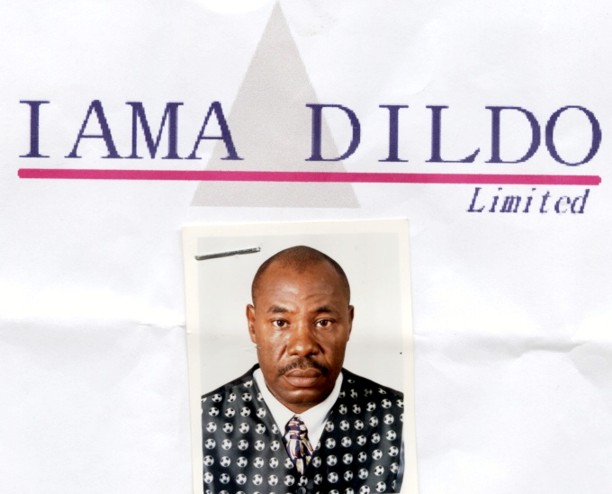 ---
[Words fail us.]