---
DR. PAUL MICHAEL

FROM:Dr.Paul Michael
EMAIL:dpm342@netscape.net

I want you to patiently read this offer.I am Dr.Paul Michael,the special adviser to the minister for Energy Affairs and minerals in Mauritius African.I am also the linkman between the diamond mining sector and the Mauritius African Government.I also attend meetings constantly with the minster on matters bothering on the sales of Diamond and other minerals.

Through the sale of our country's diamond which i directly oversee,I was able to make US$18.2million,which is currently deposited in an European security and finance company.I want you to assist me to claim this money as i cannot claim it directly because i am still a civil servant,and the code of conduct bureau forbids me to acquire such amount of money.It is on this basis that i am contacting you for assistance.If you will be interested,all you will do is to travel to
the European nation after all official claim documents have been processed and sent to you.The documents with which the fund is deposited will be changed to reflect you as the new beneficiary so that you will be eligible to collect the fund on my behalf.I will give you 20% of the fund for this assistance.Kindly respond to my proposal through my e-mail address:dpm342@netscape.net

On the receipt of your email indicating interest,I want to assure you that there is no risk whatsoever attached to this transaction.You should also try to provide me with your own personal telephone and fax numbers.Expecting your response.

Best regards
Dr.Paul Michael


---
SATHIA PONTHY

Dear Dr Paul Michael

I have read very patiently your wonderful letter and I am thrilled at your proposal.
I can assist you as much as you want and I need to tell you I don't even need to travel to the European nation because I already live here ! Isn't it wonderful ? I can hardly wait for you to send me all the official documents you mention. I know there is absolutely no risk with your transaction, as I have already done similar jobs for the Ministry of Finance in Zimbabwe and the family of late President Marcos in the Philippines, and helped a lot of other affairs in Nigeria, Angola and Mongolia.
Please contact me as soon as you can, I'm eager to perform another mission -- and also I love diamonds a lot.
You can call me whenever you want (day or night) at the following number : +33 (0)1 48 01 45 62. I might take some time to pick up the phone if I'm sleeping, but you can also send a fax.
If you need my credit card number or any banking information, I will be delighted to forward it to you. Just ask.
Looking forwards
Gracefully yours
Sathia Ponty


---
DR. PAUL MICHAEL

Dear:Sathia Ponty,

Thanks for the response of the mail which i sent to you.Let me give you some details as regards to this money.

It is important to let you know that the total funds in question is deposited with a diplomatic security company in Europe. The funds is not in the bank yet, it is with the diplomatic security company, therefore you have to clear/claim/ legitimize the funds first from the security company. But before we go further I will want you to furnish me with the following informations that will facilitate the issuance of claim documents that will be sent to you.The information are as follows:

1 Your full name and address
2. Your telephone and fax numbers
3. A form of identification like passport or driver's licence

Let me assure you that this money is genuinely acquired from the diamond sales. But the problem i have now is, in Mauritius here, if you are a civil servant still in active service, you are not allowed by law to own or operate a foreign bank account, let alone having such huge amount of money in the account. Now for me to claim this money at the security company in Europe i need to have a foreign partner whom i can use to claim it and who is capable and can help me claim the money for me, hence i contacted you, only if you will be kind enough to help out, to go to Europe, clear this money from the security company and deposit it in the bank pending my arrival to meet you for settlement.

Let me also assure you that there is absolutely, no fear to entertain because all the necessary assistance you will require will be provided for by the security company including picking you at the port of entry, clearing the money for you, opening a non-residential bank account for you where the money will be deposited and taking you to the bank to deposit it. So you can see that there is nothing to worry about at all only if you can assure me of your credibility and willingness to help me out.

I will wait to hear from you.This is my private e-mail address:paulmichael_0001@yahoo.com for futher correspondence.

Regards

Dr. Paul Michael.


---
SATHIA PONTHY

Dear Dr Paul Michael

Thank you for replying so quickly to my mail.
I'm already very excited to help you with your financial problem. You do not have to worry at all. Despite of my old age, I'm a very strong woman and I have travelled a lot to many foreign countries. I'm looking forwards to this trip to Mauritius, which I haven't been to yet -- it will be my first time and I hope I will have time to visit and maybe have a nice encounter with the locals. As you have noticed, although I'm French, I speak very good English (and if needed, I can speak Italian, German, Spanish, Danish and a little bit of Tagalog and Chinese Mandarin).

Here are the informations you required :
Sathia Ponthy
234bis, rue du Faubourg Saint-Antoine
75012 Paris
My telephone number is +33 (0)1 48 01 45 62 (it's also a fax machine). You already asked me in your last message and I gave it to you, but maybe you did not notice.
You will find attached a photocopy of my passport. I'm sorry I look so old on the picture, but I suppose it does not matter.
Looking forwards to your answer.
Tremendously yours
Sathia Ponthy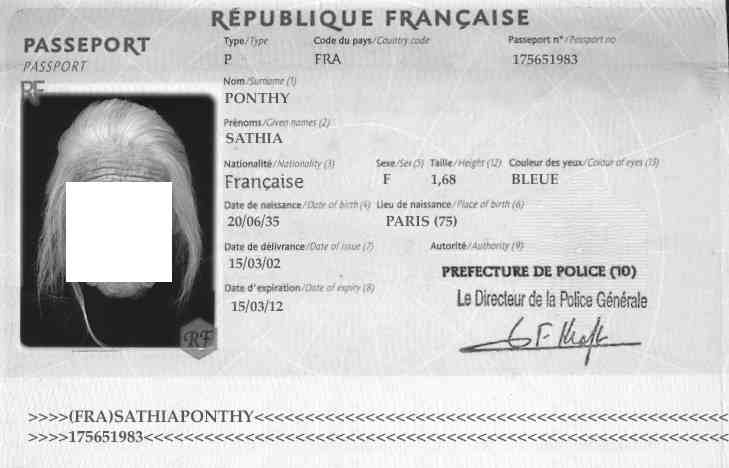 [ Picture is of quite a fine-looking old woman, with beautiful eyes, whited out to protect her privacy (we don't know who she is) ]
---
SATHIA PONTHY

Dear Dr Paul Michael

You haven't replied to my last email and you did not call me nor send a fax. I am very distressed.
Is it because you think an old lady cannot be trusted or because you think that I'm ugly ? You know, I was a model for Balenciaga when I was 21, and many men wanted to propose to me. As a matter of fact, with a little makeup and some hairstyling, I look very pretty. A little bit like Liliane Bettencourt or Bette Davis. And I can tell you with my appearance, there is not one person on earth who would not trust an old lady with their savings.
Please reply quickly, I'm really eager to hear from you.
Moistly yours
Sathia Ponthy


---
DR. PAUL MICHAEL

Dear Madam,

Thanks for your email and i want to know your acadmic background,because am not sure who you are,because the telephone number you gave to me i have called the number so many times with no response.So please i really want know you very well before we can proceed on this project.

Awaiting to hear from you soon.
Dr.Paul Michael


---
SATHIA PONTHY

Dear Dr Paul Michael

I am very surprised that you had no answer when you called me. I did not go out of my house except for a few errands -- you know how it is on Saturdays and what with the Christmas shopping coming up -- and there was no message from you on my voice mail. Maybe you should try to send a fax.
Here is the answer to your question about my academic background :
I was born in 1935 in Paris the only daughter to a very bourgeois family (my father was an art-dealer and my mother a theater actress). I was sent to Switzerland as the War was threatening and remained there until 1946, whereupon I went with my family to Canada, where I did my high-school, then to the USA for my college studies in art. I have a Master's Degree in Art from the Massachussets College of Arts and an MBA from Harvard. I married in the USA at the age of 25, got divorced in 1963 and returned to France where I have lived since, unmarried and with no children. I do not feel the need to work, as I was the sole heir of my parents, who tragically died in a boat wreck in the Far East back in 1975.
I hope this answers your question. Feel free to ask me more information if you need any.
Turbidly yours
Sathia Ponthy


---
DR. PAUL MICHAEL

From: - Dr Paul Michael,
Attn: - Sathia Ponthy,

Dear Madam,

Ref, to your last email message of yesterday, I started getting to understand you, first I must congratulate your effort and academic background as par -Ref. regarding your personnel statues.

Once more, I would like you to show me your readiness of traveling to this (security deposit house in Hamburg Germany) to go and clear this total amount of US$ 18.2 million like I mentioned earlier to you in my proposal I sent to you.

Because every other documents regarding this transaction has benign processing by my Lawyer and once you update me that everything is ok on your side,then the letter of agreement will be forwarded to you immediately for you to indorse your statutory and resend a copy of it back to me via my email.

Furthermore, Please bear it in mind that any money that you spent will be taking from 10%, because all these liabilities will be taken out from the 10% Mapped out for any miscellaneous expenses that occure both from your side and my side, after we might have finish with the project over there in Germany.

Finally regards to the question you asked about the security company you need to go,please as soon as you update me your readiness of travelling to Germany, then i will give you their contact,but like us finish our side first before you contacting them okay. And please your urgent response in this mail message is highly needed for us to proceed immdiately without any further delay.

Please I appreciate your co-operation and your trustworthy in respect of this business.
Finally, as regarded with friendship and understanding thanks for pursue.

Awaiting your urgent answer back.

Best Regards,
Dr Paul Michael


---
SATHIA PONTHY

Dear Dr Paul Michael

There is absolutely no problem for me to travel to Hamburg, Germany. In fact, I know the city quite well, as I have already been there several times in 1990, as I had a young and scrumptious lover there (oh, these Germans, they really know how to make a woman tired, yes, but a happy woman). Please send me all the documents you mention.
Looking forwards
Gaudily yours
Sathia Ponthy


---
DR. PAUL MICHAEL

De: paulmichael_0001@yahoo.com
Objet: Awaiting Madam!
FROM Dr. Paul Michael.
Dear:Sathia Ponthy,

Thanks for your email,and I must update you that this going to cost us money to get it done,because the money i deposit with them for the onward keeping is finished since last four months ago.So that is why am updating you in time now before we proceed further madam.
But i want speak with on telephone so dear i want you to tell when i can call you and get you on phone for us talk very well on how to move this project front.

Regards,
Dr. Paul Michael.


---
SATHIA PONTHY

Dear Dr Paul Michael You can call me whenever you like. I love talking to people over the phone. By the way, could you send me a photograph of you ? I would love to see your face, as you have seen mine on my passport.
Luridly yours
Sathia Ponty


---
DR. PAUL MICHAEL

De: paulmichael_0001@yahoo.com
Objet: You are not serious on this project okay!

From Dr.Paul Michael,
Dear

Thanks for your email,But madam is like you are playing with me in this project or what?because i called the telephone you gave me so many times today but the number is ringing no response so please if you really want to me belive in you, is when i will speak with you.

Thanks,
Dr.Paul Michael.


---
SATHIA PONTHY

Dear Dr Paul Michael

I am very shocked by your message of today. It is very rude of you to tell me that I am not serious, whereas I took the trouble to reply to every one of your emails and provide you with all the information you requested. On the other hand, you never reply to my own questions and you never sent me a photograph of you, so that I know really who I am writing to.
Besides, nobody called me today. I was sitting at my home, waiting for your phone-call instead of going out and do my shopping. I am very distressed that you accuse me so cruelly. If you want, I can call you, if you provide me your telephone number. You will hear for yourself that I am a very serious lady.
Adamantly yours
Sathia Ponthy


---
DR. PAUL MICHAEL

De: paulmichael_0001@yahoo.com
Objet: Am very sorry Madam!

From Dr.Paul Michael,
Dear Madam,

Thanks for your email and am very sorry for making you get upset towards this matter.
So i want to send to you passport like you requested it from me and the contact to the security company for you to call the man incharge of our consignment.

Here is his telephone number: 0049 1762 9359 326.and his name is Mr.Carlos Stantana. So i advise you to call him and ask him for apointment,and when you call the man tell him that you are my next of kin that you want to know he will give you apointment to come and clear the said consignment,but donęt tell him that what is inside the trunk box is money okay because i deposited as a family treaurey or gold dush.

Awaiting to hear from you soonest.
Dr.Paul Michael


---
SATHIA PONTHY

Dear Dr Paul Michael

Thank you for your email. I will call the number you gave me only when I have received your photograph. Please send it via email as soon as possible.

Rabidly yours
Sathia Ponthy


---
DR. PAUL MICHAEL

Dear Madam,

Thanks for your email of moment of ago,And following request attached file is my International Passport Copy like you requested it from you before you can call the man incharge of our consignment over there in Germany.

Awaiting to your answer back soonest.

Regards,
Dr.Paul Michael.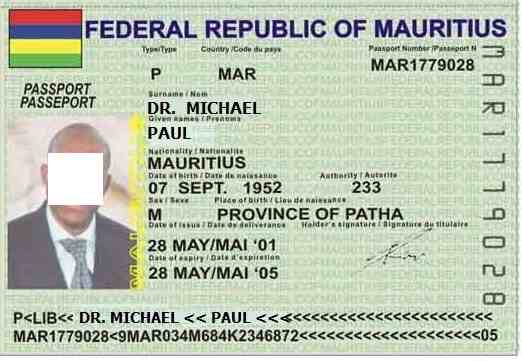 [ Middle-aged man, features scam-o-concealed. Note clumsy pasting in of name. ]
---
SATHIA PONTHY

Dear Dr Paul Michael

Thank you for your passport. You indeed seem to be a very handsome man. I will call your friend at the number you provided as soon as I have checked the authenticity of your passport with a friend of mine at the Mauritian Embassy in Paris, rue de Tocqueville. I cannot do it on week-ends as you must know that they are closed, so you will have to wait probably until next Monday. In the meantime, have a very good week-end and don't be a naughty boy in the Red Light District in Hamburg.

Frantically yours
Sathia Ponthy

no response to above email


---
SATHIA PONTHY

Dear Dr Paul Michael

My friends at the Mauritian Embassy confirmed me that your passport is a fake, which I had very easily suspected, as you are not very good at forgery. If you really want to try to fool people, you should at least make an effort and do things properly. Next time, choose the right font and have someone competent do the forgery.
I am very disappointed in you. Probably you thought an old lady would be easy to fool. You are just a pathetic loser.
Yours scornfully
Sathia Ponthy


---