CAPT. C A WILLIAM

From: "CAPT. C A WILLIAM" <leproninternational@rediffmail.com>
Sent: Tuesday, December 14, 2004 2:02 PM
Subject: FOR YOUR KIND ATTENTION SIR (FROM: CAPT. C A WILLIAMí

FOR YOUR KIND ATTENTION SIR

MY NAME IS CAPT. C A WILLIAM A NAVAL OFFICER HERE IN ABIDJAN I HAVE THIS BUSINESS I WILL LIKE TO TRANSACT WITH YOU HAVING GONE THROUGH YOUR PROFILE WHICH IS QUITE SATISFACTORY TO THE BEST OF KNOWLEDGE.

HOWEVER, IN JULY 2002 AT ABOUT 3:16AM DURING ONE OF OUR NORMAL PATROL, WE ARRESTED TWO SMUGLLERS SHIPPS (AKIOVI 02 AND MALIXA AWI) CARRYING A HUGE NUMBER OF CRUDE OIL BARRELLS AND SINCE THEN WE HAVE BEEN NEGOTIATING WITH THE OWNERS AS THEY NEEDED US (ME AND MY PATROL TEAM) TO SETTLE THE MATTER CONFIDENTIALLY WITHOUT OUR GOVERNMENT HEARING ABOUT THE CASE IN ORDE TO AVOID THE SHIPPES BEING SEIZED . AND AFTER SERIES OF NEGOTIATIONS, THEY HAVE FINALLY RESOLVED TO DROP ONE OF THE SHIP LOAD OF THE CRUDE OIL FOR ME AND MY PATROL TEAM SINCE THEY COULD NOT AFFORD THE AMOUNT WE ASKED THEM TO BRING FOR THE SETTLEMENT OF THE CASE. BASE ON THIS BOTH PARTIES SIGNED A LEGAL AGREEMENT BEFORE THE CRUDE OIL WAS DROPPED WHILE WE ALLOW THEIR SHIPPS TO LEAVE OUR WATER/SHORE WITH ONE SHIP LOAD OF THE CRUDE OIL.

AND SINCE THEN, DUE TO INSTABILITY IN THE INTERNATIONAL CRUDE OIL MARKET WE WERE UNABLE TO GET A GOOD BUYER AS ALL THAT CAME WHERE PRICING LOW WITH ABOUT 21% DIFFERENT FROM WHAT THE INTERNATIONAL MARKET IS SELLING HENCE WE REFUSED. BUT JUST THREE DAYS AGO, WE GOT A GOOD BUYER WHO IS INTERESTED TO BUY AT GOOD PRICE AND ALSO MAKE FULL PAYMENT. AND GOING BY OUR ARRANGEMENT WITH THE BUYER TODAY, WE SHALL BE SIGNING THE FORMAL AGREEMENT ANY MOMENT FROM NOW AFTER WHICH HE HAS PROMISED TO ISSUE A BANK DRAFT/CHEQUE UPON THE NORMINATED BANK ACCOUNT WE GAVE TO HIM FOR RECEIVING OF THE MONEY. AND THE AREA WHERE WE NEED YOU NOW IS TO ON OUR BEHALF REPRESENT THIS ACCOUNT WE GAVE TO THE BUYER AS WE WANT TO NORMINATE YOU AS THE ACCOUNT OWNER BECAUSE BUYER IS PAYING THROUGH ONE OF THE LOCAL BANKS HERE AND AS CIVIL SERVANTS, IT WILL BE VERY DIFFICULT FOR US TO DEFEND SUCH AN ACCOUNT WHEN THE BUYER PAYS-IN THE MONEY. AND WE WANT YOU IMMEDIATELY THE BUYER PAYS IN THE MONEY TO THE ACCOUNT, YOU RE-TRANSFER THE MONEY TO A CONFIDENTIAL ACCOUNT IN EUROPE OR AMERICA AFTER WE SHALL ARRANGE WHERE WE SHALL MEET SO THAT WE CAN PICK UP THE MONEY AND COMPENSATE YOU ACCORDING WHATEVER AGREEMENT WE MAY REACH.

MEANWHILE WE SHALL LIKE TO DISCUSS YOUR COMPENSATION AND TERMS OF AGREEMENT WITH YOU AFTER WHICH WE SIGNE AN AGREEMENT COMMENCE ACTION IMMEDIATELY.

NOTE: THAT IN OUR NEXT MAIL TO YOU, WE SHALL SEND YOU THE FULL CONTACT DETAILS OF THE BANK SO THAT YOU CAN CONTACT THEM AS SOON AS POSSIBLE AND OPEN COMMUNICATION WITH THEM AND ALSO MAKE EVERY NECESSARY ARRANGEMENT WITH THEM SO THAT AS SOON AS THE BUYER PAYS-IN THE MONEY YOU COMMENCE ACTION IMMEDIATELY. WE SHALL ALSO SEND YOU TOTAL WORTH OF THE CRUDE OIL AS THE BUYER AGREED TO BUYER TOGEHER WITH EVERY NECESSARY INFORMATION AND COPIES OF THE AGREEMENTS SIGNED WITH ALL THE PARTIES INVOLVED FOR YOUR VIEW.

PLEASE REPLY THIS MAIL THROUGH THIS EMAIL ADDRESS: unicenter@lexpress.net GIVING US YOUR TELEPHONE AND FAX NUMBER FOR FURTHER CONTACTS AND OUR TELEPHONE NUMBER SHALL ALSO BE GIVEN TO YOU FOR YOUR CONTACT ALSO.

THANKS AND GOD BLESS YOU AS WE URGENTLY AWAIT YOUR REPLY

CAPT. C A WILLIAM


---
CAPTAIN PUGWASH

Ahoy Shipmate!

I am Captain Herbert Pugwash of the Buccaneer vessel "Black Pig" out of Portsmouth. Our Signals Officer interrupted my daily workout with Roger the Cabin Boy to bring me your message.

We'll be back ashore later this afternoon, so please call me then on our landline number 01344 773111. If I'm not in, you may ask for either Seaman Stains or Master Bates. We don't have a fax, as the paper tends to get a bit wet aboard this old tub, but the phone or email works fine for us.

Yo Ho Ho!
Capt. H. Pugwash
The Black Pig


---
CAPT. C A WILLIAM

From:<unicenter@lexpress.net>
Sent: Tuesday, December 14, 2004
Subject: To: Capt. H. Pugwash - From:CAPT. C A WILLIAM (Urgent)

Dear Capt. H. Pugwash

Thanks very much for your response and I wish to inform you that I have tried several times to call you on the telephone line you provided but I was unable to get through. Please you can call me on this telephone number: 229 98 93 39 so to enable me give you the full details. or can I send the details to you by email?

Please reply and also call me as I urgently wait to hearing from you.

Thanks and God Bless You

CAPT. C A WILLIAM


---
CAPTAIN PUGWASH

Ahoy Shipmate!

Our signals officer has called your number a few times this morning, but he says the number's no good. He thinks the area code is no good, as phone numbers must always start with either 01, 02 or 07. Anyway, keep trying to phone us. Master Bates is by the phone waiting for your call.

We're in dry dock at the moment getting our bottom scraped - these damned barnacles get everywhere! I'm making the most of the opportunity to Roger the Cabin Boy.

Don't forget to look at The Black Pig's website: http://tinyurl.com/4o3fg

Yo Ho Ho!
Capt. H. Pugwash
The Black Pig
Portsmouth


---
CAPT. C A WILLIAM

From: <unicenter@lexpress.net>
Sent: Wednesday, December 15, 2004

Dear Capt. H Pugwash

Thanks very much for your mail and I wish to inform you that I have also tried again to call you upon receipt of your mail this morning but I was still not able to get through hence I have decided to reply by mail. And regarding my telephone number, please note that the country code: 229 while 98 93 39 is the telephone number. So if you want to dial, you dial 00 or 009 depending on the one your country is using and dial 229 and 98 93 39.

However as a matter of importance, please note that we shall be signing the agreement with the buyer by tomorrow and copy of this agreement shall be sent to you for your record immediately after signing it and we shall also like you to draw your own agreement so that we can sign before the commencement of the transaction.
Please note that according to our final agreement with the buyer the total worth of the crude oil is: USD21.5million and he has promised to pay in full. So all we shall need from you now is to give us a name upon which we shall submit to the Bank as the account owner so that as soon as the money is being paid by the buyer you contact the bank immediately and arrange with them for immediate transfer of the money to your local account or anywhere you feel it will be safe.

Please we urgently await your reply or call for more details

My regards to your crew members.

Capt. William

The phone number I gave him is actually Broadmoor Psychiatric Hospital.


---
CAPTAIN PUGWASH

Sent: Wednesday, December 15, 2004 Ahoy Shipmate!

Thank you for explaining the telephone country code. I re-read your original message, and I see you're in Abidjan Ivory Coast. Shiver me timbers - that's dangerous waters shipmate, full of Spanish pirates, British and French naval frigates, and slavers bound for the New World. Cut-throat Jake's been plying them thar waters too, har-har Jim-me-lad.

We don't have a bank account - we don't trust those scurvy lily-livered landlubbers with our booty! I suggest that we sail down to meet you, transfer the $21.5 million aboard The Black Pig, then we'll bury it in our usual place on Treasure Island, seventeen paces West of the tall coconut tree. Don't worry - it's quite safe and absolutely confidential. If anybody blabs, we'll keelhaul him then make him walk the plank.

Please let me know if this is OK, and where we should meet you, and we'll set sail immediately if not sooner! I have attached pictures of me and the crew so's you can recognise us.

Yo Ho Ho!
Capt. H. Pugwash
The Black Pig
Portsmouth
http://tinyurl.com/4o3fg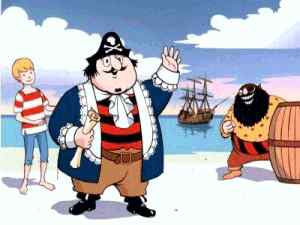 More to follow? Somehow I doubt it :-
---
CAPT. C A WILLIAM

Sent: Wednesday, December 15, 2004

Dear Captain Pugwash

I can't understand the picture, this is a cartoon. Could you please explain.




---
more to come?