Dannis Attiba
From: dannis attiba <dannis_attiba02@yahoo.ca>
To: dannis_attiba144@yahoo.ca
Subject: KINDLY ASSIST ME
Date: Tue, 3 Jul 2007
Received: from [41.207.218.94]

MR. DANNIS ATTIBA
Tel: 00225 01492046
My Dear
It's my pleasure to contact you for a business venture which I intend to establish in your country,Though I have not met with you before but I believe one has to risk, confiding in someone to succeed some times in life.

There is this huge amount of money Twenty million,Seven hundred thousand U.S dollars($20.7 millionusd) which my FATHER kept for ME in a BANK here in ABIDJAN before his untimely death.

Now I have decided to invest this huge amount in your country or any where safe enough outside Africa for security purposes.I want you to assist me in transfering this fund to your account for investment purposes in your country or any where safe for investment.

So if you can be of an assistance to us we will be pleased to offer to you 20% Of the total fund.

I anticipate your urgent response.

Thanks and God bless.
Sincerely
DANNIS ATTIBA
Sir Marmite Luny-Binns
August 10, 2007

Dear Mr Atitiba

I am not sure this was meant for me. You may mean to address it to Mr Lonslo Tossov, our Charitable Officer?

Kind regards
Sir Marmite Luny-Binns DFC
Regis Court Chamberlain
The Court of St James
Broadmoor
London FU2 GIT
(+44) (0)20 7930 4832
http://www.freewebs.com/sirmarmite/index.htm
Dannis Attiba

Subject: KINDLY SEND ME YOUR BANK ACCOUNT DETAILS
Date: Wed, 15 Aug 2007
Received: from [213.136.119.101]

Dear Marmite Luny-Binns ,

Please i want you to assist me so i you are willing kindly send me your bank account details or you can open new bank account for this transaction and send me the details which i will present to my bank director here.

Thanks and God bless you.

Yours sincerely,
DANNIS ATTIBA
my direct line 00225 0149 2046
Sir Marmite Luny-Binns
Aug 15

Dear Mr Atitba

My banking details are as follows:
Kustard Bros Bank PLC
12 Rillington Place
London
URA GIT

ac: 694196900
sort code 10 38 28

my business manager there is Mr John Christie
+44 (0)20 7601 5545

I hope that we can move forward with this matter as soon as possible as I hope to take a short vacation in Smegaroon very soon.

Kindly advise when the necessary arrangement have been made.

MARMITE
Dannis Attiba
Subject: KINDLY SEND THE APPLICATION TO THE BANK
Date: Sun, 19 Aug 2007

Dear Marmite Luny-Binns,

thank you for the trust and i want everything we are doing to be secret sealed among ourselves so that outsiders will not monitor us as you can see my misfortune , anything happening to me here is death , so i am confiding on you and whatever question or advise you need , feel free to ask me so that we conclude on time without stress.

after going through your email yesterday , i contacted my lawyer that i have secured a partner to assist me to invest the fund as well to relocate me to start a new life .base on this development we drafted this text of application for you to fill and send to bank for processing .

please do everything humanly possible to get the text application filled and send to bank so that we can conclude the formalities.

Ithank you so much for the bank details you have included in your mail to me so i want you to send the same to the bank because it is how they required it. I will start to proceed to process the papers needed from the bank.
Thanks for your good understanding and cooperation.

Yours sincerely,
DANNIS ATTIBA
my direct line 00225 0149 2046
Sir Marmite Luny-Binns
Subject: APPLICATION TO THE BANK
Date: August 27, 2007
To: bicici_bankbd11@yahoo.fr
Cc: dannis_attiba02@yahoo.ca

MR. PITTON PATRICK
THE DIRECTOR GENERAL (ADIM.)
BICICI BANK
TEL: 00225 0727 3663
FAX: 00225 2156 5890
E-MAIL: bicici_bankbd11@yahoo.fr

Dear Sir,

Application as foreign partner to holder of account number BOACI/4934109.
I , Sir Marmite Luny-Binns, humbly wish to apply to this esteem bank today 20/08/2007 as foreign partner to Mr.Dannis Attiba whom his father now is late Mr, Joseph Attiba, who died on timely death through poison in cote d'ivoire africa . I humbly apply putting claim over his balance with this bank valued at USD ($20.7 millionusd)Twenty million,Seven hundred thousand U.S dollars left in account number BOACI/4934109.

I wish my application be given urgent attention as I wish the balance to be released and re-transfered into my account as stated below;
Kustard Bros Bank PLC
12 Rillington Place
London
URA GIT
ac: 694196900
sort code 10 38 28
c/o Mr John Christie
+44 (0)20 7601 5545

Sir, accept my apologies for late application. This was due to some family logitic problems which have just been settled.
Thanks in advance for maximum cooperation.
sincerely,

Sir Marmite Luny-Binns DFC
Regis Court Chamberlain
The Court of St James
Broadmoor
London FU2 GIT
(+44) (0)20 7930 4832
http://www.freewebs.com/sirmarmite/index.htm
Mrs Roselyn Koume

From: Board of Directors <bicici_bankbd11@yahoo.fr>
Date: Mon, 27 Aug 2007
Received: from [41.207.217.166]

BICICI BANK ,ABIDJAN
IVORY COAST
Tel 00225 0727 3663
E-MAIL: bicici_bankbd11@yahoo.fr

To Sir Marmite Luny-Binns,

We acknowledge the receipt of your claims/application letter dated 27 Aug 2007 to this bank, putting claims as business partner to Mr . DANNIS ATTIBA, requesting his fund beneficiary valued at USD ($20.7 millionusd)Twenty million,Seven hundred thousand U.S dollars left in his late fathers account with this bank to be released and transfered to your norminated bank account as inheritance fund.

Your application letter has been forwarded to the appropriate head quaters for verifications and we will get back to you as soon as the verification is completed . Kindly notify us for receipt of this mail.

Yours Faithfully,
Mrs Roselyn Koume
General Secretary
Sir Marmite Luny-Binns
Date: August 27, 2007
To: bicici_bankbd11@yahoo.fr

Dear Ms Koume

I acknowledge receipt of your mail and look forward to this business progressing as soon as possible.

Please note that I off to Royal Smegaroon shortly and would appreciate a prompt closure in this matter.
Barrister Leonard Onwumere

From: bicici bank <bicici_legaldept1@yahoo.fr>

Subject: URGENT ATTN: SIR MARMITE LUNY-BINNS DFC,
Date: Wed, 29 Aug 2007
Received: from [196.201.94.48]

The Principal Attorney
Barrister Leonard Onwumere
BICICI BANK, Legal Dept.,
ABIDJAN , IVORY COAST.
TEL: 00225 0838 4718
FAX: 00225 2156 5890
E-MAIL: bicici_legaldept1@yahoo.fr

Attn : SIR MARMITE LUNY-BINNS DFC,

We the legal department of this bank is hereby presenting you this binding and partnership agreement to study and complete all the blank spaces and send back to us to enable us legalize the agreement in the high court of justice here. Your partner MR. DANNIS ATTIBA and his lawyer came to our office introducing you as his foreign partner also instructing our bank to transfer his fund to you for investment in your country for security reasons, for that reason we have drafted this agreement that will stand as Power of attorney to our bank to effect the transfer in your favour.

Sequence to his request and your application that still underconsideration for aproval, We advise that after completting the agreement, you send it back to us with the sum of (£150 ) one hundred and fifty pounds only to enable us legalize the agreement in high court of justice. Please note that after the legalisation of the agreement it will be attached to your application for aproval of releasing the fund and retransfered to your nominated bank account.

Kindly send the fee through Western Union Money Transfer in the name of our:
Principal Attorney
Mr. Leonard Onwumere
Ave. 15 Rue 9, Abidjan, Ivory Coast.

Thanks immensely.
The Principal Attorney
Barrister Leonard Onwumere
Bicici bank Legal dept
Sir Marmite Luny-Binns
Subject: to BICKY BANK/Barrister Leonard Onwumere
Date: August 29, 2007
To: bicici_legaldept1@yahoo.fr

Dear Bicky Bank

Many thanks for getting in touch. I am relieved that things are moving so quickly as it helps to allay any worries I have about the completion of all modalities. This is, after all, not chiLds play.

As it happens, representatives of mine, Mrs Huntley Ann Palmer and Mr Peak Frean will be in the Ivory Coast very shortly on other business. Perhaps it would be easier for them to pay the money in person, things will be less fraught that way as I am sure you will agree.

If this is agreeable, let me know how the cookie crumbles and I will authorise her to make payment in full, subject to seeing some documentation couriered to my UK address to confirm things are as they ought to be.

Incidentally do you take golden dorks in lieu of payment? We have quite a few of those in the petty cash at the moment.

Kind regards
Dannis Attiba

Subject: I WANT TO HEAR FROM YOU SOONEST
Date: Mon, 3 Sep 2007
Received: from [41.207.218.205]

Dear Sir Marmite Luny-Binns ,

How are you today? I am fine but so much woried about the transfer of this my fund. I went to the bank this morning to ask the bank lawyer if you have sent the fee for registering the agreement in the court and the lawyer told me that they have not hear from you for the past three days now. May i know the reason you have not sent the £150 to the bank lawyer, I want you to know that the agreement is for the protection of both of us in this transaction.

The bank director told also that they can not aprove the transfer of the fund without both of us to sign the agreement so i want you to sign the agreement and send it to the bank lawyer immediate so they will aprove the transfer of the fund.

Thanks and God bless you.

Yours sincerely,
DANNIS ATTIBA.
Sir Marmite Luny-Binns
Date: September 3, 2007

Dear Mr Atitba

We are interested in meeting with the banker directly as we feel this will be more reassuring. When can an appointment be made for a representative to make his way to you?

Kind regards
MARMITE
Dannis Attiba
Subject: I WILL BE VERY HAPPY TO RECEIVE YOUR REPRESENTATIVE
Date: Wed, 5 Sep 2007
Received: from [41.207.218.205]

Dear Sir Marmite Luny-Binns,

Thanks for your mail, I am very happy because you can come and we meet face to face and go to the bank together so you will instruct the bank to transfer the fund immediately in your present before i will arrange to follow you immediately.

Please sir, I will like you to arrange your self or you send the representative as you have said i will be waiting to receive any person at the Air Port of entry in Abidjan Air Port. I will like you to send the representative from now to 20th september 2007 and i will receive him and both of us will walk to the bank and we know why they don't want to send the aproval notice to transfer the fund to you, i hope they will do every thing as they will see both us.

I will like you to send to me your flight shedule when you are ready to come so i can receive you at the Air port.Kindly send to me the picture of your representative so i can recognise him at the air port on his arrival. I am very happy sir for your good suggestion. I willlike to hear from you urgently so i canknow the next thing to do.

Thanks and God bless you.

Yours sincerely,
DANNIS ATTIBA
Sir Marmite Luny-Binns
September 8, 2007

Dear Mr Attiba

Apologies for the delay but the recent Buckingham Palace Jumble Sale has occupied a good deal of my time of late. We have at least managed to shift some of the Queen Mother's old bloomers.

After long talks with my associates I am pleased to agree a meeting with yourself or your representatives at the air port. Would 19 September be agreeable.

My man Lonslo Tossov will be point of contact and has my utmost confidence to see you get what is coming to you.

Regards
MARMITE
Dannis Attiba
07 Sep 2007

Dear Sir Marmite Luny-Binns,

How are you sir? I have been expecting your reply, please i want to know your readiness to come. Please do you want me to inform the bank that you will be coming or when you comes we just go to them? i am looking forward to hear from you.

Yours sincerely,
DANNIS ATTIBA
Sir Marmite Luny-Binns
September 10, 2007

Dear Mr Attitba

Did you get my last message? Is September 19th an acceptable date or not for our little visit? I can assure you that we have better things to do than to hang on waiting for your cronies to sort themselves out in regards to this business. Please confirm yes or no so that we can put all the requisite modalities in place.
Dannis Attiba
10 Sep 2007

Dear Sir,

thank you for your updates, i will be interested to know your flight schedule as well your hotel reservation place. this will help me to meet you effectively.i have no problem with your coming as iam already awaiting to receive you pending decision to update me those informations.
yours sincerely
danies attiba
Sir Marmite Luny-Binns
September 10, 2007

Dear Mr Atitba

Is it possible for you to make the hotel reservation on our behalf for the night of 19-20th September? I am sure that you know the local hostelries more intimately than we. If you have a sister perhaps she will be able to join us for a celebratory drink once modalities are completed?
Lonslo Tossov
ATITBA

SIR MARMITE HAS INTIMATED THAT IT FALLS TO ME IN THIS INSTANCE TO ARRANGE TRAVEL FOR HIS REPRESENTATIVES MISS HUNTLEY ANNE PALMER AND MR PEAK FREAN TO YOUR NECK OF THE WOODS ARRIVING 19TH SEPTEMBER_PLEASE CONFIRM THAT THIS IS THE CASE AND ADVISE ANY LOCAL CONDITIONS I SHOULD BE AWARE OF_I WOULD NOT WANT TO SEND RESPECTABLE MEMBERS OF THE COURT TO SOME NATIVE BROUHAHA

REPLY AS SOON AS POSSIBLE SIR AS I NEED TO MOVE QUICKLY TO CONFIRM MATTERS THIS END_ALSO PLEASE ENSURE THAT RECEPTION YOUR END IS OF SUITABLE QUALITY WE DONT WISH TO BE SURROUNDED BY BEAD SELLING MIGRANTS AS SOON AS WE ENTER THE AIRPORT

T

Lonslo Tossov
Charitable Officer
The Court of St James
Broadmoor
London FU2 GIT
020 7278 6694
07951 593 525
Dannis Attiba
Subject: special welcome to meet me
Date: Wed, 12 Sep 2007

Dear Sir Marmite Luny-Binns ,

iam grateful with your effort to complete this project. really, i tried your land phone today and the people who picked the phone could not understand whom i was asking for, as i mentioned your name. i guess they dont understand my speech or english.

you are welcomed to cote d'ivoire and be assured that i will receive you right from the airport to your hotel room.
i will love to have the full name of people coming so that i will use it to do hotel reservation .it will also interest me to know how long you wish me to do the reservation . i contacted the bank lawyer over your delegates coming and he made some comments concerning what you should do so that you will not waste time upon your delegates arrival .i therefore appeal to you to comply with him over the idea to secure the back up documents .i believe if he should get it before your arrival, it will not take us time to conclude.

since i cannot get you on phone, i will be grateful that you call me on my confidential line 00225 07 90 13 69 so that we talk .Please do attach me copie of there passports to use for hotel reservation .i will need you to confirm to me those informations before tomorrow so that i can move ahead to make the reservation on your behalf .

yours sincerely
MR. DANNIS ATTIBA
Sir Marmite Luny-Binns
Sept 13

Dear Mr Atitba,

Many thanks for calling my office, I am sorry that there has been some confusion. I similarly have had one of my staff calling your number but most frustratingly to no avail. Is the number correct? Should you feel inclined to call me again, please ensure that you speak slowly and distinctly with no native jabbering, and ask for my personal assistant Mr IVOR HUGH JANUS. Insist upon being put through and I am sure you will shortly get the results you so deserve after all the effort.

I note your request for passports from myself and those who travel with me. However the delicacy of the business in hand, as well as the demands of Palace security, mean that I am not permitted to send such sensitive documentation across on an open line. I shall of course be pleased to supply such items upon our arrival. You have my word on that.

In the meantime you may take it as certain that our little party will be with you on the 19th of this month and you can make provisional reservations accordingly. The names of those travelling have now been amended and will be myself, Mr Peak Frean and a Miss Huntley Ann Palmer, all of whom I am sure you will find perfectly amenable company given your standing with Bicky Bank. It is conceivable that we will be joined by a Mr Ivor Cookey but this is not certain. However you can certainly allow for the three of us.

Please confirm receipt of this mail and let us know when the reservations are in hand as we do not want a how-to-do when we arrive. Also please advise on who will be meeting us at the airport, with some idea of identification too, as you fellows all look alike in those gaudy shirts and pants.
Dannis Attiba
13 Sep 2007

Dear Sir Marmite Luny-Binns ,

How are you today? I have expected your mail today and there is none that is why i want to know your real arrangements to come because i need you to be feeding me back always so i will be going ahead in my hotel reservations.

Kindly send the ful names of the person/s you are sending to me, i hope they will sign all the documents in the bank for transfering of the fund because the bank director told me that you are the person to sign all the form and every document we are securing from the ministries that will permit the bank to transfer the fund will be in your name. I am waiting to receive them as they arrive in the AIRPORT here.

Thanks and God bless you for your willing heart to assist m, i hope we shall see face to face on the 19th of this month.

Yours sincerely,
DANNIS ATTIBA
Sir Marmite Luny-Binns
Dear Mr Atitba

I trust the monsoon season find you dry in spirits, if not in shirts.

Thank you for you message, and We appreciate your anxiousness which We share as the time to meet approaches.

You may refer to my message just sent for the details you require.

After writing it and in consideration of your kindness it has been suggested that we bring some gifts for you and your wives and immediate family from England, perhaps some quality clothing? Please advise what would best be appropriate, especially given your likely dress sense and we try and rustle something up. We will need some dress size measurements, waist sizes, & etc and I will have my tailor get on it right away.

Kindest regards
Sir Marmite Luny-Binns DFC
Dannis Attiba
14 Sep 2007

Dear Sir Marmite Luny-Binns ,

I have read all your mails and it sounds difficult that you fail to understand me . God has reason for providing a prophet, at least to save his own people from any danger . the lawyer stands as our guardian, directing us on what to do, it will not be good that we negelet his advise. he has informed me that your arrival here might be delayed to get the necessary back up , because of the situation he requested that you send a sum of 2.500 dollars to enable him get the classified back up documents and you never say anything till now.

I have no problem with your coming as iam ready to receive you but a situation the lawyer refuse to honour your coming for not accepting his advise, what do you think i will do ? since every arrangement and safeguiding is under him.

Really, i will advise on which gift to come along with when every arrangement and formalities are settled . I will be glad that you call me on +225 07 90 13 69 so that we talk because with what happen during my last call to your office, i deem it necessary that you call me first . please if really you are coming on that date 19 the sept, do send the lawyer the requested fee before tomorrow otherwise things might be difficult for me along to conclude.

yours sincerely
Dr Dannis Attiba
Sir Marmite Luny-Binns
Dear Mr Atitba

I believe I have already carefully explained our eminently sensible reasons for prefering to work modalities on a one to one basis. Surely a little trust is to be expected? We are happy to make the journey bu really must ask for some flexibility at your end by way of response.

If this is really not possible please let me know and we can cancel all arrangements forthwith.

We really have no time for such native prevarications such as you are now displaying. If you are serious then we shall proceed and confirm flights shortly. If not perhaps we had better forget this whole matter.

MARMITE
Dannis Attiba
Subject: PLEASE REACH THE BANK LAWYER
Date: Mon, 17 Sep 2007

Dear Sir Marmite

I have read your message and feel sorry that you fail to understand me. iam advising to conclude with lawyer so that upon arrival of your delegates they will not waste time to complete the formalities but since you wish that they will come and arrange things upon arrival, then bear in mind that they will be delayed for some days .

I approve that they should advise their flight schedule and time arrival number to enable us pick them from airport .it will also be wise that you communicate the lawyer for further advise.

Could you please advise me with your photo to recongnise you from airport or do you wish me to use only name? we shall be at the airport to receive you to your hotel room. again you should come up with three pairs of suits, medium and large size, wrest watch raymond well, three mobile phones nokia 7650 model.

This will be used to give the officials of the bank who will help us .it is necessary that we give money as gift while on sit, rather i prefar you bought those gift such that i share it with them.

I will be glad for your proper confirmation.
yours sincerely
Danis Attiba.
+225 07 90 13 69

N/B Please your flight shedule is needed today so i will go ahead for further arragements for your coming.
Sir Marmite Luny-Binns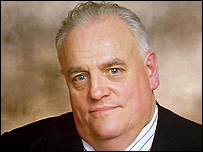 Dear Mr Aititba

I have the flight confirmed now and we will be arriving on flight BA 419 at 7.00 on 20th September.

I appreciate the need of the bank but we have made our reasoning clear and surely a few days will not make much of a difference. We are prepared to stay over a day or so if it is required as long as the native cuisine and bed linen is acceptable.

We have just time to get the clothes you have requested arranged. Please what is the waist measurement, also jacket size and the length inside leg? Also do you want single or double breasted suits? I recommend a orange pin strip worsted as best befitting a person of your standing.

Please reply at once. I attach a photograph to assist in identification of myself.
Dannis Attiba
18 Sep 2007

Dear Sir Marmite,

I have noticed your message and questions that followed. the informations which i gave you for the requested iteams is correct only use your knowledge to buy all as described , medium and large .

Concerning where you will stay , there is no problem on that, every arrangement is taken care off. do not forget to write the lawyer for him to give proper advise as you know he knows more better more than myself. kINDLY SEND TO ME YOUR FULLY FLIGHT SHEDULE. BY TOMMORROW. I AM WAITING TO RECEIVE YOU AND YOUR PARTNERS
Mr. Danis Attiba
Sir Marmite Luny-Binns
18 Sept

Dear Mr Atitba

Just time to dash off this message before we all finish preparations and make off for the airport.

Our flight is BA 419 arriving at Abidjan at 7.15am 20th September.

Kindly ensure that we are met with suitable decorum at the airport, no drumming or yelling. You have my picture already which will considerably simply matters. However to reduce any possible confusion please have a sign made up to catch the eye of out little party in the arrivals hall, perhaps something like WE LOVE MARMITE, which will do the trick.

We have money with us for the incidentals you have outlined plus some clothes, size large and medium pants.

I look forward to meeting you shortly.

MARMITE

PS if you have any sisters who want to make me feel welcome then I would appreciate the gesture. It will be a long trip and I will feel the need to relax once the business is done.
Dannis Attiba
19 Sep 2007
thank you for your message while awaiting your arrival. please do notify me your correspondence with the lawyer as you know it is important for him to be alert.
dannis attiba
[Hopefully waving a 'WE LOVE MARMITE' sign, nice and early at the airport tomorrow..]
Sir Marmite Luny-Binns
20 Sep

Mr Atitba

We arrived at the airport this morning and there was no sign of you and were obliged to make our own way to the Sofitel Hotel, 1 Avenue Delafosse. We were considerably alarmed by the absence of a greeting, and sincerely hope this is not some sort of a elaborate joke.

We will stay here at the hotel for a day and then leave, if you wish to contact me the number here is (+225) 20221122. I am in room 419. Perhaps we can arrange to meet by the pool later this evening?

I shall expect to hear from you shortly. If not then I shall be using the petty cash we have brought for some compensating entertainment.
Dannis Attiba
23 Sep 2007

Dear Sir Marmite Luny-Binns ,

I have done as you asked me to call room 419 sofitel hotel but regrettefully that you purposely wish to stress me .you never come neither do enter the hotel .i called three times the hotel attendant connected me to the very room but the person who picked phone said there is no such name there.

Infact, i calculated everything as you wish to liar right from your flight schedule ba 419 hotel room 419, you are not ashamed of yourself .
you fool yourself not myself.
Dannis Attah
Sir Marmite Luny-Binns
24 Sep 2007

Dear Mr Atithead

I hope you enjoyed wasting your time as much as I did hearing about you doing it.

Its typical that a moronic conman like yourself has only now realised that I am no more whom I say I am than you or your supposed banking friends claim to be. What a shame no one can be trusted these days eh?

However rest assured that your inept attempt at advanced fee fraud has not been entirely in vain. Everything you have written will shortly appear online, on an anti-scamming website, to further amuse thousands. Your details will also be passed on to the relevant authorities.

Now get lost, half-wit mugu.

'MARMITE'