Hubert Louis Dewey,
HD and L Law Partners, LLC
57 Heinz Lane,
Kapuskasing, Ont. RU2 S10W
Dear Mr. Williams:
I regret to inform you that Dr. George Brewster passed away recently.
Attached is a scan of the obituary from the
Kapuskasing Picayune Intelligence
.
As the attorney responsible for administering the estate of the late Dr. Brewster, it is my duty to resolve any outstanding claims on the estate before disposition of the remaining assets to the charities mentioned in the will.
I personally knew Doc Brewster for many years. He would often say to me: "Huey, you can't go far in life if you don't visit foreign countries."
This love of travel led him to grab his passport and explore regions of the globe from Ottawa to Gananoque (both are in Ontario, Canada).
In later years, he recaptured his love of painting, turning his skills to barns, car doors and windows. While he was not truly wealthy, his business acumen and keen sense of investment did serve to provide him with considerable monetary rewards.
Our clerk noted that the doctor left a notepad listing outstanding obligations; one of the names listed was yours.
---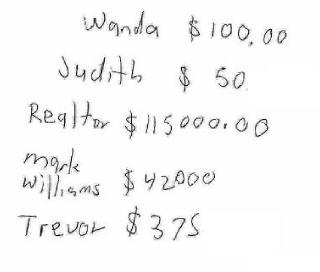 ---
Please note also the attached scanned portion of the notepad referring to your claim on the estate. Can you present to us an affidavit of claim for the $42,000 mentioned on the notepad?
A timely response would be greatly appreciated.
I look forward to hearing from you soon.
Sincerely,
H. Louis Dewey, B.B.A. M.Sc. L.L.B. cc. BS
---