Mrs Sufa Arafat
suha.dauod.tahil
@live.com
IP: 80.12.242.49
Subject: I solicit for your help and cooperation

Dear Friend,

I am MRS. SUHA ARAFAT, the wife of late YASSER ARAFAT, the Palestinian leader who died on November 11, 2004 in Paris . Since his death and even prior to the announcement, I have been thrown into a state of antagonism, confusion, humiliation, frustration and hopelessness by the present leadership of the Palestinian Liberation Organization and the new Prime Minister. I have even been subjected to physical and psychological torture. As a widow that is so traumatized*, I have lost confidence with everybody in the country at the moment, and for this reason I and my only daughter had to flee to Tunisia to live.

I had been living in Tunisia ever since my husband died in 2004 until recently I was expulsed from the country over some political and controversial issues which also resulted in confiscation of all my assets and business investments and frozen of my bank accounts. I knew it was a plot and perfected arrangement from the presidency to push me out of a large business cartel I am in control of in Tunisia . Well I am not surprise of this development, although I have relocated to Valletta Malta where I am presently residing to begin a new life with my only daughter.

Please I am writing you this email with a heart full of pains and sorrow, and for the reasons of all I have stated above, I would want you to treat this email and its content very confidential and under no circumstances would you disclose this to anyone. And I also want to inform you that I have been under security surveillances since after the death of my husband because of some undisclosable bank accounts and funds deposited in some investment firm in my name. It is based on this fact that I am asking for a total confidentiality of this transaction, as I have not any intention to expose you to any danger or risks.

I am therefore soliciting for your help to assist me for the retrieval of all these deposits from the various bank accounts and investment firms on my behalf under my power of attorney. I cannot do this by myself because any move I would do to get it done by myself would attract public and government interest on me and this absolutely would result in confiscation of the funds; and it is for this reason that I need to front you to act as my trustee and receivership beneficiary for all the deposits. By this, there would not be any attracted security attention towards me, and this would give us a successful finish.

The total funds in general are amounting to $850 million United States dollars. But we shall start with the retrieval of the smallest portfolio deposit valued $50 million United States dollars with an investment firm in the Netherlands ; and thereafter followed by retrieval of other deposits in Luxemburg and France.

Please be informed that the retrieval of these deposits would require your physical presence at the office complex of the investment firm for practical signing of the receivership documents. And having understood the circumstances I have narrated above; I would plead that you take absolute responsibility of the expenses of your traveling and that associated with the retrieval of the portfolio from the firm. You have my authorization and mandate to reimburse yourself all expenses you've made from the funds instantaneously is handed over to you.

I plead for your acceptance of my offer without minding the atrocities my husband has committed in the past during his life time. I want you to consider my offer as a business deal between us, and I am offering you 40% of the total funds for your kind assistance and cooperation. But in case you don't accept my offer, please do not let me out to the security and international media as I am giving you this information in total trust and confidence. If you agreed and accept my proposal in good faith, please forward me your full details information as follows; your name, address, phone and fax number and your identification, for a formal introduction of you to the investment firm.

Please expedite action, as I wait for your response urgently.

Sincerely yours,
Mrs. Suha Arafat
Rabbi Ben Zona
Dear Mrs. Arafat:

I must say I'm surprised and touched by your email. We are faced every day with the frustration and hopelessness of the present leadership of the PLO. How can I help?

Sincerely,
Dr. Rabbi Ben Zona
Congregation Lochamei Aravim
Mrs Sufa Arafat
vision.2008@live.com
Dear Dr. Rabbi Ben Zona,
Thanks very much for your email response. I have proposed this deal to you in confidence and on trust. The source of how I got your information shouldn't be a burden to you. Internet is a sort of global encyclopedia where information is extracted.
Please let begin to use this email address from now onwards: vision.2008@live.com I have created this email exclusively for confidential reasons. And please I wish to inform you that this is a transaction that you must give urgent attention. This is not a scam!! Please be serious and attentive.
You may or may not believe the reality of this transaction because of the alarming increase of scams going on in the internet which is very disturbing and had caused serious damage and distrust and doubts in so many proposed good business ventures with genuine intentions. But I want to assure you that this transaction is very real and it is a mandatory by the firm that you must make a physical appearance in their office for the signing of the receivership documents. And you should realize that it is under this condition of traveling and meeting with the firm in practical that you would be able to verify and confirm the truth legitimacy of this transaction without anyone telling you so.
However, before I would go on to introduce you to the deposit firm; I would want you to understand the importance of confidentiality in this transaction. It is highly secrecy which must be kept among two of us only. Is only you and myself that understood what we are doing and if exposed to open, would endanger my life. I therefore would plea for your cooperation in full and to keep this transaction in absolute CONFIDENTIALITY.
Please we must establish mutual trust and confidence among ourselves to enable us to move forward with this transaction smoothly without any danger of distrust or mistrust. Please note that I am entrusting my entire life savings into your hand and I hope that you would not betray me. And for us to be on a safe part; I will like us to enter into mutual agreement so that your assistance and reward can be defined specifically in the memorandum of understanding to be sign by both of us. I have the receipt of deposit confirmation issued to me by the firm at the day of deposit of the fund, and I have also the Credit Bond Certificate given to me by the firm when I accepted their terms and approval for safe keeping of the fund, and this representing promissory certificate of refund of my fund when due for collection. I can provide you these documents for verification with the firm.
With regards to expenses; surly there must be due process charges and protocols applying before retrieval of the portfolio by the firm. In cognizant of this and considering my distress circumstances as I have earlier informed you in my previous email; I regretfully plead for your help to take care of the expenditures including your ticket and hotel. I assured you would never regret helping me! I have given you my mandate/authority to take back whatever you have spent for expenses from my funds immediately it is release to you. I promised!!
I hope you would realize how urgency this transaction is, and I would be glad if you would consider it as first priority in your list and treat it very urgently. Please kindly reconfirm your contact information and your identification once again to avoid mistake, and I would be glad to have a telephone chat with you as soon as I got your contact information.
I look forward to your earliest response.
My warmest regards,
Mrs. Suha Arafat.
NB: FOR SECURITY REASONS, PLEASE ADDRESS ME WITH THIS NAME ONLY AS: MRS. SUHA.
Rabbi Ben Zona
Mrs. Suha,
Thank you for adequately allaying my fears this isn't a scam. I did have my doubts - surely a humble rabbi hearing from the widow of the notorious Abu Ammar for the need of financial assistance - but because you say "This is not a scam!!" with two exclamation marks I'm wholly convinced you're telling me the truth. How is your dear Zahwa?
And while I have your ear, what did you really say at the health function when Hilary Clinton was in the room?
Is your email being tapped? Even if it was, it is obvious the subject matter of this message- what difference does it make whether I call you Mrs Suha or Mrs Arafat?
Sincerely,
Dr. Rabbi Ben Zona
Congregation Lochamei Aravim
[The real Suha's a piece of work. She did herself and the peace process no good at all - nor added to Yassir's credibility, whatever that was worth - when she time-and- time again publicly embarrassed herself with outlandish comments about her out and out hatred for anything Jewish or Israeli, most notably to First Lady Hilary Clinton. What was actually said was never reported "officially" but clearly put Hilary ill-at-ease.]
Mrs Sufa Arafat
Dear Dr. Rabbi Ben Zona,

Thanks very much for your email.

Please note that this is a legal transaction but for the reason of my tribe and the popularity of my family; I had wanted this transaction to be handled with utmost secrecy and not to call me Mrs. Arafat, otherwise the news media would blow it up. It is not contrary to any international banking laws. It is a normal transaction of you having my power of attorney to stand before my investment firm to receive what is due for me and have it placed into your bank account, and that is all. So please do not be afraid!!

Yes I understand that I am taking a risk to entrust this into your care because I do not know you from Adam. It is in my search for a trusted someone; I came across five email addresses of which yours is one of them. And I sent out my proposal to the five emails and you have responded first out of all. I have not any reason to have selected you than to trust you in this endeavor. I am convinced in my heart that I should trust you, and that is the reason why I have selected you and have written you my proposal in the first place. Please bear with me this is not spam mails or scam! So please I beg you to handle this transaction with all seriousness and respect and commitment.

Please I wish to re-emphasize about your traveling; I would like you to understand that there is no way this transaction can be achieve without your physical presence at the office complex of the firm to sign the receivership documents before the portfolio can be liquidated and released to you. Therefore let it be known to you that it is very compulsory and necessary that you must travel to seal up this deal, and this has to be done as soon as possible because of its urgency nature. I believed that your duration of stay would not exceed 3 days but this has to be determined by the firm when you have established contacts with them.
Your physical presence in the office of the investment firm is very important because it is the only way to proof and convince the firm that you are truly my appointed representative for the claim of the portfolio. This is a transaction that would be very beneficial to you, and I want you to consider it as first priority in your list.

I do understand your position and I am not in anyway wanted to use you as a pond in any situation. All I really want you to understand is my distress and difficult situation that makes it impossible that I am unable to finance the project at this moment because I have been attacked and bankrupted by the Tunisian government. That is the reason why I am regretfully pleading that you should cater for all expenses and I would reimburse you from my own sharing of the funds. I promised!!

This is not a matter of if I am real or not; I have with me 2 highly classified documents evidencing proof and reality of my claim. The documents are very confidential and must be kept safe because that is the only evidence and proof of deposit that if presented to the firm, would confirm truly that I has a transaction with them. I cannot send out these documents to you without knowing who you are and without having your complete data's; such as your international passport identification. This is very important for formal and pre-introduction of you to the firm before your contact with them. Please be assured that your safety is guaranteed. There is nothing to be afraid of!
Therefore I would like to know little biography about yourself and your business specialization before I can go further to provide you the documents and the info of Deposit Company. I am happy that you already know who I am and I believed that you have read and have heard much about me in the news media as a public figure. In confirmation to this I would be providing you with my valid identification when I hear from you.

Please reply as soon as possible to enable us move forward and have this first transaction concluded.

I look forward to hearing from you soon.

My warmest regards,

Mrs. Suha.
Rabbi Ben Zona
Mrs. Suha,

What I find perplexing out of this whole matter is that despite of your public anti-Israel outbursts and anti-Semitic rhetoric you not only reach out to an Israeli to assist, but also to a rabbi, no less.

Although publicly when Mr. Arafat - sorry, Mr. Yasser - was alive you acted like an ass. Before I assist you further you must convince me that you indeed have turned the other cheek.

Still interested to know what you said at the conference in 1999.

Sincerely,
Dr. Rabbi Ben Zona
Congregation Lochamei Aravim
Rabbi Ben Zona
Mrs. Suha,

I haven't heard from you for nearly a week. Is everything OK?
Mrs Sufa Arafat
Dear Dr. Rabbi Ben Zona,

Thanks for your email.

I have not forgotten about you but I only decided within myself to stop the transaction with you because I don't like to work with someone who is so doubtful and lacking understanding.
This transaction I have proposed to you does not require too much of talking and writing emails. It is a practical transaction that has to be done physically by your good self and not by emails or sending money in advance to anyone.

If you would put away sentiments and be serious to work with me, then I can move forward with you. I want you to understand that it is not a do or die affairs, and it is not compulsory that you must be the one to help me. If you are not interested to further with me, therefore I would plead that you stay away and not block the chances of others that are willing to help me.

Respectfully,

Mrs. Suha.
Rabbi Ben Zona
Dear Mrs. Suha,

Put yourself in my shoes. Here I am, quietly leading my congregation in my normal day-to-day activities, when suddenly I get an email from the widow of the person who singlehandedly was the cause and instigation of 30 years of intifada asking me to assist her to move a lot of money on her behalf. Wouldn't you be a bit skeptical?

If you could send me some sort of identification, a French or Maltese driver's license for example, or a health card, or a passport, it would go a long way.
Mrs Sufa Arafat
Dear Dr. Rabbi Ben Zona,
Thanks very much for your email.
Yes I do understand how you feel, but I have in my previous email pleaded for your acceptance of my offer without minding the atrocities my late husband has committed in the past during his life time. And I also pleaded you to consider my offer as a business deal between us and let look at it that way.
I am willing to send you my identification as symbol of my honesty. As a matter of fact I am enclosing my French identification for your conviction and I hope to receive yours too including your contact address and phone numbers which are very important and would enable me to do introduction of you to the firm as my appointed trustee mandated by me to receive my investment portfolio that is in their custody.
As soon as I receive yours information as I have humbly requested, I will also send you more facts and proofs about the deposited funds.
Please reply as soon as possible.
Respectfully,
Mrs. Suha.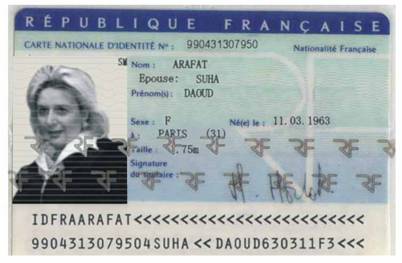 Rabbi Ben Zona
Mrs. Suha,

It's less about your husband's atrocities, and more about yours.

Tell me, what comes to mind if I say " Israel "?
Mrs Sufa Arafat
Dear Dr. Rabbi Ben Zona,

Please let go straight into business.
I don't like your questions.
We have agreed to put away past events and match forward. This is a business like transaction that we must treat very urgently. We don't have to be rehazaling on past events.

I have provided you with the information you have requested and I thought I would receive yours now so that I can introduce you to the firm in Netherlands , so we can begin the retrieval of the portfolio.

Please you must let me know if you are interested to get these funds for me; otherwise let me act quickly for another party.

I hope to hearing from you soon.

Regards,
Mrs. Suha.
Rabbi Ben Zona
Mrs. Suha,

I'm happy not rehazaling anything and matching forward quickly, however, trust is something that is earned, not bought.

For example, if you still hold your radical anti-Semitic and anti-Israel views, and you want me to move your money, what kind of guarantees am I getting that you're not going to rehazal on me?
Cy Gezunt
[from a good friend, "Cy Gezunt"]
Dear Mrs. Suha,

Dr. Rabbi Ben Zona forwarded your e-mail to me. I apologize for this delay, I have been on a retreat for some weeks, owing to the stress of my responsibilities.

I was puzzled by your rather open-ended request for assistance managing your financial portfolio. Dear Rabbi Ben Zona may have an exaggerated notion of my financial abilities.

Also, as you point out, your husband's career is not a shining example of transparency in government. You might consider setting up a scholarship program for the needy, since you could probably put the entire population of Gaza through college on your credit card. Indeed, did I not see you coming out of Louis Vuitton last week?**

I do not see your status as a public figure as a problem in retrieving your funds. Robert Mugabe is not exactly in hiding, and seems to have no problem laying his hands on a bit of dash.

Be that as it may, please enlighten me as to your needs. I am still not sure what we can do for you that you could not achieve with a halfway decent mutual fund, even in these shaky times, but let me know.
Mrs Sufa Arafat
Dear Dr. Rabbi,

I have received an email from a friend for yours and I do not understand what he says. Please let put sentiments aside and be serious to pursue this transaction for me. I want you to confirm once again if you are serious to travel to meet with the firm for the receivership of the funds?

I look forward to hearing from you soon.

My best regards,

Mrs. Suha.
Rabbi Ben Zona
Dear Mrs. Suha,

When I originally received the email of your plight, I forwarded it on to my learned friend as I was in complete disbelief. As you've clearly proven who you are my disbelief has been suspended.... for now.

Where do I have to travel? Can this not all be done over email?

Sincerely,
Dr. Rabbi Ben Zona
Congregation Lochamei Aravim
Mrs Sufa Arafat
Dear Dr. Rabbi,

Thanks very much for your email.

This transaction cannot be done over email. It would required your physical presence at the office complex of the firm in Amsterdam Nederland's, for the signing of all receivership documents for the release of my portfolio to you.

You would have my power of authorization to do this. Therefore please I want you to confirm to me your readiness and preparation to make this travel so that I can provide you the information of the firm and the proof of deposit of funds with them to enable you begin discussion and correspondence with the firm for a suitable invitation date.

Please reply as soon as possible.

I thank you once again for your anticipated cooperation.

My best regards,

Mrs. Suha.
Rabbi Ben Zona
Mrs. Suha,

I'm generally able to travel, but only with enough notice. I can't leave Chaya Mushka in charge of 17 kids just like that. One time I had to travel to America for the International Conference of Fictional Clergymen - I was the guest speaker - but there was a change of date at the last minute, so I had to leave Chaya Mushka with about 48 hours notice. Upon returning to Israel , there were no wifely nookies for this lay leader of the congregation.

Israel isn't too far from the Netherlands . When would you anticipate this trip happening?
Mrs Sufa Arafat
Dear Dr. Rabbi Ben Zona,

Thanks very much for your email.
I want this trip to happen as soon as possible but it is not in my power to fix the date of the traveling. The traveling date and meeting appointment would be decided by the investment firm in Europe . It is until you have made contact with them, then we would know the appointment date and this would help you to program your traveling in a timely manner.

Please I want you to understand that the total sum involved is $850 Million US scattered in different banks and investment companies. But I would like us to begin with the retrieval of the smallest deposit $50 Million US with an investment firm in the Nederland so that we can have sufficient funds at hand for expenditures to begin the processing and retrieval of the other deposits in other banks and investment companies. Therefore you should be prepared to visit the firm because all endorsement of receivership documents must take place at the office complex of the firm in Amsterdam Nederland. And please note that any payment of any fees of any kind must be at the office complex of the firm, and not by advance payment. You have to be physically present at the office complex of the firm to settle all fees and this must be witness by you right there in their office. I hope you get me right!!

Please I would want you immediately to establish correspondence with the firm and make verification about the status of the deposit and establish your claim.

Please write to the firm to the attention of the Vice President as given below. You are to make a formal introduction of yourself and let him know that I have appointed you as my trustee and receivership of my deposited funds with them. You are to state as follows; that I have authorized you to contact them for the receivership of my deposited investment portfolio valued for $50 Million USD with them and that they should let you know what steps you are to follow to enable quick release of the portfolio to you as my trustee and beneficiary.

Please note that the information I have disclose to you in this email is a very delicate one, and as such you must promise and assure me that under no circumstances must you disclose this information to anyone and not even your lawyer or your family. This must be highly confidential between the two of us only. I hope you understand??????

For continuation, please I advise you write to the Vice President immediately with his info below and keep me inform. Whatever he says to you; please let me know.

See the contact information below:

Dr. Don Kepping (Vice President, Investment Services)

Leed Securities Investment
Strawinskylaan 337 1077 XX Amsterdam , The Netherlands
Email: invest@leedinvestments.com
Tel: 0031.647.271.609
Fax: 0031.847.291.980

Please keep me inform as soon as you have contacted the firm. You can also forward to me a copy of your message to them.

I look forward to hearing from you soon.

My best regards,

Mrs. Suha.
Mrs Sufa Arafat
Dear Dr. Rabbi,

I hope you've received my previous email with instruction to contact the investment firm in the Nederland 's.
Please let me know if you have contacted the firm?
I look forward to hearing from you soon.

My warmest regards,

Mrs. Suha.
Rabbi Ben Zona
Dr. Kepping,

Mrs. Suha Arafat, she the widow of the late Nobel Price Winner and overall schmuck Yassir Arafat, may we spit on his grave, the same guy who in 2000 could have had East Jerusalem, the Golan Heights, Gaza, and most of the West Bank but turned it down much to the chagrin of his Arab colleagues, most notably King Fuad of Saudi Arabia who condemned it, has inexplicably authorized me to contact you for the receivership of her deposited investment portfolio valued for $50 Million USD with you, and that you should let me know what steps I am to follow to enable quick release of the portfolio to me as her trustee and beneficiary.

Why she picked me is anyone's guess, but that's the way the matzah crumbles. I question the sanity of the woman, but if there's money to be had, I'll be there to take it. Would you believe she's offered me 40%? And believe me, there's more where that came from. I won't tell you exactly how much, as I'm sworn to secrecy, but if you guessed close to $850 mil you'd be pretty close. Tell you what, Don, you come down here to Israel on your dime to personally deliver the documents, I'll cut you in for a smooth $1 mil. What do you say?

Sincerely,
Dr. Rabbi Ben Zona
Congregation Lochamei Aravim
Rabbi Ben Zona
Don't worry, Mrs. Suha,

Completely confidential. Gotcha.

We'll see what the good Dr. Kepping has to say. Why do you suppose you need a doctorate to work at a security company?
Rabbi Ben Zona
Dear Mrs. Suha,

Hoping this beautiful Sunday afternoon finds you well; either that or some white powder mailed to you anonymously.

I haven't heard from your Dr. Kepping. Shall we move on to another bank or investment company in the meantime? Would there happen to be one in Israel , in Gaza , or some other Fatah-sponsored investment company?
Mrs Sufa Arafat
Dear Dr. Rabbi Ben Zona,

I am sorry for my delayed reply, because I am making some arrangements with the investment company. I have told you in my first email that my finances has been crippled by the Tunisian government and I do not have any means of getting the funding to finance the project, and that is my reason for contacting you and asking for your help and cooperation to enable us work together and achieve a greater success.

As matter of facts and due to the costs of traveling to Europe, I have discussed with the investment firm to use diplomatic immunity to convey my portfolio to Dubai*** for safety reasons. My investment firm has agreed to this and had started making quick arrangement for the movement of my portfolio by diplomatic means to Dubai under certain conditions.

The investment firm agreed to honor my request provided that you would be responsible to settle the clearance bills when they arrived in Dubai . The diplomat would call your telephone number as soon as they have arrived in Dubai to inform you of their safely arrival.

On your arrival in Dubai , you will meet with the diplomat to accompany you to their embassy where they have deposited the portfolio for safe keeping.

I think this is a safer way to handle this transaction.

Please reply to let me know your thoughts about this before I would ask the investment fir to proceed with the arrangement.

I look forward to your urgent reply.

My best regards,

Mrs. Suha.
Rabbi Ben Zona
Mrs. Suha,
Have you really thought this through? No doubt helped by the fine fine efforts of your AIDS-ridden husband (assuming the rumours were true about him and a litany of teenage boys), and your notoriety as a fine journalist, you surely are aware of my travel limitations, possessing an Israeli passport.
What possible costs are there for you to travel to Europe ? You're already in Europe . You're telling me it's cheaper to fly to Dubai ?
Something's not right here.
Dr. Rabbi Ben Zona
Congregation Lochamei Aravim
[Israelis are not allowed in to most Moslem countries. Not sure about UAE, but I do know you can't get a kosher meal on Emirates Airlines.]
Rabbi Ben Zona
Mrs. Suha,

Have you managed to move the arrangements back to Amsterdam , or at least to a country I'm able to visit?

---