Here is the original e-mail from Mr. Haddad:

FERSAN HADDAD

Date:6TH DECEMBER 2004.

Sir,

I am Mr Fersan Haddad and I represent Mr. Mikhail Khordokovsky the former C.E.O of Yukos Oil Company in Russia. I have a mandate brief from the top (oligarch) to ask for your partnership in re-profiling funds over US$450 million. I will give the details, but in summary, the funds are coming via Bank Menatep. This is a legitimate transaction. You will be paid 4% for your "management fees".

If you are interested, please write back by email to and provide me with your complete names including your middle name if any,your complete address (office and/or mailing address),direct telephone number and fax number and private email address and I will provide further details and instructions.

Please keep this secret as we cannot afford more political problems. Finally, please note that this must be concluded within two weeks. Please write back promptly.I will also suggest you visit these news sites on the internet to be better informed about this project.

http://newsfromrussia.com/main/2003/11/13/51215.html
http://www.supportmbk.com/mbk/mbk_bio.cfm
http://www.disinfopedia.org/wiki.phtml?title=Mikhail_B._Khodorkovsky
http://www.pbs.org/frontlineworld/stories/moscow/khodorkovskyinterview.html
http://www.forbes.com/finance/lists/75/2004/LIR.jhtml?passListId=75&passYear=2004&passListType=Person&uniqueId=M1IF&datatype=Person
http://mikhail_khodorkovsky_society.blogspot.com/

I await your response.

Regards

Mr Fersan Haddad.

[ Scam-o-note: similar letters may be perused on the Slav-O-Rama page. They're as Slavic as they wanna be. ]


---
December 7, 2004. Ah, my first opportunity to respond as Beavis. Just dangling the bait for him.

BEAVIS

Mr. Haddad

I would like to help you out, but I'm not really sure how this is possible.
Please advise.

Regards,

Beavis Bungholio
President, T.P. Industries
Madison, Wisconsin USA
"We're wiping up the competition!"


---
December 8th. He bites.

FERSAN HADDAD

Dear Beavis Bungholio,

Thanks for your response, as stated in my earlier email, I represent Mr. Mikhail khordokovsky, the former C.E.O of Yukos in Russia. I am sure you know of his predicaments presently and this is why we need your help

I am sure you are up to date with M.K.and Mr. P**** affair.

Mr. P**** is intent in destroying M.K. and his business empire, We are working to get a break from the courts and we will need all the cash call we can muster to hold our head above waters in the coming days.

The Channel Island portfolio is one of our arms yet to be infected by the Moscow led federal tax offensive designed to bring us down and we need you to help us keep it so. We need funds from this portfolio and we can not get the funds on our own without arousing Moscow. To avoid this we need to completely reprofile the funds from Channel Island portfolio in your name so as to turn away Moscow and their ally from us.

The complete amount available for you for reprofiling is presently over $450m and the 4% still stands. The new beneficiaries of the portfolio will need to offset the back taxes to the authorities in Channel Island and move the funds online over the internet through a dedicated confidential bank access that I will obtain from M.K. in Moscow through existing channel of communications.

Once I get your name or company name, address, for identity to replace that of M.K. and reprofile the portfolio accordingly, then I will get the bank access across to you to access the portfolio, pay the back taxes to the authorities and move the funds to another account we will provide you in Monte Carlo and you keep the 4% as agreed.

I will also suggest you visit these news sites on the internet to be better informed about this project.

[ he repeats the whole list from above ]

I sent our current conversational status to Moscow and have received the authority to proceed with you, and get some clarifications both ways.

Before I am able to give out the information that will enable you access confidential data-pages of Mikhail, I would need some information as follows:

(1) What is your net worth?
(2) If you have problems, do they affect your activities you undertake with us as an individual rather than a corporate entity?
(3) Have you handled large funds, and successfully?
(4) Can you travel to jersey in Channel Island within short notice of say three days?

All the answers will be kept very confidential. I must explain why we are asking these questions: If you do have existing profile problems, we may end up inheriting your backlog thus creating a problem where none exist.

We intend to liquidate a large investment, and take the capital appreciation derivative to provide a new investment fund, under your management, for future investments, thus negating any requirements for taxation or declaration of process for income generation.

However, if you do have issues prior to this, it puts anything you do in the light, and thus puts us in uncomfortable situation. As you can see, our assets are frozen in Switzerland, and while we have excess of USD5b lying there, we are unable to liquidate them, or use them as guarantee for payment of the USD3.5b back taxes inflicted on us by the government. If the situation does not improve, we shall be bankrupt before the end of forth quarter this year.

The funds being liquidated arise from independent investments of the group, outside the Russian soil, so we can legitimately do so, only if this is done quietly. If the authorities hear about this, we shall have to tender it for hearing in international judicial systems, and that will kill us.

Hence answer the questions in honesty, and let us know we are comfortable with you. We are trying to ensure that you do not put us in any trouble, and likewise, we shall provide you with an input as an entity with no history to the investment, only as a management consultant.

Everybody must be safe now and in the future, hence the questions.

I await your response.

Regards

Mr. Fersan Haddad


---
December 9th. Time to send him some bogus information to further hook him. It is either the greed or ignorance or a combination of both that keep these idiots from seeing the sarcasm in the e-mails. Too fun!

BEAVIS

Mr. Haddad,

Thank you for your quick reply. It appears I may be able to help you out.

In regards to my net worth, I don't feel comfortable giving a specific amount at this point in our venture, but rest assured I have a significant portfolio. My company, T.P. industries is literally wiping up the competition. Although we are a fairly new company, the need for our product is phenomenal. The down side of this is that I am a very busy man. I travel extensively, and that is kind of crappy. But crap is something you have to deal with in our industry.

As far as handling this venture, I do not have a problem handling this on a personal level. In fact, I would prefer not to involve my company if at all possible. If my partner Mr. Butthead were to find out about this, he would probably want a cut. I figure the less he knows the better. He is more concerned with his ongoing AC/DC venture anyway.

I would suggest that you contact me via e-mail for any necessary communication. I check my e-mail frequently while on the road, and this will ensure a more timely response on my part. It also ensures an extra amount of confidentiality in the matter.

As far as the ability to travel, as I have already stated I travel quite extensively. I do not trust commercial airline travel, and fly exclusively on my corporate jet. Being able to travel on short notice should not be a problem so long as I don't have any conflicting business travel. I travel to Paris and London frequently, and could possibly schedule a trip to Jersey, Channel Islands around such a trip. Once I know a proposed schedule I would better be able to let you know.

I very busy, and do not have much time to waste on this matter. If you are indeed serious about this venture, then I welcome the opportunity to provide assistance. I am not yet fully comfortable with this venture at this point, but as you say, maybe through correspondence and getting to know each other better, we can proceed with trust and confidence.

I must go for now.

Regards,
Beavis Bungholio
President, T.P. Industries
"Helping you out one square at a time"


---
December 10th. He is definitely hooked at this point. He sends me a scanned image of his passport (easy to see it has been doctored using some type of software) to prove his legitimacy. He is asking for the same from me.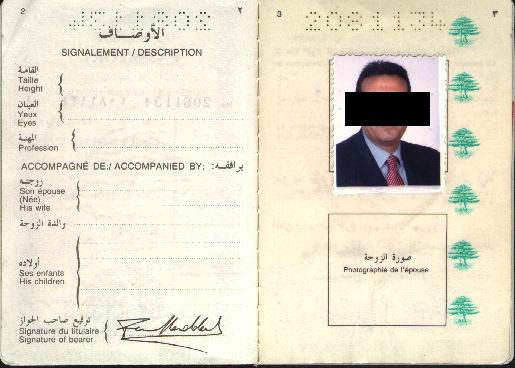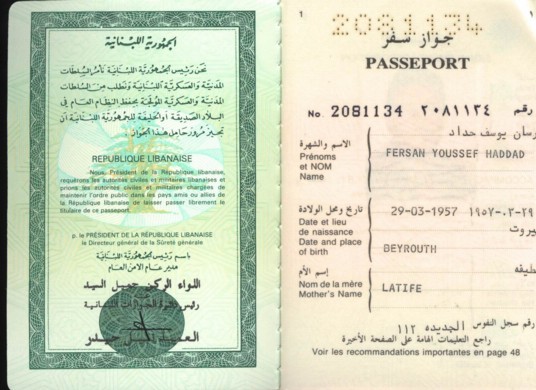 [ We covered the face, as the photo's probably lifted from somewhere. ]
---
FERSAN HADDAD

Dear Beavis Bungholio,

Thank you for your prompt response and i understand your decision to undertake the business on the personal level instead of company,it removes the hindrances occassioned by company bureaucracies and encumberances such as taxes and liabilities.

WE HAVE A DEAL BUT BEFORE WE PROCEED WE MUST HAVE ASSURANCE FROM BOTH SIDES:
Find attached a copy of my valid identification for your record.i implore you to send your asap and send me a private telephone number to call you on so that we can have the assurances on both sides.

On receipt of the I.D., i will pass information to the bank to reprofile the portfolio in your name and give you the bank to access access the portfolio and pay the back taxes to the authorities and move the funds to another account we will provide you in Monte Carlo and you keep the % as agreed.

I await your response.

regards
Fersan


---
December 13th. At this point, I must stall to give myself time to "scan" my passport (using Photoshop, of course).

BEAVIS

Dear Fersan,

Thank you for your quick response! I hope I spelled your name correctly. Is it Fersan or Farsan? I notice you use two different spellings in your signature and e-mail address.

Anyway, sorry for the delayed response. I took this weekend off for some much needed rest and relaxation. I spent more than $100,000 over the weekend. Almost $95,000 of it was spent on gambling, women, and booze. The other $5,000 I spent foolishly.

I am working on getting a scan of my passport so I can send it over to you. I will be sending it shortly. I will do everything on my part to ensure this transaction happens without any unnecessary delays.

Your friend,

Beavis,
President, T.P. Industries
"Combining the strength you need with the comfort you desire."


---
December 13th. Still stalling. I talk about some of my Dam activities.

BEAVIS

Hi Fersan,

It's me, Beavis. I am really excited about our business venture. Sorry to bother you again today, but I am trying to get the people here at the hotel I am staying at to help me out scanning my passport. Those idiots are trying to tell me that it is illegal for them to scan a passport and they could get in trouble with the local authorities. I think they are just ignorant morons determined to screw the pooch. As soon as I figure out a way to scan it, I will send it over to you.

Anyway, I will be traveling over the next few days. I do not have phone access since the cell phone I have uses CDMA, and this does not support the GSM standard in areas I will be visiting. The best way to get in touch with me would be through e-mail. I am able to read the correspondence and reply in a timelier manner this way. And from what I understand, time is of the essence in this matter.

Today, I travel to Cabo Verde. Most of my time today has marketing my T.P. product to an investment company. Tomorrow, I get to spend the day visiting the Poilao Dam site in Cabo Verde. I will talk to some of the Dam workers. If I have a little time left over after my Dam visit, I will see if I can find a Dam souvenir to take home. It may strike you strange that someone in the T.P. industry would be interested in a Dam, but before I founded T.P. Industries, I was in the Dam industry. In fact, I graduated Magna Cum Laudly with a mechanical engineering degree and a minor in Dam infrastructure. Once I began working in the Dam industry, I started to specialize in troubleshooting problems associated with Sub-structural Corrosive Articulated Miosis (known as S.C.A.M. to Dam engineers). You see, S.C.A.M. is a big problem in the Dam industry. S.C.A.M. plagues the turbine generators of modern hydro-electric Dams, causing the financial loss of millions of dollars each year. I developed a proprietary process to block S.C.A.M. from damaging these systems, and my patented Anti-S.C.A.M. product has pretty much become the industry standard. Through my process, Dam workers around the world are able to avoid the money-loss related to the various types of S.C.A.M. To this day, I am very passionate about the Dam industry, and am an active member of the British Dam Society (www.britishdams.org). I hope to present a white paper on Anti-S.C.A.M. in the near future.

Do you have any contacts in the Dam industry in your area? Any Dam contacts you could provide would be greatly appreciated. Although much of my time these days is spent rolling my T.P. out, I still enjoy the occasional opportunity to serve as a Dam Anti-S.C.A.M. consultant. I have realized much enjoyment thanks to my Anti-S.C.A.M. activities.

I almost forgot the main reason I am e-mailing you again. I have a quick question for you. You mention payment of back taxes in your past e-mail. Please let me know how much this would involve. If it is a large sum, I need to start tapping some of my different resources so as not to raise any red flags. The sooner I can start on this, the sooner we can wrap this up.

Look forward to hearing from you.

Your amigo,

Beavis Bungholio(Creator of the best Dam Anti-S.C.A.M.!)
President, T.P. Industries
"When the cleanup job gets messy, turn to T.P."


---
December 14th. Fersan replies. Doesn't he know it is rude to type in all caps? It implies you are shouting.

FERSAN HADDAD

Dear Beavis Bungholio,

Thank you for your response.

PLEASE KNOW THAT WE MUST HAVE YOUR INFORMATION BEFORE WE CAN PROCEED. PLEASE ASAP SEND ME A PRIVATE TELEPHONE NUMBER SO THAT I CAN CALL YOU ON SO WE CAN HAVE THE ARRURANCES ON BOTH SIDES AND ALSO YOUR VALID IDENTIFICATION.

We need this information so as to pass to the bank to reprofile the portfolio in your name..
In regards to contacts here for Dams, I can not help you out in this regards.
Please ensure you send the needed contact information in a fast manner.
I await your response.
regards
Fersan


---
December 15th. Heh, heh, I have my "scanned" passport ready to send. I found the image on Google and it was of a guy that looks amazingly like the Beavis cartoon character. In the picture, he has plenty of scratches on his face, so I explain this to Fersan.

BEAVIS

Fersan,

Finally, I got someone who was willing to scan my passport for me. I can't believe how hard it was to get this done. Everyone told me that it is illegal to scan a passport. I don't know if that is true or not, but I figured it must be OK since you scanned yours and sent me a copy. I ended up having to give someone a Metallica CD to get them to do it for me. I attached the scanned image so you can have for identification.

It is funny looking at my passport picture. You must excuse my picture - I really look like crap. The day before I was scheduled to take my passport picture, I got into a bit of a scuffle on Bourbon Street in New Orleans. This mime came up to me, and like didn't say a damn thing. I hate it when mimes act like they are too good to talk to me. I said "say something, damnit," but the mime taunted me, staying quiet. So I kicked him in the nads. He then said something all right. As he was buckling over to the ground, he hollered "help" and a girl scout troop commenced to beat the crap out of me. They fought like girls, and ended up scratching my face up pretty good. I got in a few good hits, and ended up giving one of them a wedgie all the way up to her training bra. It is a funny story now that I look back at it.

Regards,

Beavis Bungholio
President, T.P. Industries
"Rolling out quality for your wiping needs"

Have not heard back from my friend Fersan. His e-mail account has apparently been shut down by the service provider. It was fun while it lasted.




---